ON THIS DAY in 1907, 
actor Dan Duryea was born in White Plains NY.  He started on Broadway, moved to Hollywood in 1940, and started in TV a decade later, playing the title role in two series of the action-adventure 'China Smith.' Mostly he played the sexy bad guys with recurring guest roles on TV's Laramie, Rawhide, Wagon Train, and the nightime soap Peyton Place. He died of cancer June 7, 1968 at age 61.
On this day in 1910, perhaps the greatest jazz guitarist of them all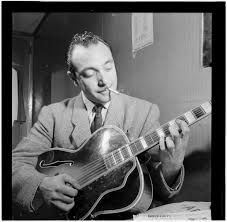 Django Reinhardt was born in Belgium.  He often teamed to perform & record with jazz violinist Stephane Grappelli.   He suffered a fatal brain hemmorhage May 16 1953 and died at age 43.
On this day in 1919, innovative TV comedian Ernie Kovacs was born in Trenton NJ. He was the first to treat television as a unique medium; prior comics had used it as merely an extension of vaudeville, film & radio. He also hosted a quirky 1959 quiz show, Take a Good Look.  Kovacs was killed in a single-vehicle LA car crash in a rainstorm Jan 13, 1962.  He was ten days short of his 43rd birthday.

On this day in 1923, actress Florence Halop was born in Queens New York.  She started in radio (Coast-to-Coast on a Bus, Duffy's Tavern, Jimmy Durante Show) before taking recurring TV roles on Meet Millie, Barney Miller, St. Elsewhere & (as above) Night Court.  She died of lung cancer July 15 1986 at age 63.
On this day in 1924, Ross McCreath was born in Toronto. After serving in WWII he got into advertising as a time buyer for radio shows such as Wayne & Shuster and Don McNeil's Breakfast Club. He moved to All Canada Radio Facilities in 1949, and helped form its television division, becoming its manager in 1955. He is best remembered for reinvigorating the Canadian Communications Foundation, which preserves online the history of all Canadian stations and prominent broadcasters.  McCreath died October 7, 2014 at age 90.
On this day in 1925, musician/arranger Marty Paich was born in Oakland. He worked as pianist, composer, & arranger with & for the likes of Frank Sinatra, Peggy Lee, Barbra Streisand, Sarah Vaughan, Ella Fitzgerald, Mel Tormé, & Ray Charles, and a hundred others. His name was not widely known, he avoided self-promotion. He died of colon cancer Aug 12, 1995 at age 70.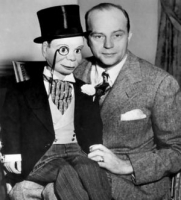 On this day in 1937, an article published in "Literary Digest" revealed that ventriloquist Edgar Bergen had made his little wooden dummy pal, Charlie McCarthy, the beneficiary of a $10,000 trust fund to keep him in serviceable condition and repair.
On this day in 1941, Artie Shaw and his orchestra recorded the big band classic "Moonglow" on RCA Victor Records. In the band were such sidemen as Johnny Guarnieri, Jack Jenney, Billy Butterfield and Ray Conniff (on trombone).
Also this day in 1941, radio station WOR in Newark moved to New York City.
On this day in 1943, noted critic Alexander Woollcott died of a cerebral hemorrhage suffered during a CBS radio discussion program. He was 56.
Also this day in 1943, former CBC TV news reporter and host of "Midday",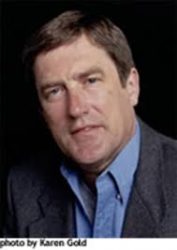 Bill Cameron was born in Vancouver.  He is best remembered as an anchor, writer, reporter and documentary producer for the CBC's "The Journal."  He passed away March 12, 2005 of cancer of the esophagus at age 62.
Still this day in 1943, Duke Ellington and his Orchestra played for a formally-dressed crowd at Carnegie Hall in New York City. It was the first of what was to become an annual series of concerts featuring the Duke.
On this day in 1951, the 3rd Emmy Awards honored the Alan Young Show, its Vancouver-raised star Alan Young (below), & Gertrude Berg of The Goldbergs.

On this day in 1956, King Records signed 'the hardest working man in show business' James Brown to a contract with its Federal Records subsidiary, enticing him with a $200 signing bonus.
On this day in 1957, just two days after winning top prize on "Arthur Godfrey's Talent Scouts' in CBS prime time, Patsy Cline made her first appearance on the Old Redhead's morning radio & TV show. Ironically her husband Gerald filed for divorce the very same day.
Also this day in 1957, Andy Williams recorded his first #1 single, "Butterfly."
On this day in 1958, Dean Martin was at the Capitol Tower in Hollywood to record his 3rd Top Five pop single, "Return to Me."
Also this day in 1958, Brunswick Records released "Maybe Baby" backed with "Tell Me How" by The Crickets.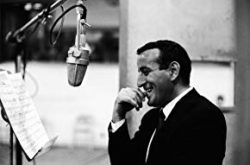 On this day in 1962, Tony Bennett was in the Columbia Records' East 30th Street studios in New York City to record what would soon become his signature song, "I Left My Heart In San Francisco." It was written by George Cory & Douglass Cross.
On this day in 1963, the Kingston Trio recorded their next Top Ten pop single, "The Rev. Mr. Black."
On this day in 1964, Motown released the first single by The Temptations to make it to #1 on the Cashbox R&B chart, "The Way You Do the Things You Do."
On this day in 1965, "Downtown" by Petula Clark topped the charts and stayed there for 2 weeks.
Also this day in 1965, based on a successful appearance on 'The Hollywood Palace' variety showcase, ABC-TV gave The King Family their own Saturday night show. However the hour starring The King Sisters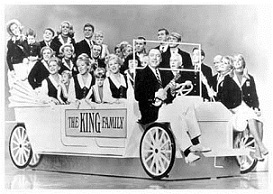 and more than 30 members of their extended family was cancelled a year later.
On this day in 1966, CBS-TV's Ed Sullivan Show featured singers Rick Nelson, Maria Cole and Eydie Gorme. Comedian George Kirby did impressions of celebrities of the day.
On this day in 1968, the No.1 Billboard Pop single was the song parody "Judy in Disguise (with Glasses)" by John Fred and His Playboy Band.
On this day in 1969, Cream released their last album "Goodbye."
Also this day in 1969, in Memphis, Elvis Presley recorded what would be his last #1 song, "Suspicious Minds."
Still in 1969, working at the Apple studios in London, The Beatles (with Billy Preston on keyboards) recorded ten takes of 'Get Back.'

On this day in 1970, singer Judy Collins was testifying at the trial of the infamous Chicago 7, and attempted to sing "Where Have All the Flowers Gone." However the judge stopped her, saying there would be no singing in his courtroom. So Ms. Collins resorted to reciting the lyrics.
Also this day in 1970, Columbia Records released Marty Robbins' next #1 Country single, "My Woman, My Woman, My Wife."
On this day in 1971, the song "Knock Three Times" by Dawn topped the charts and stayed there for 3 weeks.

On this day in 1975, the iconic sitcom set in a New York police station, "Barney Miller" made its debut on ABC-TV. We saw life in the 12th Precinct as Hal Linden starred as Barney and Abe Vigoda played Fish. The talented cast made the show an enduring hit for eight seasons.
On this day in 1976, another hour-long variety show "Donny and Marie" premiered on ABC. It was the first weekly TV show hosted by a brother and sister team, 18-year old Donny Osmond and his 16-year old sibling Marie.
On this day in 1977, Carole King's landmark album, "Tapestry", became the longest-running album to hit the charts, as it reached its 302nd week on the album lists. In 2012 it remains #5 on the longevity list, having sold more than 25 million copies around the world.

Also this day in 1977, the outstandingly popular miniseries "Roots" by Alex Haley premiered on ABC and ran for eight consecutive nights. The finale still stands as the 3rd most watched TV show of all time. The series received 36 Emmy nominations and took home nine winning trophies.
On this day in 1978, singer Vic Ames of the Ames Brothers died in an auto wreck at age 52.
Also this day in 1978, founder and guitarist Terry Kath of the band Chicago died after accidentally shooting himself in the head with a pistol he didn't think was loaded. He was a week short of his 32nd birthday.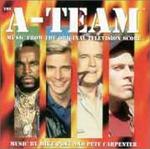 On this day in 1983, one of television's most intellectual, sophisticated and classy shows came into North American homes. It was full of action and drama and starred some guy named Mr. T, wearing a ton of gold jewelry. He played the not so mild-mannered Sgt. Bosco B.A. Baracus, and George Peppard took the lead role as John Hannibal Smith. Yes, "The A-Team" began its 97 episode, five-season run on NBC TV. Speak kindly of the show or Mr. T. will rip your face off, sucka!
On this day in 1986, after more than a year of planning, the first annual induction ceremony for the Rock and Roll Hall of Fame was held at New York's Waldorf Astoria. Those inducted included Chuck Berry, James Brown, Ray Charles, Fats Domino, the Everly Brothers, Buddy Holly, Jerry Lee Lewis and Elvis Presley.
On this day in 1987, fabled WABC DJ Bob Lewis died much too young at the age of 49. He began his career in New Haven Connecticut in the 1950's, becoming the allnight host at 770 WABC in 1962. Some listeners dubbed "Bob-a-Loo" the best deejay ever on WABC, before he switched to WABC-FM. Later he became one of the top commercial voiceover artists.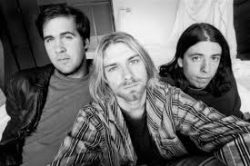 On this day in 1988, Nirvana recorded a ten-song demo tape with the godfather of grunge, legendary Seattle producer Jack Endino. The Melvins' Dale Crover sat in on drums. Sub Pop co-honcho Jonathan Poneman heard the tape and offered to put out a Nirvana single. They accepted.
Also this day in 1988, the No. 1 Billboard Pop Hit was "The Way You Make Me Feel" by Michael Jackson. The song was the third consecutive No. 1 hit from Jackson's album "Bad," the first time an artist had accomplished that feat.
On this day in 1989, in Georgia, James Brown was sentenced to six years in the pen in connection with a police chase the previous year along the Georgia-South Carolina state border.  However he was released after serving less than three years.
On this day in 1990, Allen Collins, guitarist with Lynyrd Skynyrd, died of pneumonia after being ill for several months. He was 37.
On this day in 1991, the wildly-popular sitcom "Seinfeld" debuted on NBC-TV (initially as 'The Seinfeld Chronicles') and stuck around through nine seasons.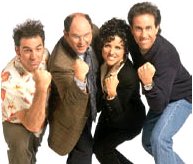 Also this day in 1991, John Sebastian, owner and general manager of Albuquerque, New Mexico radio station KLSK FM, played Led Zeppelin's 'Stairway To Heaven' for twenty-four solid hours to inaugurate a format change to Classic Rock.
On this day in 1995, singer William Horton, lead singer with the 1950's R&B group The Silhouettes ('Get a Job'), died at age 65.
Also in 1995, the No. 1 Billboard Pop Hit was "Creep" by TLC.
On this day in 1997, Richard Berry, the rhythm and blues pioneer whose song "Louie Louie" launched a generation of garage bands and provoked a federal obscenity probe, died of heart failure at age 63.
On this day in 1999, Bill Givens, the founder of pioneering reissue label Origin Jazz Library, died of a heart attack in Santa Monica, Calif. He was 68. In the late '50s, Givens' indie imprint was among the first to release rare country blues 78s on LP; the albums had a pronounced impact on '60s blues revivalists.
On this day in 2000, at the 57th annual Golden Globe Awards The Sopranos won for best dramatic TV series, while its stars James Galdolfini and Edie Falco won top acting honors.
Also this day in 2000, Santana started a three week run at No.1 on the US album chart with 'Supernatural.'  The album spent a total of nine weeks at No.1 during this year.
  On this day in 2002, longtime CKWX announcer & program executive 
 Laurie Irvine died in North Vancouver at age 88. He was the founding department head of BCIT's Communication Program in 1964. By then, he already had 30 years of broadcast experience, beginning as engineer at CKFC Vancouver in 1934. (picture courtesy of BC Radio History.)
Also this day in 2002, CNN announced that it had hired Connie Chung away from ABC News.  The move did not turn out to be a ratings success.
Also this day in 2002, Virgin Records and Mariah Carey terminated their record deal after barely nine months. Virgin paid Carey $28 million dollars to break the contract, on top of the 21 million Carey got for signing with the label.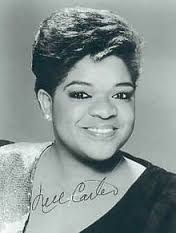 On this day in 2003, actress/singer Nell Carter died from heart disease complicated by diabetes at age 54.  She starred on TV's "Gimme a Break" in the 80's, and "Hangin' With Mr. Cooper" in the 90's, and won an Emmy (and a Tony) for the musical "Ain't Misbehavin'."
Also in 2003, R Kelly was arrested on 12 new child pornography charges, after Miami police discovered digital sex pictures at his home the previous summer. The singer was already facing 21 charges relating to producing child pornography and appearing in a video having sex with an underage girl.
On this day in 2004, Bob Keeshan, who entertained and educated generations of children as TV's walrus-mustachioed Captain Kangaroo, died after 20 years of heart problems at age 76. Keeshan's Captain Kangaroo debuted on CBS in 1955 and ran for 30 years before moving to PBS for six more.
Also in 2004, a judge in Pasadena, Calif., ordered Scott Weiland of Velvet Revolver to return to a live-in drug detoxification facility, after it is learned that he left, or was discharged, only one month into the program. Weiland was ordered to stay in rehab until July and then participate in a six-month follow-up program.

On this day in 2005, late-night TV icon Johnny Carson died from complications from emphysema in Los Angeles. He was 79.
On this day in 2007, the Grateful Dead's historic New Year's Eve '76 concert at the Cow Palace near San Francisco was officially issued as a three-CD set. "Grateful Dead: Live at the Cow Palace" featured the band's entire 22-song performance which previously had only been available as a bootleg.
On this day in 2011, fitness expert and early TV veteran Jack Lalanne succumbed to pneumonia at age 96.
On this day in 2014, 19 year-old Canadian singer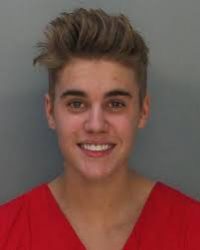 Justin Bieber was arrested after racing his yellow Lamborghini against another sports car on a Miami Beach street. Police said the singer did not co-operate when pulled over; also charged him with resisting arrest without violence and having an expired driving licence.
On this day in 2015, English actor Barrie Ingham died in Florida at age 82.  He was perhaps most widely known as "a prolific television actor" and as the cartoon voice of Disney's The Great Mouse Detective.
On this day in 2016, Jimmy Bain, the Scottish-born bassist for Dio and Rainbow, as well as Wild Horses and latterly Last In Line, succumbed to lung cancer while on a cruise at age 68.
On this day in 2017, singer/songwriter Bobby Freeman, San Francisco's first rock star best known for his 1958 hit single "Do You Want to Dance," suffered a fatal heart attack at age 76.
Also in 2017, Memphis Sound keyboardist Marvell Thomas, who worked and recorded with the likes of Johnnie Taylor, The Staple Singers,The Emotions, Albert King, Mavis Staples, Yvonne Elliman, and Etta James, died after a brief illness at age 75.
On this day in 2018,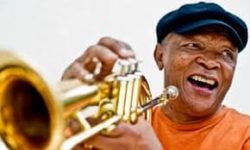 Hugh Masakela, one of the world's most distinctive trumpet players, whose performing on trumpet and flugelhorn mixed jazz with South African styles and music, died of prostate cancer at age 78. He used his music and live performances to attack the apartheid regime that had banished him from his homeland.
Also in 2018, singer Neil Diamond announced his retirement from touring after being diagnosed with Parkinson's Disease.  He was 77.
Still in 2018, Lari White, a Grammy-winning country singer-songwriter, producer and actress, died in hospice care after a battle with advanced peritoneal cancer, at age 52.
On this day in 2019, Shinedown performed "Get Up" for the first time on national television when they appeared on ABC-TV's "Live With Kelly And Ryan." Having already gone to #1 on Active Rock, the song amassed over 25 million total streams.
Today's Birthdays:
Actress Chita Rivera (One Life to Live, New Dick Van Dyke Show) is 87.
Actress Emily Banks (The Tim Conway Show) is 87.
Actress Arlene Golonka (Mayberry RFD, Joe & Valerie) is 84.
Actor Gil Gerard (Buck Rogers in the 25th Century, Nightingales, Days of our Lives) is 77.
Jazz vibraphonist/bandleader Gary Burton is 77.
Singer Anita Pointer of the Pointer Sisters is 72.
Guitarist Patrick Simmons of the Doobie Brothers is 70.
Bassist-keyboardist Bill Cunningham of The Box Tops is 70.
Actor Richard Dean Anderson (SGU Stargate Universe, Stargate SG-1, MacGyver) is 70.
Actor Richard Gilliland (Designing Women, McMillan & Wife, The Waltons) is 70.
Singer-guitarist Robin Zander of Cheap Trick is 67.
Actress Natalie West (Roseanne) is 64.
Soul singer Anita Baker is 62.
Actor Robert Funaro (Vinyl, The Sopranos) is 61.
Bassist Earl Falconer of UB40 is 61.
Actor Peter Mackenzie (Black-ish, The Faculty, Herman's Head) is 59.
Actor Boris McGiver (House of Cards, Person of Interest, Boardwalk Empire, One Life to Live) is 58.
Actress Gail O'Grady (Boston Legal, American Dreams, NYPD Blue) is 57.
Actress Mariska Hargitay (Law & Order: SVU) is 56.
London Ont-born actress Masasa Moyo (Young Justice) is 50.
PEI-born Rankin Family singer/actress Claire Rankin (Stargate: Atlantis) is 49.
Singer Marc Nelson (Az Yet) is 49.
Actress/reality TV personality Lisa Wu (The Real Housewives of Atlanta) is 47.
Actress Lanei Chapman (Space: Above And Beyond) is 47.
CBS Evening News anchor/former NBC news correspondent Norah O'Donnell is 46.
Actress Tiffani Thiessen (White Collar, Good Morning Miami, Beverly Hills 90210) is 46.
Bassist Nick Harmer of Death Cab For Cutie is 45.
Actress Lindsey Kraft (Grace & Frankie, Living Biblically, Getting On) is 40.
Actress Julia Jones (Longmire, ER) is 39.
Actor Geoffrey Wigdor (Loving, One Life to Live, Guiding Light) is 38.
Writer/producer/actor Kyle Newacheck (Workaholics) is 36.
Actress Mekenna Melvin (Chuck) is 35.
Model Doutzen Kroes (Victoria's Secret Fashion Show) is 35.
Actor Jack Reynor (Strange Angel) is 28.
Singer/actress Olivia 'Chachi' Gonzales (Chachi's World, East Los High, Guidance) is 23.
Actor Brennan Bailey (The Dog who Saved Christmas Vacation, The Dog who Saved Halloween) is 23.
.
Chart Toppers – Jan. 23
1944
My Heart Tells Me – The Glen Gray Orchestra (vocal: Eugenie Baird)
Shoo, Shoo, Baby – The Andrews Sisters
Besame Mucho – The Jimmy Dorsey Orchestra (vocal: Bob Eberly & Kitty Kallen
Pistol Packin' Mama – Bing Crosby & The Andrews Sisters
1953
Why Don't You Believe Me – Joni James
Don't Let the Stars Get in Your Eyes – Perry Como
Keep It a Secret – Jo Stafford
I'll Never Get Out of This World Alive – Hank Williams
1962
The Twist – Chubby Checker
Peppermint Twist – Joey Dee & The Starliters
Can't Help Falling in Love – Elvis Presley
Walk on By – Leroy Van Dyke
1971
Knock Three Times – Dawn
Lonely Days – Bee Gees
Stoney End – Barbra Streisand
Rose Garden – Lynn Anderson
1980
Rock with You – Michael Jackson
Do that to Me One More Time – The Captain & Tennille
Coward of the County – Kenny Rogers
I'll Be Coming Back for More – T.G. Sheppard
1989
Two Hearts – Phil Collins
Don't Rush Me – Taylor Dayne
Armageddon It – Def Leppard
She's Crazy for Leavin' – Rodney Crowell
1998
Together Again – Janet Jackson
Truly Madly Deeply – Savage Garden
My Love Is the Shhh! – Somethin' For The People
Just to See You Smile – Tim McGraw
2007
Irreplaceable – Beyoncé
Fergalicious – Fergie
I Wanna Love You – Akon featuring Snoop Dogg
She's Everything – Brad Paisley