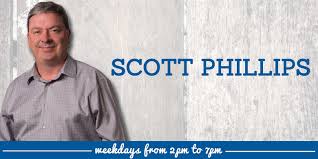 Some big changes announced today at Corus Radio, especially affecting their Alberta clusters.  As a result, two veterans have opted to "retire".. Phil Kallsen stepping down next month after 22 years as PD in Calgary, and the chief architect of Country 105, a wonderfully successful example of that music format.
And Scott Phillips' last day behind the mike after 29 years at Country 105 will be this Friday the 17th.  He has also been APD and Music Director of the station for many years.
In his internal memo to department heads Corus VP Brad Phillips also announced the appointment of Ronnie Stanton as Regional Program Manager for BC & Alberta.  He is to be in charge of programming strategy and direction for all six of Corus' FM stations in the two provinces. The memo also said Greg Johnson of their Edmonton cluster will be taking on a different role in programming, one that hasn't yet been defined.
It would be safe to say there are still a number of questions as yet unanswered; those "retirements" .. especially Scott Phillips' departure the day after this memo was issued, after a most impressive three decades with Country 105, deserves more explanation.