PSR is indebted to the Edmonton Broadcasters Club for the following:
Obituary
Peter Cameron Kjellbotn
April 13, 1950 – December 30, 2019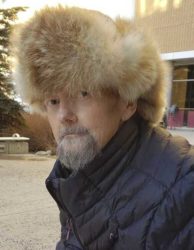 It is with heavy hearts we announce the passing of Cam Kjellbotn on December 30, 2019.
He was born in New Westminster and raised in Coquitlam, BC. Cam began his television production and broadcasting career at BCTV, moving to Edmonton in 1974 for the sign on of ITV. The next 40 years of his career was spent in various roles at ITV, now Global Edmonton. He retired from the station in 2013.
He loved sailing, taking holidays with his family, and was very involved with his sons' activities.
Cam is survived by his wife Liz, sons Peter (Megan) and John (Kim), sister Annabel Glanville, Sisters-In-Law Catherine Whalley (Maurice Doll) and Barbara Whalley.
Special thanks to all the staff on Unit 5 East at the Royal Alexandra Hospital, and at the Norwood Hospice.