.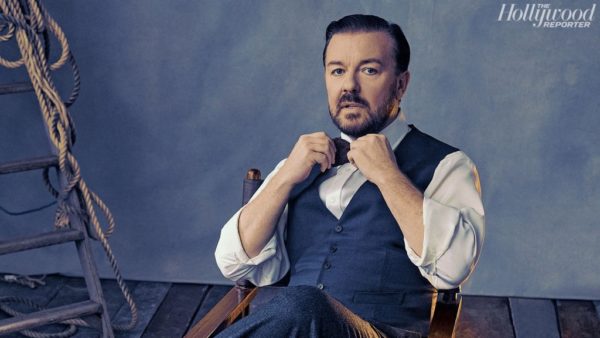 It's two days before Christmas, and Ricky Gervais is preparing to spend a quiet holiday with his girlfriend and cat. In less than two weeks, he'll be 5,400 miles away in Beverly Hills, taking the stage for the fifth time to host the Golden Globe Awards. This means, of course, that the Gervais household Christmas plans have been derailed.
"As soon as NBC called and said, 'Do you want to do it?' I thought, 'Well, that's Christmas ruined because I've got to work,' " Gervais says. "People think that I'd go out there and I'd get drunk and say off-the-cuff [things]. I don't. I write jokes."
And that's just what the 58-year-old British comedian will be doing for the next few days, holed up inside this elegant red-brick house on a quiet residential street in West London, where he lives with longtime girlfriend Jane Fallon (who often features as a character in his jokes) and his cat, Ollie, (who commands 59,000 Twitter followers). A stocking for Ollie hangs near the entrance of his home office, the room to the right of the big Christmas tree twinkling in the wood-paneled hallway.
The man behind The Office, it turns out, has a pretty small one. "This is full of free stuff because it's all awards and things people have sent me," Gervais says. Both sides of the room have floor-to-ceiling wooden shelves stacked with an assortment of books and accolades — the BAFTAs and Emmys sit on his right, the Globes to his left. A sturdy wood desk stands in the middle of the room, a laptop sitting next to a pile of papers with jokes scrawled across them. Gervais is dressed comfortably in black sweatpants, T-shirt and a zipper hoodie with holes in the left elbow. He brings in some water, pushing over a coaster from The Tonight Show Starring Jimmy Fallon to place the glass on.
Gervais' stints as Globes host have done reasonably well in the ratings — the 2016 show pulled in 18.5 million viewers, about the same as last year's with Sandra Oh and Andy Samberg hosting. Still, when NBC, the Hollywood Foreign Press Association and Dick Clark Productions announced that Gervais would return in 2020, some eyebrows were raised. Would his particular brand of outrageous putdown comedy — in 2016, there were gasps in the audience when he joked about a Caitlyn Jenner car accident that had left a woman dead, and his roasting of a certain controversial Australian star ("I like to drink as much as the next man, unless the next man is Mel Gibson") has been a feature of his hosting since 2010 — prove too much for these more sensitive times? After the Globes broke new ground last year with Oh becoming the first Asian American to host, would Gervais feel like a step backward for Hollywood inclusion? And, the biggest question of all, why, after taking so much flak over his past four turns at the podium, would Gervais want to return for a fifth
READ MORE  HERE.