B.C.'s moderate weather and tax incentives make it a popular place to film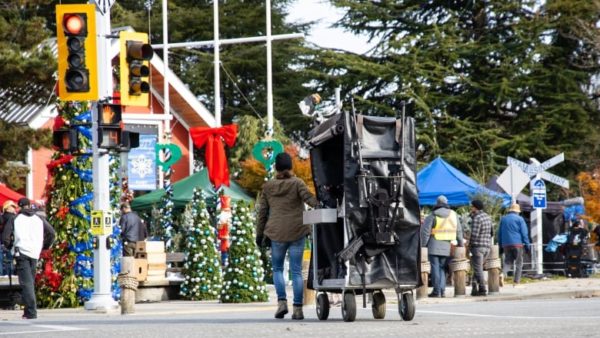 Getting into the holiday spirit starts early in the Village of Steveston, B.C., where Christmas decorations start popping up in July — along with manufactured snow.
No, it's not the world's worst case of "Christmas creep," where the season comes earlier and earlier to shop windows and ads.
It's the work of film crews, shooting one of several Hallmark Christmas movies that used B.C. as a set this year.
It keeps going all year. In November, the entrance to Rocanini Coffe Roasters was dwarfed by nutcrackers, for a film shooting across the street.
"It's so cool! Like, there is nothing one minute and then you look and everything is set up … It's fun to watch, you get a sneak peak of behind the scenes," said Elise Raye, who works as a barista there.
While the audience is transported to fictional towns like "East Riverton," they're actually watching B.C., which has become the go-to place to film the made-for-TV holiday flicks. And picking out the locations has become a favourite pastime for locals.
"You get to see the locations on the movie and know exactly where that was and have attachment to it now, you feel like you were part of the movie in a way, which is pretty awesome," said Raye.
Vancouver Director Allan Harmon has shot 10 Hallmark movies in the last two years, four of them holiday themed. He says 75% of Hallmark movies are produced in B.C.
Read more  HERE.