Have Yourself A Merry Little Christmas – Andy Williams
The Andy Williams Christmas Album is the first Christmas holiday album released by singer Andy Williams and his twelfth studio album overall. It was issued by Columbia Records in 1963, and it would prove to be the first of eight Christmas albums released by Williams. Though it was also the album that introduced Williams' perennial holiday classic "It's the Most Wonderful Time of the Year", Columbia instead opted to release Williams' cover of "White Christmas" as the album's promotional single at the time.[5]
A front-page story in Billboard magazine on Nov. 23, 1963, made clear the album was already destined to be a big hit, reporting: "Though the majority of retailers around the country that were contacted reported that Christmas product sales were just starting, they have already singled out the new 'Andy Williams Christmas Album' as the probably No. 1 LP for the next two months; at least of those albums thus far on the market. It is already registering heavy sales, as is his single 'White Christmas.'"[6]
Howard Andrew Williams (December 3, 1927 – September 25, 2012) was an American singer. He recorded 43 albums in his career, of which 15 have been gold-certified[1] and three platinum-certified.[2] He was also nominated for six Grammy Awards. He hosted The Andy Williams Show, a television variety show, from 1962 to 1971, and numerous TV specials. The Andy Williams Show won three Emmy awards. The Moon River Theatre in Branson, Missouri is named after the song for which he is best known—Johnny Mercer and Henry Mancini's "Moon River". He sold more than 100 million records worldwide, including more than 10 million certified units in the United States.[3][4]
Williams was active in the music industry for 74 years until his death in 2012. (Thanks to Wikipedia)
…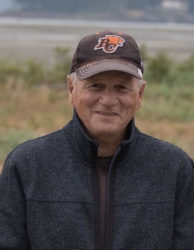 Chuck Benson – Started his broadcast career in 1960 as a writer at CKYL, Peace River, AB, where in 1965 he won the Gold Leaf Award (now called the Juno) for Top Disc Jockey for Canada. From there, a brief stint at CFRN, Edmonton, AB as Promotions Manager for AM/FM Radio. Then in '62 helped open CKNL Fort St. John, BC. In '68 Chuck and two others (Ernie Mushtuk and Ernie Mykyte) started up Yellowhead Broadcasting Ltd out of Edson, AB, eventually ending up with satellites in Grande Cache, Jasper, Whitecourt and Hinton, AB. He sold his interests and moved to Vancouver, ending up with CFVR, Abbotsford as General Sales Manager, then Manager of CHPQ, Parksville, and eventually as a Sales Consultant with CIGV-FM in Penticton. Chuck is retired from broadcasting and living with his wife in Parksville