Howden has worked on the program since 2003, and been head writer for the last decade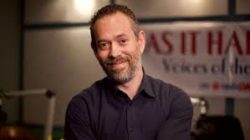 "I listened to As It Happens every night growing up," Howden said.
"It is unbelievable that I'll be in the same chair that Alan Maitland, Barbara Budd and Jeff Douglas sat in. Not literally — it's a different chair. Regardless, I am proud and grateful to join that illustrious group, and thrilled to be working with my friend and hero, Carol Off."
Listeners will already be familiar with Howden's voice — in more ways than one.
As head writer, his witty scripts and iconic puns have defined the program's unique tone. He has also frequently stepped into the studio to fill in as co-host since joining As It Happens in 2003.
"As our writer, Chris has already shown us the world through his unique lens," Off said. "Human folly is gently mocked; the absurd is exposed to the light of day; the ordinary becomes extraordinary. Now he will bring his humour, wit and insight to the airwaves as my co-host. As It Happens is blessed."
READ MORE  HERE.