courtesy AllAccess.com     November 4, 2019
.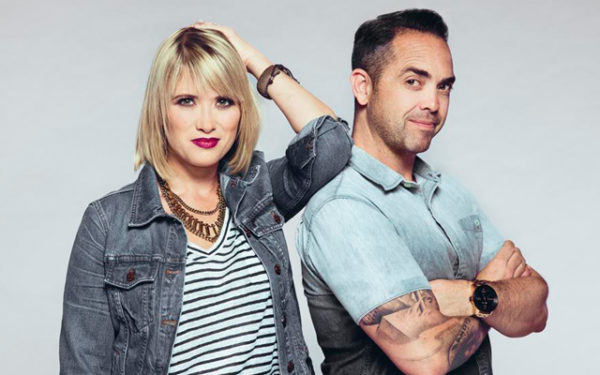 Brooke & Jubal
PREMIERE NETWORKS' BROOKE (FOX) and JUBAL (FRESH), hosts of BROOKE & JUBAL in the Morning, are this year's recipients of THE RADIO HALL OF FAME's "One to Watch" award. It was created last year in honor of radio legend and 2012 RHOF inductee ART LABOE.
Each year, the RHOF nominating committee selects a promising radio personality or team who has demonstrated ratings success, audience growth, and impact on one or more radio stations and their communities.
BROOKE and JUBAL teamed up in 2011 and within four years, they launched into national syndication. In 2016 they won the NATIONAL ASSOCIATION OF BROADCASTERS' Marconi Award for "Large Market Personality of the Year." Today, they're #1 in PORTLAND and SEATTLE and are heard on more than 50 stations (including Ottawa's Jump 106.9), attracting 2.2 million weekly listeners.
"BROOKE and JUBAL exemplify the inspiration behind this award," said RHOF Chairman KRAIG KITCHIN. "While they've made MOVIN' 92.5, KQMV their home in SEATTLE, the magic they create on the air continues to win audiences far beyond."
THE RADIO HALL OF FAME's 31st Annual Induction Ceremony is scheduled for FRIDAY, NOVEMBER 8th. Tickets are available here.
A portion of the ticket is a tax-deductible charitable donation to THE MUSEUM OF BROADCAST COMMUNICATIONS. The 2019 inductees include SEAN "HOLLYWOOD" HAMILTON, HARRY HARRISON, KEVIN RYDER and GENE "BEAN" BAXTER (KEVIN & BEAN), JOE MADISON, JIM ROME, RYAN SEACREST, JOHN TESH and DR. RUTH WESTHEIMER.
THE MIX GROUP is the presenting sponsor of THE RADIO HALL OF FAME Induction Ceremony.
READ MORE RADIO NEWS  HERE  AT THE ALL ACCESS MUSIC GROUP WEBSITE