Vista Radio Group's CFCP-FM has gone back to the branding it was sporting five years ago.
No longer 98.9 The Goat (World Class Rock) which had been its moniker since 2014, Courtenay's original radio license has returned to the branding it proudly operated under in the early 2000's, Jet FM 98.9.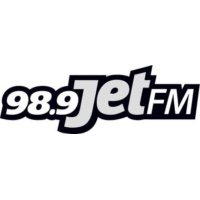 As Wikipedia indicates, he station originally began broadcasting in 1959 at 1440 AM until November 11, 1999, when the station moved to the FM dial as Magic 98.9 with an adult contemporary format.
In October 2005, the station changed formats to active rock with the branding Jet FM, "The Island's Best Rock." Almost nine years later, on May 30, 2014, CFCP changed its name to "98.9 The Goat".
On Friday Nov. 1 The Goat changed all their logos on their Facebook and website and re-branded as the Jet once again, welcoming back former hosts Pete Montana and Robyn in the morning.