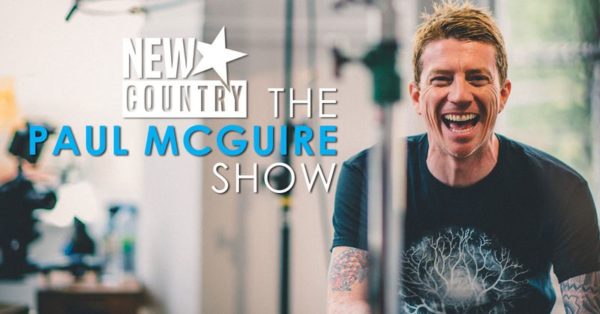 NEWS RELEASE
FOR IMMEDIATE RELEASE
Toronto, October 17, 2019 – Canada's leading country music personality is going coast-to-coast every day with his show! On Monday, October 21, Stingray will proudly launch The Paul McGuire Show, a new, nationwide daytime radio show that will be heard in Kelowna (New Country 100.7), Kamloops (New Country 103.1), Camrose (New Country 98.1), Moncton (New Country 96.9), Sydney (New Country 103.5), and Fredericton (New Country 92.3).    
Paul McGuire is an award-winning broadcaster who has hosted and produced shows for CMT, YTV, CTV, Global Television Network, The Food Network, The History Channel, and more.  In 2016, he was awarded the prestigious Country Music Association's International Broadcaster of the Year award. Paul has interviewed everyone from business leaders to politicians, actors, and the biggest country stars.  Based in Toronto, The Paul McGuire Show will be an important stop for country artists to debut their latest music and share news with listeners across Canada.
"I'm really excited about this show!" says Paul. "It has always been an honour and a privilege to share songs and the stories of the people who make them with music lovers across Canada."
The show will cover the hottest in country music news and feature chats with the format's biggest stars.  In addition to this daily show, Paul will continue to host The Paul McGuire Country Countdown every weekend on Stingray country stations from coast to coast.  
The Paul McGuire Show launches October 21, 2019, on New Country 100.7 in Kelowna, New Country 103.1 in Kamloops, New Country 98.1 in Camrose, New Country 96.9 in Moncton, New Country 103.5 in Sydney, and New Country 92.3 in Fredericton.
About Stingray
Montreal-based Stingray (TSX: RAY.A; RAY.B) is a leading music, media, and technology company with over 1,200 employees worldwide. Stingray is a premium provider of curated direct-to-consumer and B2B services, including audio television channels, more than 100 radio stations, SVOD content, 4K UHD television channels, karaoke products, digital signage, in-store music, and music apps, which have been downloaded over 101 million times. Stingray reaches 400 million subscribers (or users) in 156 countries. For more information: www.stingray.com.