The old C-FUN building on West Fourth will soon be razed for a condo project.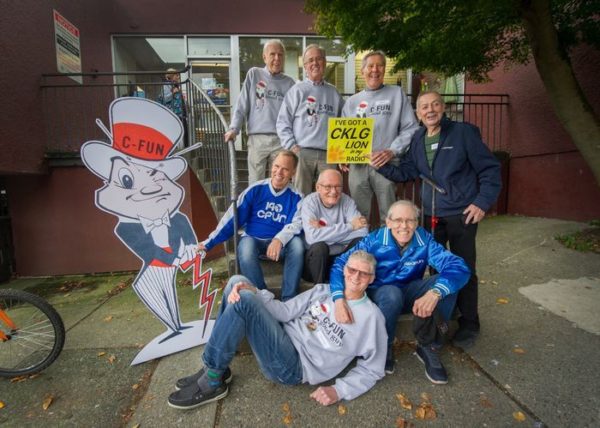 In 1963 C-FUN ruled the rock 'n' roll airwaves. So somebody had the bright idea to photograph its disc jockeys outside the CFUN building at 1900 West Fourth Ave.
Red Robinson, Fred Latremouille, Brian (Frosty) Forst, Ed Kargl, Al Jordan and Tom Peacock all donned "C-FUN Good Guy" T-shirts and lined up on a curving staircase on Fourth.
The hairdos, Jiminy Cricket logo and cigarette butt jutting out of Jordan's left hand will make anyone who grew up in the era smile. As will the photo of Latremouille, who was only 18 and looked it.
Fifty-six years later the CFUN call letters are long gone — the station is now Bloomberg radio. In a few months the physical building will be toast as well, torn down for a condo project.
Last week several DJs from CFUN's past got together at a semi-annual lunch for old radio personalities at the White Spot on West Georgia Street in Downtown Vancouver.
About 80 people turned up at the event, which featured a 15-minute tribute to CFUN that included some hilarious old promos and a roundtable discussion about the station. Afterwards, the CFUN alumni piled into a stretch limo for a ride into Kitsilano, where they replicated the 1963 shot.
Sadly, three of the six DJs in the original photo have died — Latremouille, Jordan and Peacock. But Robinson and Kargl were joined by several more CFUN DJs who were legendary in their own right — Terry David Mulligan, John Tanner, Doc Harris, Chuck McCoy and Tom Jeffries.
They even invited Roy Hennessey, who was CFUN's arch-enemy when he was at CKLG.
READ THE REST OF THE STORY  HERE  AT THE VANCOUVER SUN WEBPAGE