Calgary's first television station, Global Calgary, is proud to celebrate 65 years today, October 8.
Since launching regular programming on October 8, 1954, Global Calgary has transformed and evolved throughout the years; all the while remaining steadfast in its mission to celebrate and showcase the local community. Today, Global Calgary partners with more than 150 organizations throughout the city.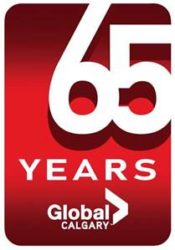 "Global Calgary is a station committed to celebrating and highlighting the city's diverse community," said Carmela Gentile, station manager and news director. "We look forward to sharing many more milestones with our great city."
Here on the Puget Sound Radio website, the birth of the atation was noted in Today in Broadcast History thusly:
On this day in 1954, Calgary's CHCT-TV Channel 2 signed on as a CBC affiliate. It was jointly owned by three Calgary radio stations: CFCN, CFAC and CKXL.
Today the official call letters are CICT DT.  It broadcasts 46½ hours of locally produced newscasts each week, more than any other local TV outlet, with 7½ hours on weekdays, and 4½ hours each on Saturdays and Sundays.