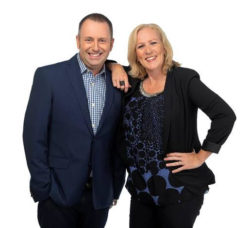 770 CHQR announced today that Andrew Schultz has joined the morning show as new co-host, alongside Sue Deyell.
For Immediate Release
CALGARY, October 2, 2019 – It's a new era for morning talk radio in Calgary as Andrew Schultz joins Sue Deyell as co-host on the 770 CHQR Morning News. Officially launching on Monday, October 7 and airing weekdays from 5:30 a.m. to 9:30 a.m. MT, The Morning News with Sue Deyell and Andrew Schultz takes on the biggest stories of the day while delivering important weather and traffic updates throughout the morning. Andrew is taking the co-host reins following the retirement of Gord Gillies.
Schultz is familiar to Calgary audiences. Most recently seen as Co-Host and Weather Anchor on Breakfast Television, he previously served as the Saturday Morning Show Host and Weekend Weather Anchor on Global Calgary. He has also worked for Global Edmonton. A graduate of Mount Royal University, he began his career with RDTV in Red Deer.
Schultz was born in Edmonton but raised in Calgary. A longtime fan of the Calgary Stampeders, he also serves as the official game day meteorologist.
-30-