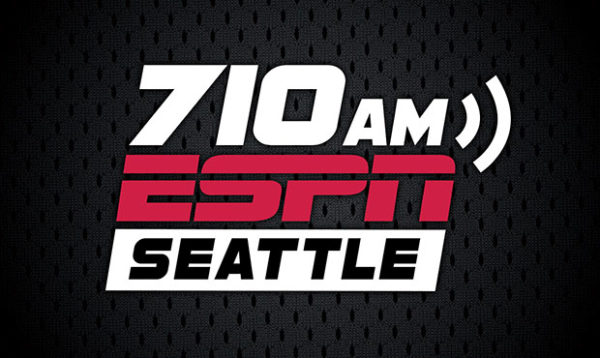 It's a new day at 710 ESPN Seattle.
A brand new lineup for the station will begin on the air Monday, Sept. 30. The first change was announced Wednesday afternoon, with the other changes set to be revealed throughout the day Thursday.
Here's what we know so far:
Mornings belong to Danny and Gallant
Danny O'Neil jumped on Thursday morning with Brock and Salk to reveal not only that he and producer Jessamyn McIntyre are moving to 7-10 a.m., but that they will be joined by a brand new voice to the station.
That would be Paul Gallant, who comes to 710 ESPN Seattle from Houston, where he has hosted the past seven years. "Born in the northeast and raised in Florida, Paul is opinionated, fun, creative and polished. He's looking forward to making Seattle home," says 710 ESPN Seattle program director Mike Salk.
Brock Huard will join Danny and Gallant at 8 a.m. three times a week, and former WSU and Seahawks wide receiver Michael Bumpus will have a regular presence on the show as well.
Bob Stelton joins Dave Wyman and Jim Moore
The first reveal was made Wednesday afternoon on Danny, Dave and Moore. Bob Stelton will be moving from Bob, Groz and Tom to the 3-7 p.m. time slot, joining Dave Wyman and Jim Moore on a new show called Bob, Dave and Moore. What does that mean for Tom Wassell from noon to 3 p.m.?
Stacy Rost, Jake Heaps join Tom Wassell in middays
With Bob Stelton heading to the afternoons with Bob, Dave and Moore and Dave "The Groz" Grosby moving on to a host emeritus position with the station, Tom Wassell was in need of two new co-hosts from noon to 3 p.m. every day. The answers were found within 710 ESPN Seattle's own ranks.
The announcement was made Thursday afternoon that Wassell will be joined by Stacy Rost and Jake Heaps, both of whom come from roles with Seattle Sports at Night, every day on Tom, Jake and Stacy.
Rost is a Seahawks insider who has served as a writer and editor with 710Sports.com and host with 710 ESPN Seattle. Heaps was a Gatorade Player of the Year at Skyline High School before playing quarterback in college at BYU, Kansas and Miami (Fla.). He had stints with the Jets and Seahawks and joined the station in 2018.
Brock and Salk becomes a weekly podcast
As announced the previous week, Brock Huard and Mike Salk are taking their daily 710 ESPN Seattle show and turning it into a weekly podcast that will go online every Wednesday. Their final daily show will air Friday morning, and the first podcast will be available Wednesday, Oct. 2. More details on their change here.
After 29 years as a radio host in Seattle, Dave "The Groz" Grosby stepped away from daily on-air hosting duties on Friday, Sept. 20. He is still on 710 ESPN Seattle every weekday doing a segment with John Clayton at 11:45 a.m., and he will pop in from time to time as a guest host. He also will have an expanded role with 710Sports.com.
(This is a Press Release from 710 ESPN, KIRO AM Seattle)