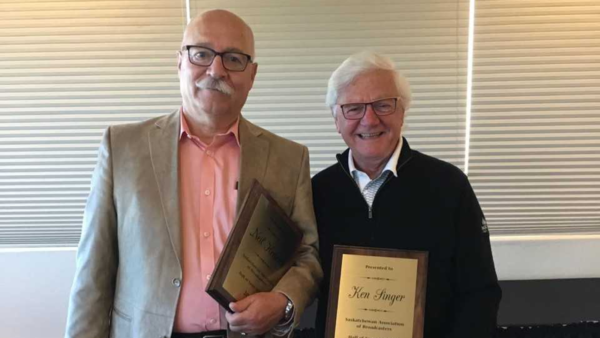 .
By Ronald Quaroni, paNOW
.
A radio career that spanned three decades was honoured on Friday.
Neil 'the doc of rock' Headrick is one two inductions into the Saskatchewan Association of Broadcaster's Hall of Fame.
"It's incredibly humbling for one thing," Neil Headrick told paNOW. "One does not start in this career, or any, expecting accolades at the end of it.
"It's certainly the icing on the cake," he said.
Station Manager for the Jim Pattison Broadcast Group in Prince Albert and member of the association, Tyler Kinash said Headrick's induction was decided at the group's annual general meeting.
He said Headrick was a big part of the Jim Pattison Broadcast Group as well as a prominent member of the community. From anchoring on-air fundraisers to working as a program director, Kinash said Headrick always put others ahead of himself.
"I had the chance to work with Neil for 18 years, closer in the latter part of his career and it was an absolutely pleasurable experience," Kinash said.
The other 2019 inductee was also briefly a Jim Pattison employee. Fabmar Communications Vice-President of Broadcast Operations, Ken Singer oversaw the transition of Fabmar Communications' four radio stations to the Jim Pattison Broadcast Group.
He retired in November of last year.
READ MORE PRINCE ALBERT NEWS  HERE.