Outsider music hero had been hospitalized with a kidney malfunction before his death of natural causes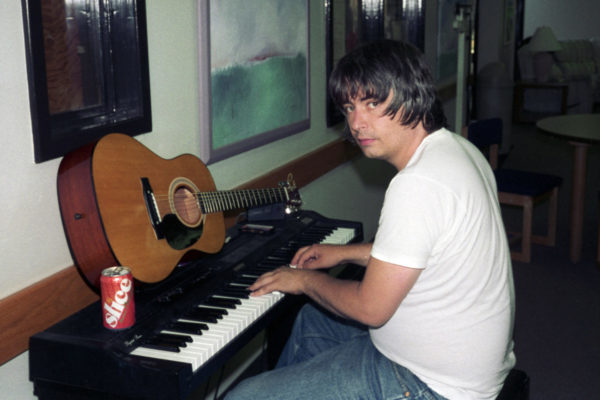 Daniel Johnston, the outsider folk artist whose childlike pleas for love captivated the likes of Kurt Cobain, Matt Groening and Tom Waits, died Wednesday of natural causes, his family confirmed in a statement. He was 58.
"The Johnston family is deeply saddened to announce the death of their brother, Daniel Johnston," his family said in a statement. "He passed away from natural causes this morning at his home outside of Houston, Texas.
"Daniel was a singer, songwriter, an artist, and a friend to all. Although he struggled with mental health issues for much of his adult life, Daniel triumphed over his illness through his prolific output of art and songs. He inspired countless fans, artists, and songwriters with his message that no matter how dark the day, 'the sun shines down on me' and 'true love will find you in the end.'"
For years, Johnson had contended with both physical and mental health issues. Although he had been diagnosed with schizophrenia and bipolar disorder, his physical wellbeing suffered after he took a fall and was hospitalized; he also had to grapple  with changes in his medication routine.
"Keeping him healthy has been the struggle and when he's not well, you deal with a different person," Johnston's brother Dick said in an interview Wednesday. Johnston had been hospitalized last week with a kidney malfunction, his brother said, and returned home on Tuesday. "He was lucid and in good spirits," Dick said. "As good as I've seen him in years. The [ankle] swelling was down and the problem looked good. He was happy to be home."
On Tuesday night at approximately 8:30 p.m., a caretaker went to check on Johnston, but the musician declined to see them. His body was discovered in his room on Wednesday morning, according to his brother. No autopsy will be conducted.
The singer will best be remembered for his warbly, high tenor and simplistic ruminations on love and life on songs like "Life in Vain," "True Love Will Find You in the End," and "Walking the Cow." On his best songs, his voice ached with earnestness and longing, features that attracted a number of high-profile fans. Cobain (who stated in interviews that Johnston was among the "greatest" songwriters) notably wore a T-shirt repping Johnston's Hi, How Are You album to the 1992 MTV Video Music Awards, and artists including Flaming Lips, Death Cab for Cutie, Bright Eyes, and Beck have all covered his songs.
Read more  HERE.