Coneybeare gave life to characters Jerome the Giraffe and Rusty the Rooster on beloved children's show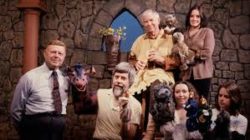 Rod Coneybeare, who enjoyed a three-decade run at the CBC hosting, producing and appearing on a variety of shows, including voicing the beloved characters Rusty and Jerome from The Friendly Giant, has died.
Coneybeare, according to an obituary from his family that appeared in the Toronto Star, died in Lindsay, Ont., at the age of 89.
The family said he "leaves behind beloved and everlasting memories of a man with a biting intellect, a dark and incisive humour, an appreciation of art, popular music and classic movies."
In the late 1950s, he was selected to voice characters on The Friendly Giant, the children's show created by and starring Bob Homme.
THE REST OF THE STORY IS  HERE  AT THE CBC NEWS WEBSITE