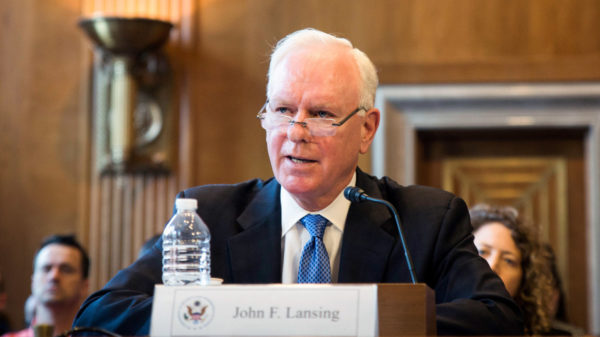 NPR has a new CEO. John Lansing, a veteran government broadcast and cable television executive, has been selected by NPR's corporate board to succeed its current chief, Jarl Mohn.
Lansing, who is 62, is currently the chief executive of the government agency that oversees Voice of America, Radio and Television Martí and Radio Free Europe/Radio Liberty, among others. He made his mark in his current job with stirring defenses of journalism, free from government interference.
Lansing will start in his new position in mid-October. He will be the 11th permanent president or chief executive in the radio network's nearly 50-year history.
In an interview, Lansing said he wants to build on NPR's successes in broadcast news and entertainment to become even more dominant in podcasting and more prevalent in streaming.
"When I think of NPR and I think of the member stations collectively, I think really of journalism as a public service, not tied to a profit motive," Lansing told NPR News. He defined NPR's mission as "serving the public with information and an excellence and quality about it that makes it 'must see' on a variety of platforms."
Read more HERE.