(Getty Images)
.
Published by KIRO Nights     Aug. 19 2019
.                                                                                                                                                                                               .
If you've paid attention to Seattle sports over the last 15 years or so, you have likely heard the voice of Matt Pitman.
He's served as the PA announcer for the SuperSonics and The Storm, been an on-air personality for various radio stations, including 710 ESPN Seattle. He's also been the voice behind Seattle's new Seawolves rugby squad.
But now, if you want to hear Pitman's voice leading cheering crowds, echoing throughout a stadium, you'll have to catch a Golden State Warriors game at their new home — San Francisco's Chase Center.
"I am humbled and honored … I will be going to San Francisco," Pitman told 
KIRO Nights
. "I will be moving there to become the new public address announcer for the Golden State Warriors of the NBA. I will also be joining the organization in their front office, in the prestigious Warriors studio. That is their in-house video production team."
.
"They are moving into the Chase Center on the east bay waterfront in San Francisco, moving over from Oakland into San Francisco for the first time in franchise history," he said.
Pitman gave his first interview about the new position — being the first announcer at the new Chase Center — to KIRO Nights.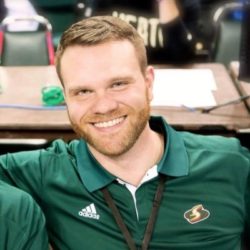 "I'm still pinching myself," he said. "It's a once in a lifetime opportunity. I started doing PA announcing with the Sonics when I was 23 years old. I'm on my 14th season with The Storm."
Pitman will be finishing The Storm season up here in Seattle.
READ MORE  HERE  AT MyNorthwest.com