ON THIS DAY in 1900,
 radio/TV performer/songwriter Walter O'Keefe was born in Hartford Connecticut.  He started in vaudeville and became a Broadway performer. By 1937 he was filling in for such radio stars as Walter Winchell, Edgar Bergen, Don McNeill and Garry Moore. He became the long-time master of ceremonies of the NBC game show Double or Nothing and was a regular on that network's Monitor series.  He was the host for the first Emmy Awards ceremony in January 1949. O'Keefe has a star for his radio achievements on the Hollywood Walk of Fame. He died of congestive heart failure June 26 1983 at age 82.
In 1905, future orchestra leader Enoch Light was born in Canton Ohio.  A concert violinist and parttime recording engineer, he is credited with being the first musician to go to extreme lengths to create high-quality recordings that took full advantage of the stereo capabilities of home audio equipment of the late 1950s and early '60s.  He died July 31 1978 at age 70.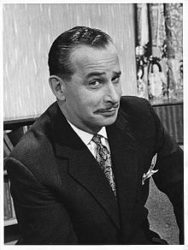 In 1910, the man we knew as Canadian radio/TV quizmaster Roy Ward Dickson was born Richard del Valle in London, England. He had been a high school teacher before he joined the Toronto Star where he invented a quiz game in 1934 to test the knowledge of students. On May 15, 1935, Professor Dick and his Question Box debuted as a quiz show on Toronto radio station CFRB. Roy's many shows (Turnabout, Fun Parade, Take a Chance, Mr. & Mrs. etc) ran internationally until the late 1990s, even though he passed away at age 68 in his retirement city of Victoria BC on September 16, 1978.

In 1922, actress Shelley Winters was born Shirley Schrift in St Louis Missouri. It was she who taught Marilyn Monroe the famous open-mouthed smile, when they were both roomies in their struggling days.  After her big screen career ended she played a courageous parody of herself in recurring TV appearances as Nana Mary, the Grandmother, on Roseanne. She died of heart failure Jan. 14 2006 at age 85.
In 1927, at age 20, Christian radio pioneer Theodore Epp was converted to a living faith. In 1939 he founded  the "Back to the Bible Broadcast," an evangelistic Radio Program which still in recent years was heard on over 600 stations around the world.
In 1937, the first FM radio construction permit was issued in the U. S.  It went to W1XOJ, Boston, Massachusetts. The station went on the air as WGTR (General Tire & Rubber) in 1941 and is now WAAF.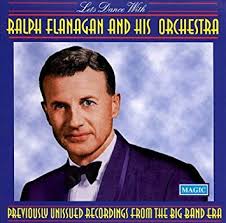 In 1949, Ralph Flanagan and his orchestra, whose specialty was playing in the manner of the late Glenn Miller, recorded "You're Breaking My Heart" for RCA's Bluebird label.
In 1952, actor/singer/dancer Patrick Swayze was born in Houston Texas.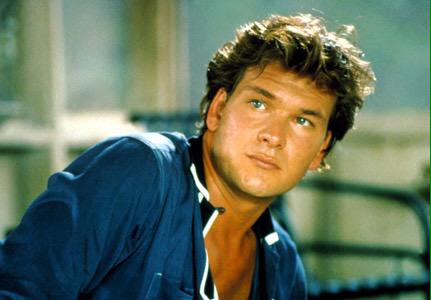 His stardom on the big screen was preceded by numerous TV appearances, including the miniseries North & South I and II.  His last dramatic work was as star of the cable series The Beast.  In 1988 he had a Billboard No.3 hit single with Wendy Fraser, 'She's Like The Wind'. He succumbed to pancreatic cancer Sept. 14 2009 at the age of 57.
Also in 1952, a few weeks after becoming the only artist ever fired from the Grand Ole Opry (due to his heavy drinking), country music singer/songwriter Hank Williams was arrested in Alexander City, Alabama for being drunk and disorderly.  The alcoholism would lead to his death little more than 4 months later.
In 1958, Vancouver radio station CKNW moved from 1320 on the AM dial to 980, the spot vacated the previous year by CKWX.
On the same day, North Vancouver-licensed CKLG moved from 1070 to 730.


Also in 1958, Perez Prado, the "Mambo King," received one of the first Gold Records awarded by the Record Industry Association of America (RIAA). His single, "Patricia", was certified as having sold more than one million copies.
In 1960, Bobby Darin was in Los Angeles to record "Artificial Flowers" and "Lazy River," both of which made it into Billboard's Top 20 pop singles.
In 1961, the first Mariposa Folk Festival began at Oval Park in Orillia, Ontario. Some 1500 people gathered over two days to hear such performers as The Travellers, Ian and Sylvia and fiddler Al Cherny. Marioposa ontinues to be an annual event in Metropolitan Toronto.
Also in 1961, in Nashville, Jimmy Dean recorded his future #1 pop single "Big Bad John" for Columbia records.  He taped two different endings, one of which was "a hell of a man." ("A big, big man" was the alternate line, for use on radio stations which couldn't air the albeit tame expletive.)
In 1962, folksingers Peter, Paul & Mary released the group's first hit "If I Had a Hammer."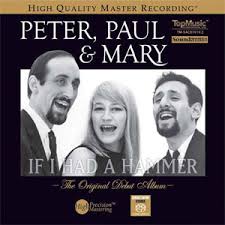 Also in 1962, Bobby Vinton posted his fourth week at #1 on the Billboard Easy Listening chart with "Roses Are Red (My Love)".
In 1964, on their second visit to the U.S. The Beatles arrived in San Francisco, to be greeted by thousands of screaming females.  Their first North American tour officially kicked off the next night, August 19, at San Francisco's Cow Palace.
In 1965, Tom Moffat, a disc jockey for KPOI in Hawaii, arranged for Herman's Hermits lead singer Peter Noone to interview Elvis Presley on the phone from his bungalow in Honolulu where he was staying during the filming of "Paradise, Hawaiian Style." When Noone asked, "Who's your favorite group?", Elvis laughingly replied, "The Boston Pops."
Also in 1965, the Beatles appeared at Atlanta Stadium in Atlanta, Georgia to a sold out crowd of 35,000. Tickets cost a whole $5.50.

In 1966, Motown released the Four Tops' future chart-topping single, "Reach Out I'll Be There."
In 1969, during a North American tour Led Zeppelin played two shows at the Rock Pile in Toronto. Thd opening act was Edward Bear (Last Song).
In 1971, the ABC-TV music special The 5th Dimension Traveling Sunshine Show featured The Carpenters, Merle Haggard and Dionne Warwick as guests.
Also in 1971, the single "Take Me Home, Country Roads" by John Denver was certified as a million-selling Gold Record.
In 1972, Swedish police fined Paul & Linda McCartney $800 for cannabis possession.
In 1973, jazz drummer Gene Krupa played for the final time with members of the original Benny Goodman Quartet.  Krupa, a jazz and big band legend, died seven weeks later at age 64.
Also in 1973, Diana Ross scored her second Billboard No.1 single with 'Touch Me In The Morning'.
In 1976, 'Variety' reported that singer Marvin Gaye would have to serve two consecutive five day prison sentences for contempt of court, over his failure to pay child support and alimony as ordered.
In 1977, Elvis Presley was buried in a mausoleum at a Memphis cemetary, two days after his death. Following attempts to break into the mausoleum, the singer's body and that of his beloved mother Gladys were moved and reinterred in a plot on the grounds of Graceland.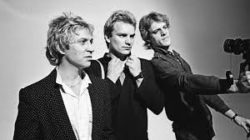 Also in 1977, following the departure of guitarist Henri Padovani The Police made their live debut as a three-piece band when they played at Rebecca's in Birmingham, England.
In 1978, Canada's 'King of the Banjo' Maurice Bolyer died in Toronto at age 57. He had been a regular on CBC's Tommy Hunter TV show since 1965.
Also in 1978, in Los Angeles, the bass singer with The Temptations' Melvin Franklin was shot four times in the hand and leg during an attempted carjacking, but survived.
In 1979, Chic went to No.1 on the Billboard singles chart with 'Good Times', the group's second US No.1.
In 1982, the City of Liverpool renamed four local streets after the Beatles: John Lennon Drive, Paul McCartney Way, George Harrison Close and Ringo Starr Drive.

In 1984, George Michael was at No.1 on the UK singles chart with his first solo single 'Careless Whisper.' It made George the first person to reach No.1 as a solo artist and a member of a band in the same year. The song was No.1 in nearly 25 countries, selling over six million copies worldwide.
Also in 1984, Motley Crue had their performance debut at the Monsters of Rock festival at Castle Donington, England.
In 1986, former local TV reporter and news anchor John Tesh started a decade as Mary Hart's co-host on the syndicated "Entertainment Tonight."

Also in 1986, folk singers Ian Tyson (of Victoria) and Sylvia Fricker, formerly husband and wife, reunited for a concert at Ontario's Kingswood Music Theatre, their first performance as Ian & Sylvia in eleven years.  They were joined by Judy Collins, Emmylou Harris and Murray McLauchlan.
In 1990, Mariah Carey wore the triple crown, as her latest hit "Vision of Love" was #1 on the pop, adult contemporary and R & B charts.
In 1991, pianist/singer Billy Preston faced charges of battery for assaulting a 16-year-old prostitute after Preston discovered the teen was really a male in drag.  Ultimately Preston was put on probation for five years.
In 1992, Woody Allen held a news conference in New York to deny allegations that he had molested the children he'd adopted with Mia Farrow.
In 1995, a PetroCanada pump attendant Dick Assman of Regina made a cameo appearance on CBS's Late Show With David Letterman, after months of jokes.  His name was pronounced 'OSS-man.' With the publicity his business tripled over the month of August.

That same CBS Late Show in 1995 was Bill Wendel's last as announcer.  He had been Letterman's announcer and warm-up act for more than 15 years but said he wanted to pursue other projects.
In 1997, the Rolling Stones launched their "Bridges to Babylon" album/tour package with a news conference and a full production number staged under the Brooklyn Bridge.  Mick Jagger, Charlie Watts, Ron Wood and Keith Richards cruised in from Manhattan in a cherry-red 1955 Cadillac convertible with a police escort leading the way.

Also in 1997, as a present on his 45th birthday, actor Patrick Swayze received a new star on the Hollywood Walk of Fame.
In 2001, the English alt-rock band Coldplay and Victoria's Nelly Furtado headlined the V2001 Festival in Chelmsford, England.
In 2002, CNN began airing parts of 64 al-Qaeda tapes found in Afghanistan. The tapes contained footage of the terrorist network's activities.

In 2003, Tony Jackson, bass player with The Searchers, died at age 65 of cirrhosis of the liver after a lifetime of heavy drinking. The Searchers had the 1964 UK No.1 & US No.13 hit single 'Needles And Pins'.
In 2006, Babyshambles front man Pete Doherty appeared at Thames Magistrates court in London to face seven charges of drug possession.
In 2008, soul singer Pervis Jackson died of cancer at age 70. He was a member of The Spinners (Also known as The Motown Spinners and The Detroit Spinners). Had the 1980 Billboard No.2 hit single 'Working My Way Back To You'.

In 2009, political columnist/TV panelist Robert Novak, spokesman for the Right on CNN's The Capital Gang and Crossfire, died of brain cancer at age 78.
In 2010, singer/songwriter Ken Edwards, who played keyboards with the Stone Poneys and performed for years with Linda Ronstadt, died after battles with prostate cancer and a blood disorder at age 64.
In 2011, Liam Gallagher sued his brother and former Oasis bandmate Noel for negative comments made during the band's '09 break-up. "He (Noel) claimed Oasis pulled out of the 2009 V Festival Chelmsford gig because I had a hangover," said Liam.  "That is a lie and I want Oasis fans to know the truth."  Noel apologized, said Liam's laryngitis was behind the pullout, and the suit was dropped.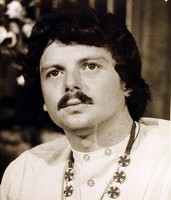 In 2012, singer/songwriter Scott McKenzie, best known for his 1967 hit recording "San Francisco (Be Sure to Wear Flowers in Your Hair)," an anthem for the counterculture movement of the '60s, died of a rare disease of the nervous system at age 73.  McKenzie also co-wrote "Kokomo," a No. 1 hit for "The Beach Boys" in 1988.
In 2014, announcer Don Pardo, for 37 years the booming voice of NBC-TV's Saturday Night Live, who had a seven-decade career that began in the glory days of NBC radio, died in his sleep at age 96. In the early days of TV Pardo forged a career as a game show announcer, working on Jeopardy, Winner Take All, Three on a Match, Call My Bluff, Jackpot and the original Bill Cullen-hosted Price Is Right,
In 2015, Alan 'Bud' Yorkin, who broke into TV as a repairman, and less than a decade later teamed with producer Norman Lear to create pioneering, provocative and singularly successful satirical series including "All in the Family," "Maude," "Good Times" and "Sanford & Sons," died of natural causes at age 89.
Today's Birthdays
Actor/producer Robert Redford (Iconoclasts, The Iceman Cometh) is 83.
Actor Christopher Jones (Legend of Jesse James) is 79.
Actor Henry G. Sanders (Dr. Quinn, Medicine Woman) is 77.
Actor-comedian Martin Mull (Rosanne, The Ellen Show, Fernwood 2Night) is 76.
R & B singer Sarah Dash of LaBelle is 74.
Actor Joseph Marcell (The Fresh Prince of Bel Air, EastEnders, The Bold & the Beautiful) is 71.
Comedienne/writer Elayne Boosler is 67.
Country singer Steve Wilkinson of The Wilkinsons is 64.
Comedian-actor Denis Leary (Sex & Drugs & Rock & Roll, Rescue Me, The Job) is 62.
Actress Madeleine Stowe (Revenge, Raines, Beulah Land) is 61.
Actor Reg E. Cathey (Outcast, House of Cards, Lights Out, The Wire) is 61.
ABC News reporter Bob Woodruff is 58.
Actor Glenn Plummer (Sons of Anarchy, ER, The Corner) is 58.
Actor Adam Storke (Over There, Prey, Search for Tomorrow) is 57.
Actor Craig Bierko (Sex and the City, Boston Legal) is 55.
Actress Sarita Choudhury (Homeland, 100 Center Street) is 53.
Singer Zac Maloy of The Nixons is 51.
Musician Everlast (House of Pain) is 50.
Actor/voicist Christian Slater (Mr. Robot, The Lion Guard, Archer, Mind Games, Breaking In) is 50.
Rapper Masta Killa of Wu-Tang Clan is 50.
Actor Edward Norton (Strange Days on Planet Earth) is 50.
Actor Malcolm-Jamal Warner (The Cosby Show, Malcolm & Eddie, Listen Up) is 49.
Actor Darren Pettie (The Mist, Madam Secretary, Ringer) is 49.
Actor Jacob Vargas (Greetings from Tucson, Malibu Shores) is 48.
Actress Carmen Serano (Breaking Bad) is 46.
Actress Kaitlin Olson (It's Always Sunny in Philadelphia, The Mick, The Drew Carey Show) is 44.
Actress Daphne Duplaix (One Life to Live, Passions) is 43.
Actor Brian Presley (General Hospital) is 42.
Comedian Andy Samberg (Brooklyn Nine-Nine, Saturday Night Live) is 41.
Guitarist Brad Tursi of Old Dominion is 40.
Actor Kieran Bew (DaVinci's Demons, Crusoe) is 39.
Model/actress/TV host Elizabeth Chambers (E! News Now, Current TV, Direct TV) is 37.
Actor Andrew Shim (This is England '86, '88, '90) is 36.
Actress Mika Boorem (The Tom Show, Dawson's Creek, Jesse Stone: Sea Change) is 32.
Actress Anna Akana (Miss 2059, Stitchers, Search Bar) is 30.
Ontario-born actor Richard Harmon (The 100, Continuum, The Killing) is 28.
Actress/singer Maia Mitchell  (The Fosters) is 26.
Actress Madelaine Petsch (Riverdale) is 25.
Actress Parker McKenna Posey (My Wife and Kids) is 24.
Actor/voicist Max Charles (The Strain, The Lion Guard, The Mr.Peabody & Sherman Show, Family Guy, The Neighbours) is 16.
Chart Toppers – Aug. 18
1945
If I Loved You – Perry Como
I Wish I Knew – Dick Haymes
Till the End of Time – Perry Como
Oklahoma Hills – Jack Guthrie
1953
No Other Love – Perry Como
I'm Walking Behind You – Eddie Fisher
Vaya Con Dios – Les Paul & Mary Ford
Rub-A-Dub-Dub – Hank Thompson
1961
Tossin' and Turnin' – Bobby Lewis
I Like It Like That – Chris Kenner
Last Night – Mar-Keys
I Fall to Pieces – Patsy Cline
1969
In the Year 2525 – Zager & Evans
Honky Tonk Women – The Rolling Stones
Sweet Caroline – Neil Diamond
Workin' Man Blues – Merle Haggard
1977
I Just Want to Be Your Everything – Andy Gibb
I'm in You – Peter Frampton
Best of My Love – Emotions
Rollin' with the Flow – Charlie Rich
1985
Shout – Tears for Fears
The Power of Love – Huey Lewis & The News
Freeway of Love – Aretha Franklin
Highwayman – Waylon Jennings/Willie Nelson/Johnny Cash/Kris Kristofferson
1993
Can't Help Falling in Love – UB40
Whoomp! (There It Is) – Tag Team
I'm Gonna Be (500 Miles) – The Proclaimers
It Sure is Monday – Mark Chesnutt
2002
Complicated – Avril Lavigne
Just Like A Pill – P!nk
Dilemma – Nelly featuring Kelly Rowland
The Good Stuff – Kenny Chesney
2011
Party Rock Anthem – LMFAO featuring Lauren Bennett & GoonRock
Last Friday Night (T.G.I.F.) – Katy Perry
Super Bass – Nicki Minaj
Knee Deep – Zac Brown Band featuring Jimmy Buffett