Welcome back JACK!
At 1pm west coast time, Victoria's KiSS did a Flashback, with the rebranding of JACK 103.1 FM
KiSS' swan song, fittingly, was NSYNC's "Bye bye bye".
KiSS FM came to Victoria in 2015, replacing the first JACK ….
And now for Round Two...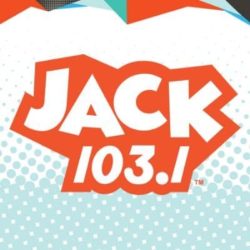 On February 24, 2015, CHTT flipped back to CHR as KiSS 103.1. The last song played on "Jack" was "Hit the Road, Jack" by The Stampeders, while the first song on "KiSS" was "Uptown Funk" by Mark Ronson and Bruno Mars.[3]
Needless to say, it never worked, bottom basement ratings ever since launch date, so let's hope Rogers with the All New Jack will begin to warm the hearts of the Capital City. So far, we're loving he music, with the first song by Queen, Bohemian Rhapsody…
"playing what we want" is still Jack's slogan.
JACK FM first launched on 103.1 in 2004.
Thanks to ColeThePony for uploading the launch audio & final minutes: HERE
And the morning hosts on Victoria's Newish radio station are…