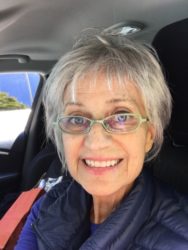 Susan Woods (nee Fisher) died in Victoria July 20 at age 66, after a brave fight with cancer.  She was a long time television and radio broadcaster in Vancouver and Victoria, having produced and hosted the local history show Remember When on C-FAX Radio, which earned her a BC Heritage Preservation  Communication Award and a Victoria Woman of Distinction nomination.
Her resume shows she worked as an editor at BCTV in Vancouver from 1974-76, spent the next six years as a reporter at News 1130, and did reporting for CKVU-TV from '82-'89.
After moving to Victoria in 1989 she was editor and publisher of the Fairfield Moss Rock Review magazine from 1999-2012, and produced and hosted the local history weekly hour Remember When on C-FAX from 2003 to 2010.
Susan also ran for Victoria City Council in 2008, and was a professional memoir writer for private clients in her later years.
In the obituary published in today's Times Colonist her family writes that the pride and joy of her life was being a mother and grandmother. She is survived by son Benjamin Woods (spouse Jessica Woods) and daughter Natalie Woods (spouse Kyle Zdunich; grandchildren Gabriel and Lucas Zdunich). She will be greatly missed by family and friends.
Memorial donations in memory of Susan may be made to St. Barnabas Church (1525 Begbie St, Victoria, BC V8R 1K9).