Newsman extraordinaire George Garrett posted the sad news:
Brilliant CKNW Promotion Manager John Plul (pictured above) has passed away.
John had been in Peace Arch Hospital after a fall at his home a few weeks ago. He had serious medical problems and was placed in palliative care. Volunteers maintained a bedside vigil through the night in the past few days.
I visited John several times over the past few weeks. I thought he was in a deep coma and would not hear me. I told his brother-in-law standing beside the bed that John was the best promotion manager CKNW ever had. Then…the barely audible voice from the bed. John said, "Say that again…say that again."
A promotion guy to the end.
RIP John.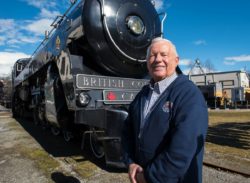 John Plul two years ago at the 40th Anniversary of the Royal Hudson's Jubilee Tour.
Thanks to the BC Radio History website for more background… and the top photo. 
The career of John Plul concentrated on public relations and community involvement. His marketing skills were legendary. In his executive role with CKNW he was instrumental in raising millions of dollars for the Orphan's Fund, for helping to establish Canuck Place – a hospice for terminally ill children. John has been involved and actively worked with dozens of community organizations.
As Vice President of BC's No. 1 Radio Station, John was presented with all the top broadcasting honors, including Broadcast Citizen of the Year for two years, Personal Dedication Award, Canadian Association of Broadcasters Award of Recognition, and recognized by the industry as an outstanding marketer on several occasions.
His honours from a myriad of service clubs, hospitals, and business organizations are too numerous to mention. John continued to serve in retirement as a private citizen with business interests, and in work to help the children and disadvantaged in our society.  He will be greatly missed.