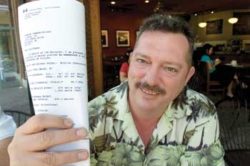 It may be Matthew McBride's long-awaited comeuppance. The CRTC will hold a hearing on September 5th in Gatineau, QC to review repeated and persistent non-compliance with one or more regulatory requirements by McBride's licensed undertakings, CHMZ-FM Tofino, CFPV-FM Pemberton, CIMM-FM Ucluelet and CKPM-FM Port Moody.
The Commission will also consider applications by the Tofino and Ucluelet stations for authority to change their ownership and effective control. The Commission is accepting submitted interventions until July 29th, but no personal appearance is required by any of the parties at the scheduled September hearing.
https://crtc.gc.ca/eng/archive/2019/2019-225.htm#bm2
Our thanks to Gord Lansdell and his Northwest Broadcasters "Recent News" page for the first posting on this subject. .
.