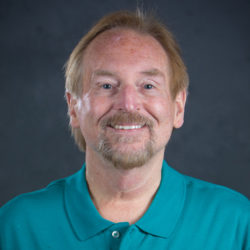 As first brought to our attention by Northwest Broadcasters, former Seattle and Spokane radio personality JJ Hemingway passed away Monday at age 65.
He worked at a number of stations during his career including KJR-FM Seattle from 2001-06, and most recently hosted evenings at Shine 104.9 KEEH-FM Spokane.  He also operated JJ Hemingway's Mobile DJ Service.
J.J. was posting uplifting, Christian messages of encouragement on his Facebook account as recently as four days ago. Our sincere condolences to his family.
Jason Remington of Puget Sound Media posted greater detail of Hemingway's career:
J. J. Hemingway started off at an AM daytimer.
"Throughout high school I hung out around oldies KQIN 800 (Now KGNW, 820). Eventually they put me on the weekend schedule."
(Actually J.J. had pretty much made his career choice at age three while crawling under the consoles as his father Jack Hemingway worked shifts at KIXI, KING, KISW, KAYO and KFKF).
"After high school I worked at beautiful music KBBX (later, KEZX), then went 'cross-country,' working in Augusta, Savannah, Winston-Salem-Greensboro, Greenville-Spartanburg, then Dallas, Colorado Springs, Spokane (first time), Great Falls, Columbus and since 1998, back in Spokane. I have done mornings, afternoon drive, production and even put a couple of new stations on the air. I love AC, Hot AC and Classic Hits. It's the music that I know and love the most."
Hemingway started Cascade Broadcast Services, a production house, in 1998 and did 10 years at 'lite-rock Kiss (KISC-FM, Spokane) In 2007 he voicetracked KJR overnights. In 2012 he became morning personality and program director of KACL, Bismark, ND. (Yes, KACL, the fictional radio station of "Frasier.")
Hemingway owns a '72 Volvo and a '78 Beetle. He is single and has a son and daughter.
Update— April 10, 2015: iHeartMedia has flipped Sports "Fox Sports 1280" KZFS/99.3 K257FX Spokane, WA to Christian AC "Up 99.3". JJ Hemingway, who spent 15 years at sister AC "Kiss 98.1" KISC rejoins the company to host mornings. (Stredicke) — Hemingway later went on to host evenings at KEEH, Spokane's SHINE 104.9, a Christian music station.
Our sincere thanks to Puget Sound Media for the above.