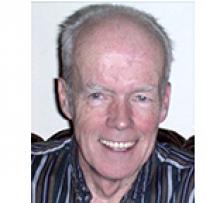 Esophageal cancer has claimed the life of former Vancouver, Kelowna and Winnipeg broadcaster Doug McIlraith.  He died in Winnipeg June 6 at age 83.
After beginning in radio at CJBQ Belleville while still in high school, he moved to Vancouver in the mid-1950's, where he joined the recently rebranded C-FUN and CJOR, then went to CKOV in Kelowna.  In 1961 he joined CBC Edmonton, and transferred to CBC Winnipeg in 1967; from that prairie base he covered a number of major events across Canada.
He retired as co-host of CBC Information Radio Winnipeg in 1990.
According to his wishes, there will be no formal service.
The obituary as prepared by Doug's family is HERE in the Winnipeg Free Press.