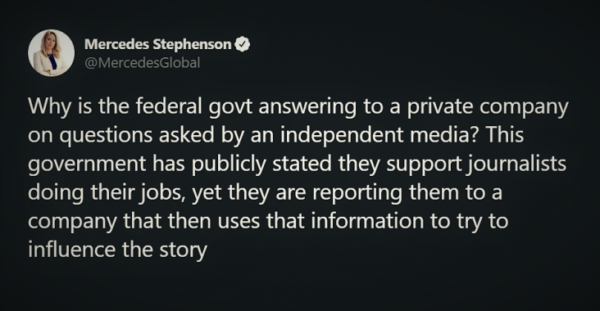 June 1, 2019
"If you are a reporter in Ottawa and ask questions about Irving shipbuilding, the government will turn your name and question over to Irving who have then threatened reporters with lawsuits," says Mercedes Stephenson.
On Twitter, journalist Mercedes Stephenson shared a series of Tweets in which she questions why the Trudeau government is ratting out reporters to Irving Shipbuilding.
Stephenson's comments follow in the footsteps of a Globe & Mail report that revealed the Trudeau government was telling Irving Shipbuilders when reporters asked the government questions about contracts.
It's a disturbing example of how – as we've seen over and over again – the Trudeau Liberals serve the elites at the expense of everyone else.
Below, you can read Stephenson's remarks as she asks some very serious questions about this disturbing situation:
"If you are a reporter in Ottawa and ask questions about Irving shipbuilding, the government will turn your name and question over to Irving who have then threatened reporters with lawsuits"