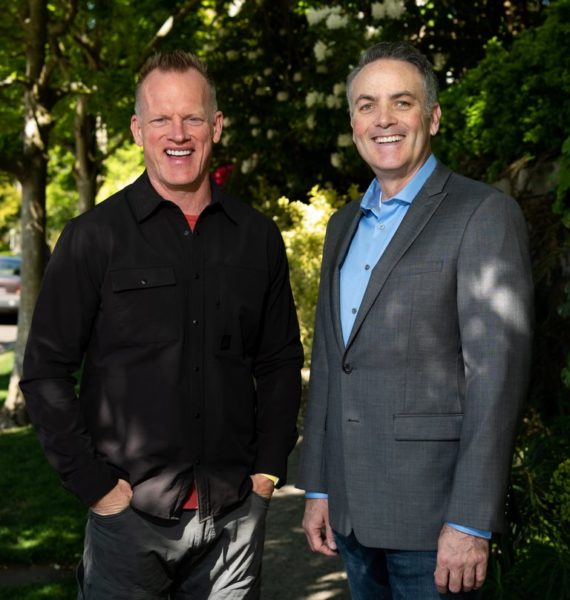 The Facebook posting went up Thursday night. Since then, The Ron & Don Nation has been deliriously, ecstatically happy.
It's been 18 weeks since listeners last heard from their heroes after their drive-time afternoon talk show on KIRO-FM was abruptly canceled.
Staff of "The Ron & Don Show" was notified 11 minutes after their final show ended Jan. 10. Bye-bye, no explanation, no comment, leaving listeners baffled.
But now they're back.
Says the announcement on their Facebook page. "Cancelled? As the radio tower dies … THE RON and DON NATION … WE RISE! You can't cancel cause radio! What happened at KIRO? Episode #1. Monday May 27th. — We are BACK! — ron and don."
What it means, says Don O'Neill, who for 13 years had the afternoon show on KIRO-FM with longtime partner Ron Upshaw, is that they'll start doing a weekly one-hour podcast at RonAndDonRadio.com. They've worked together at various stations for two and a half decades.
"We'll find out if people are listening to it. We can track it. If people want more, we can do more of it, five days a week," he says.
Right off the bat, the two radio personalities have tied the podcast to another new venture. They've recently both earned their real-estate broker's license, and so with the podcast you'll also have 
ronanddonbrokers.com
 with Windermere Real Estate.
.
Says Michael Harrison, publisher of Talkers, a trade publication for the industry, "What Ron and Don are doing makes sense. Podcasting is a great way for radio broadcasters with a following — and they have a huge one — to reach their fans efficiently and independently."
READ MORE  HERE  AT THE SEATTLE TIMES WEBSITE