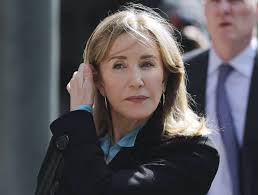 Actress Felicity Huffman is one of 13 parents who negotiated plea agreements in the college admissions scandal. USA TODAY
During the hearing, Assistant U.S. Attorney Eric Rosen recommended a four-month prison term for the actress.
Martin Murphy, one of her attorneys, put his arm around her as she struggled. A sentencing hearing for the star has been set for Sept. 13.
The former "Desperate Housewives" actress admitted to conspiracy to commit mail fraud and honest services mail fraud for paying Rick Singer, the admissions scheme's alleged mastermind, $15,000 to have someone correct SAT answers for her oldest daughter.
Huffman stood and raised her right hand in the courtroom, replying "Yes, your honor," when asked by U.S. District Court Judge Indira Talwani if she understood the terms of her plea deal. The judge went over what Huffman's guilty plea means, reminding her that she waived her right to a trial by jury and the ability to appeal the judge's decision. Her guilty plea also prevents her from possessing a firearm.
Rosen, the prosecutor, told the judge the government recommended four months in jail, the low end of sentence guidelines, in exchange for Huffman not appealing. The judge responded: "There is a trade here. They've given up something. I will accept the plea waiver."
.
The actress, 56, arrived at federal court about two hours before her scheduled hearing with her brother, Moore Huffman Jr., tightly clasping her hand as she walked inside. She walked from a car that dropped her off at the front door without taking questions.
Read more  HERE  at the USA TODAY website.