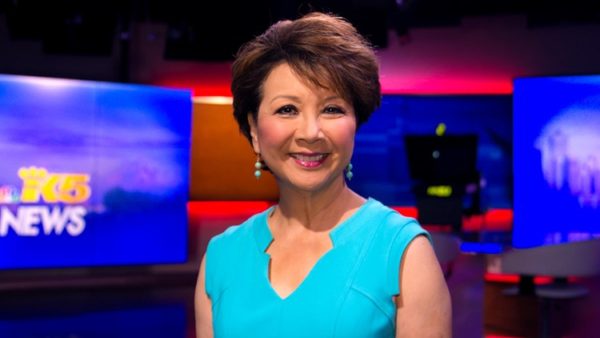 KING 5's beloved anchor of 36 years will sign-off on Friday, June 14.
.
Seattle, WA – KING 5 will say goodbye to anchor Lori Matsukawa on Friday, June 14, marking the close of her 36 years on-air at the station. During her tenure she faithfully served our community on-air and behind the scenes, educating viewers, telling the stories of our region and supporting local nonprofits.
"What a pleasure it's been to work at KING 5 – a legacy station," Matsukawa said when asked to sum up her career. "I always tell people the best part of being a television journalist is being able to tell the stories of the people who call the Northwest home. Over the decades, I've witnessed a lot of change, most of it for the better. And what an honor it has been to write the 'first draft of history,' whether it was the eruption of Mount St. Helens, the attainment of redress by Japanese Americans unlawfully incarcerated during World War II or the inspiring achievements of a diverse group of public servants like Gary Locke, Norman and Constance Rice, Ana Mari Cauce, Ron Sims, Martha Choe, Mary Yu, Steve Gonzales, and Claudia Kauffman."
.
"KING 5 has allowed me to travel far and wide to bring stories of interest to our viewers – big cities like New York, Beijing and Tokyo; big events like the 2002 and 2010 Winter Olympics and the Mariners ALCS and delightful places like Honolulu, Orcas Island and Vancouver, B.C.," Matsukawa continued. "When I graduated from college, I told everyone I wanted a job where I'd learn something new every day. I found it here at KING 5. I am grateful to those who've been my teachers, mentors and supporters all these years. Thank you for your support. It's been a heck of a ride!"
READ MORE  HERE  AT THE KING5 NEWS WEBSITE
The station has picked morning anchor Joyce Taylor to take over the evening newscast starting June 17.