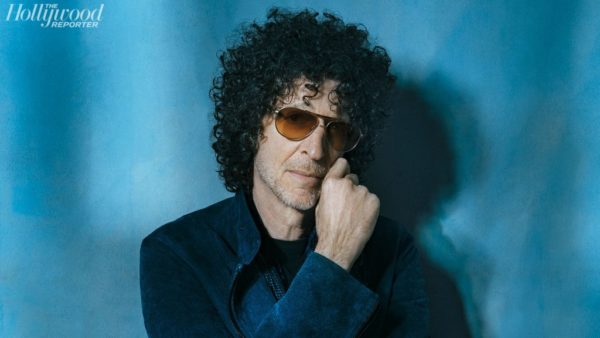 After a health crisis that had him "scared  s***less," the $90 million-a-year radio legend opens up about retirement, the one time he lied to his listeners and his metamorphosis from shock jock to insightful interviewer: "I'd feel really f***ing s***ty if I hadn't evolved."
On Wednesday, May 10, 2017, for the first time in memory, Howard Stern abruptly canceled that day's show. His listeners, a famously loyal subset of SiriusXM's 36 million subscribers who've made Stern a part of their lives since he rose to prominence in the '80s as radio's boundary-pushing "shock jock," were understandably alarmed. Reddit lit up with crackpot theories, and a handful of dogged reporters tracked down the host's elderly parents to check up on him.
By Monday, the self-described king of all media was back on the air, poking fun at the hullaballoo, as many hoped he would. It was just the flu, he told his audience: "Why is it such a big deal that I took a fucking day off?"
Turns out, he was lying through his teeth.
On the morning in question, Stern wasn't home with a fever or runny nose; he was being carted into surgery. For the better part of the previous year, he'd been shuttling between appointments as doctors monitored a low white blood cell count revealed during a routine checkup and, later, discovered a growth on his kidney. The chance that it was cancerous: 90 percent.
For a man who lives his life on-air, divulging such personal details as his first wife's miscarriage and his reputedly undersized penis, he'd been uncharacteristically discreet about his latest struggle. In fact, he told only his very inner circle, a group that included his second wife, Beth, his three daughters, his therapist and his on-air foil of nearly four decades, Robin Quivers, herself a cancer survivor. Until all this, Stern had considered himself invincible — at 65, his 6-foot-5 frame was still enviably trim, his head endowed with a thick mop of curls. He ate well and exercised often. Cancer was a ridiculous notion.
"And now all I'm thinking is, 'I'm going to die,' " he recalls in an interview, his first time discussing the health issue publicly. "And I'm scared shitless."
THE REST OF THIS LENGTHY FEATURE CAN BE READ  HERE  AT THE HOLLYWOOD REPORTER WEBSITE