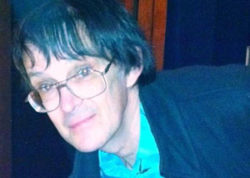 The boss man at the Radio West site Ted Wendland has relayed the sad news that his good friend and former CKNW/CFMI-FM producer Glen Livingstone (pictured, above) died yesterday at age 66 after a brief stay at Royal Columbian Hospital.  Ted and Glen had known each other since elementary school. Glen was on the staff of the radio stations from 1972 to 1999 .. a 27 year span.
In addition to regular production work, his job for many years was producing Discumentary on CFMI and syndicated to stations across Canada and the US.  Both Dave McCormick and later Terry David Mulligan were involved in hosting the widely-acclaimed series, but Glen did much of the research and writing on the scripts.
More recently, Livingstone managed the magazine department at Chapter's in Coquitlam.
As Ted posted on his own site, "it's hard to say goodbye to a lifelong friend and one of the most creative minds I've ever known."
Condolences to Julia, Glen's wife of 35 years, and his family and many friends.