Also in 2015, actor Sawyer Sweeten, who played the son of Ray Romano on TV's 'Everybody Loves Raymond, who found himself with extreme money troubles in his real life, committed suicide at age 19.
In 2016, distinguished Montreal-born character actress Madeleine Sherwood, who played the stern Mother Superior on ABC-TV's "The Flying Nun" (1967-70) opposite a young Sally Field, died at age 93.
In 2017, British-born writer Chris Bearde, who received 8 Emmy nominations for his work on NBC's Rowan & Martin's Laugh-In, produced CBS-TV's The Sonny and Cher Comedy Hour and created The Gong Show for NBC, died of a sudden heart attack at age 80.
Also in 2017,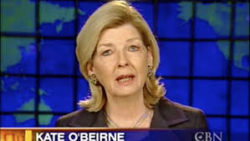 conservative journalist Kate O'Beirne, for 11 years a member of CNN's Capital Gang, succumbed to lung cancer at age 67.
In 2018, Prince's family filed a wrongful death lawsuit against an Illinois hospital that treated Prince as well as a pharmacy chain. The suit accused Trinity Medical Center doctor Nicole Mancha and a Jane Doe employee, of misidentifying the pill Prince had taken prior to his overdose a week before his death.