ON THIS DAY in 1902
actor Philip Ober (below) was born in Fort Payne Alabama. His stern bearing and booming voice made him a natural for the roles of business executives, high-ranking military officers and other authority figures such as General Stone on TV's I Dream of Jeannie. He guested on I Love Lucy while married to Vivian Vance (Ethel Mertz).  He suffered heart failure & died Sept 13 1982 at age 80.

In 1910, versatile radio/TV supporting actress/voicist Paula Winslowe was born in North Dakota. She is remembered as the wife of the principal, Mrs. Martha Conklin in Our Miss Brooks on both radio and television. She played the long-suffering wife Peg Riley in NBC radio's The Life of Riley, and had feature roles on radio in Big Town and Broadway Is My Beat.  On the big screen she voiced the part of Bambi's mother (1942). She died March 6 1996, two weeks short of her 87th birthday.
In 1917, jazz pianist Johnny Guarnieri was born in New York City. One of the most talented pianists of the 1940s, he had the ability to closely imitate Fats Waller, Count Basie, and even Art Tatum.  He was musical director for TV's Morey Amsterdam Show, and Tonight! America After Dark.  He died Jan 7 1985 at age 67.
In 1920,  comedian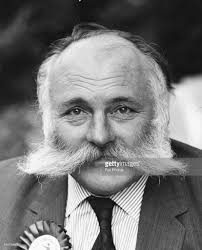 Jimmy Edwards was born in London. He won fame on BBC radio, notably as co-star (with Dick Bentley) of Take It From Here (1948-60).  He headed up a succession of TV shows, beginning with the longrunning Whacko in which he was Professor Jimmy Edwards, famous for his handlebar moustache. He died of pneumonia July 7 1988 at age 68.
In 1922, the Vancouver Daily World newspaper launched its new radio station at 2 pm, just days after the Vancouver Province & The Sun had done the same. News and stock market reports were aired, with music after the news bulletins at 2, 3, 5 & 8 pm.  Sign off was 10 pm.  The call letters were CFYC.  It was shut down in March, 1928.
In 1923, 
 20-year old Foster Hewitt announced his first hockey game, over the Toronto Star's radio station CFCA. It was not an enjoyable experience, as he had to shout the play-by-play into a telephone inside an enclosed booth, where the glass kept fogging up.  Nevertheless, he quickly became Canada's voice of hockey for the next 40 years.
In 1938, CBS Radio newsman Christopher Glenn was born in New York City.  He not only voiced many hourly newscasts, he was the longtime anchor of the CBS World News Roundup, the oldest newscast in the world.  He retired in February 2006 and succumbed to liver cancer later that year (Oct. 17) at age 68.

In 1940, the unique game show "Truth or Consequences" was first heard on radio. The Ralph Edwards-produced program was also hosted by Mr. Edwards (pictured) throughout a 16 year radio run and into TV, before Jack Bailey, then Steve Dunne, and eventually a young Bob Barker took over. The radio show was originally heard on only four CBS stations; but 4 months later NBC picked up the show, where it eventually grew into the most popular of all radio game shows.
In 1950, the game show "Beat the Clock," hosted by radio's Superman, Clayton 'Bud' Collyer, premiered on CBS-TV, a Mark Goodson/Bill Todman production.
In 1955, Elvis Presley auditioned for CBS TV's "Arthur Godfrey's Talent Scouts," singing "Good Rockin' Tonight." Producers considered his performance weak and rejected him for the show.
Also in 1955, Frank Sinatra recorded his first #1 single for Capitol Records and his first chart topper in 8 years, "Learnin' the Blues."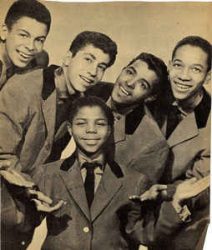 In 1956, at a Hartford, Connecticut concert by the first African-American teen idol, Frankie Lymon and the Teenagers, eleven members of the audience were arrested and charged with inciting a riot.
In 1958, the Four Preps sang their biggest hit, "26 Miles," a future Gold Record, on the Ed Sullivan Show on CBS-TV.
In 1959, in a studio in Hollywood, Ray Peterson recorded his first track to make the Top 30, "The Wonder Of You" on RCA Victor.
Also in 1959, Atco Records released Bobby Darin's second album "That's All."
In 1960, columnist & wit Franklin P. Adams (below), a regular on radio's highbrow panel show Information Please, died at age 78.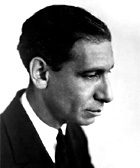 In 1961, Elvis Presley was in Hollywood to record what would be his next hit single, "Can't Help Falling in Love" from his next movie "Blue Hawaii."
In 1963, the Beatles' first album, "Please, Please Me," was released in Britain. The L-P, with the exception of the title song, was recorded in one 13-hour session on February 11th. It also included "Love Me Do," "I Saw Her Standing There," "Do You Want To Know a Secret?" and "Twist and Shout."
Also in 1963, "Surfin' U-S-A" by the Beach Boys was released. It put new lyrics to Chuck Berry's "Sweet Little Sixteen."
Still this day in 1963, Ruby and the Romantics went to No.1 on the Billboard singles chart with 'Our Day Will Come.'
In 1964, radio station CKTK 1230 signed on the air in Kitimat, B.C. Programming was shared from studios in Kitimat and CFTK Terrace.

Also in 1964, horror-movie staple Peter Lorre died after a stroke at age 59. He was host of two radio series, Mystery in The Air & Nightmare, and had an extensive guest resume in early television, including repeated appearances on Playhouse 90, Climax, 77 Sunset Strip, and The Red Skelton Show.
In 1967, the 100th episode of "Bewitched" was aired on ABC.
Also in 1967, in London, The Beatles were in the studio working on the Sgt. Pepper track, "Getting Better."
In 1969, CBS-TV's Ed Sullivan Show was headlined by Sly and the Family Stone performing "Love City." Dionne Warwick sang "This Girl's in Love with You," and Mason Williams played his instrumental sensation, "Classical Gas." For laughs, Ed booked both George Burns and Jack Carter.
Also in 1969, Anita Bryant, Jackie Gleason and the Lettermen appeared at a "Rally For Decency" in Miami following Jim Morrison's notorious 'indecent exposure' onstage there.
In 1970, producer Phil Spector was at the Abbey Road Studios in London to begin work on some old Beatles tapes that would eventually be released as the LP "Let It Be." In the next room overPaul McCartney was working on his first album as a solo performer.

In 1972, Pink Floyd began recording the "Obscured By Clouds" soundtrack at a chateau in France.
In 1973, "Concentration", the longest-running TV game show to this point, hosted by Hugh Downs, left the air after 15 years and 3,770 episodes as a morning staple on NBC. Jack Narzhosted a syndicated version that debuted that September.
Also in 1973, after a 5 year run, the soap "Love is a Many Splendored Thing" left the air.
Again in 1973, Yoko Ono was granted permission to live in the U.S. permanently. But John Lennon was ordered to leave the country within 60 days; he began a long battle to win his 'Green Card' which he was finally granted 40 months later.
In 1974, Cher reached the top of the music charts as Dark Lady reached the #1 spot for a one-week stay.  It was her second # 1 hit as a solo act.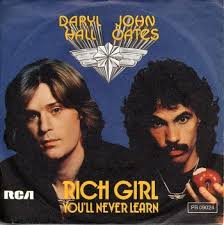 In 1977, the No. 1 Billboard hit was "Rich Girl" by Daryl Hall & John Oates. Hall and Oates met in 1969 in a service elevator while trying to escape a fight between rival gangs at a record hop in Philadelphia's Adelphi Ballroom.
Also in 1977, a Los Angeles record store and radio station launched 250 giant balloons to promote the Genesis album "Wind and Wuthering." Three area airports were put on alert so they wouldn't take the balloons for U-F-O's.
In 1978, the longtime lead tenor of The Ink Spots Bill Kenny succumbed to respiratory problems in Vancouver, where he'd resided for more than a decade.  He was aged just 63.
Also in 1978, A-and-M Records signed The Police after the British group's manager played the song "Roxanne" for company executives. The unique contract gave the group a higher royalty rate instead of a large advance.
In 1981, the No. 1 Billboard hit was "Rapture" by Blondie. The song was the first rap song to reach No. 1.

Also in 1981, CBS TV announced plans to reduce Captain Kangaroo to a 30-minute show each weekday morning, to allow more time for its morning news show. The move proved a huge mistake, with 'The Captain' turning out to be far more popular than The CBS Morning News.
In 1983, the No. 1 Billboard hit was "Billie Jean" by Michael Jackson. The song was the first No. 1 single from "Thriller," the best-selling album of all time.
In 1985, singer Billy Joel married model Christie Brinkley. They divorced in 1994.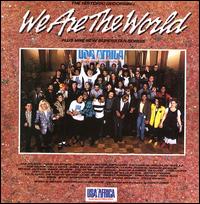 Also in 1985, "We Are the World", by USA for Africa, a group of 46 pop stars, entered the music charts for the first time at number 21.
Again on this date in 1985, Zoot Sims, one of the modern era's leading jazz tenor saxophonists, lost his battle with cancer at age 59.
In 1987, the Soul Train Music Awards debuted. It was the first televised awards ceremony to pay exclusive homage to black producers, songwriters and recording artists in the music industry.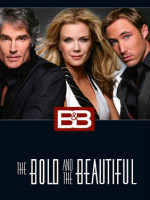 Also in 1987, the 30-minute daytime drama "The Bold & the Beautiful" had its premiere on CBS.  It has since become the #2 rated soap on TV. (behind "The Young & the Restless", also on CBS.)
In 1991, "One More Try" by Timmy T topped the charts, but for just a week.
Also in 1991, Elton John joined George Michael on stage at London's Wembley Stadium for a duet version of "Don't Let The Sun Go Down On Me." Recorded and released as a single it became a huge international hit.
In 1993, "Across The Borderline," Willie Nelson's 35th album for Columbia Records, was released.
Also in 1993, during a surprise benefit concert in Red Bank, New Jersey, Bruce Springsteen ripped off his shirt and played Billy Ray Cyrus's "Achy Breaky Heart." Springsteen called it a "damn good" tune.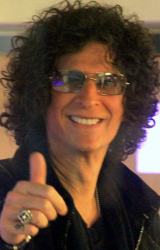 In 1994, radio shock jock Howard Stern formally announced his Libertarian run for governor of New York State.
In 1995, comedian Jerry Lester who co-hosted (with Dagmar & Morey Amsterdam) NBC-TV's original late night show Broadway Open House in the early 1950's, died from complications of Alzheimer's at age 85.
Still in 1995, Paul McCartney premiered his classical piece for solo piano, "A Leaf," beforePrince Charles and 300 invited guests at a charity show at London's St. James' Palace.
In 1996, "Because You Loved Me" by Celine Dion topped the charts and stayed there for 6 weeks.  It was her second North American Number One hit.
In 1998, the movie, Titanic, won a record-tying 11 Oscars at the 70th Annual Academy Awards, hosted by comedian/actor Billy Crystal.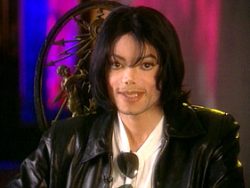 In 1999, in South Africa, superstar Michael Jackson announced that he would  donate the proceeds from two upcoming concerts to the Nelson Mandela Children's Fund and the Red Cross.
In 2001, US political columnist and frequent broadcaster Rowland Evans, often appearing with his collaborator Robert Novak, lost his battle with esophageal cancer and died at age 79.
In 2002, soprano Eileen Farrell died in a New Jersey nursing home at age 82. She had excelled as both an opera and pop soprano in radio, recordings and live stage performances.
In 2003, Steve Martin (below) was the host of the 75th Academy Awards held under a sombre mood caused by the war in Iraq.  Chicago, with 13 nominations, won just six of the gold statuettes including best Supporting Actress (Kathryn Zeta-Jones) and Best Picture.  Big loser of the night was Gangs of New York, with 10 nominations and 0 wins.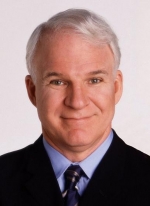 In 2005, Candy Shop by 50 Cent was at No.1 on the Billboard singles chart.
In 2006, country singer/songwriter Cindy Walker (In The Misty Moonlight, Dream Baby, Distant Drums, You Don't Know Me), also a Country Music Hall of Famer, died after a several-months-long illness at age 87.
Also in 2006, a member of the papparazzi filed a complaint against Kid Rock. According to the charges, the photographer was beaten by Rock's bodyguards as he attempted to take a picture of the musician outside a Los Angeles hotel the previous day. The accuser also alleged that Rock took his camera before fleeing the scene with his entourage.
In 2008, Neil Aspinall, who ran the Apple Corps music empire for the Beatles from 1970 – 2007, died at a hospital in New York from lung cancer aged 66. A school friend of Paul McCartney and George Harrison, he was regarded by some of the band as the "fifth Beatle", becoming the group's road manager in 1961 before evolving into their personal assistant.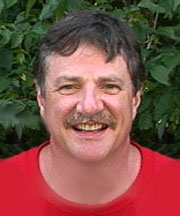 Also in 2008, much travelled radio deejay Jackson Armstrong, aka John C. Larsh, well-known in Ontario via a stint at CHUM 1050 in the late 1960s, passed away at age 62 after a bad fall at his home in North Carolina. He at one point held the record as the fastest talking man alive.
In 2008, Jack Johnson was at No.1 on the Billboard album chart with his fifth album 'Sleep Through The Static.'   The album spent three weeks in the top spot.
In 2011, a woman who led her whole life in a very public spotlight, screen legend, former child star, & committed anti-AIDS activist Elizabeth Taylor died after eight marriages and years of ill health at age 79.
In 2013, the "David Bowie Is" exhibition opened at the Victoria and Albert Museum in central London. The four-month show displayed Bowie's stage costumes, handwritten lyrics, photography, films, music videos and set designs.

In 2016, Ken Howard, the current president of the SAG-ACTRA actors union, who starred as an NBA player-turned-inner-city high school coach in CBS' The White Shadow from 1978-81, and later had feature roles on NBC's 30 Rock as well as CBS-TV's hit '80s soap Dynasty and its spinoff The Colbys, died after a heart attack at age 71. Howard won a Primetime Emmy for his supporting role on HBO's Grey Gardens (2009).
Also in 2016, Joe Garagiola, a journeyman major league baseball catcher who went on to be a colorful baseball and general broadcaster for NBC, died at age 90.  The TV network made him a host of the "Today" show and a game-show personality, always recognizable for his bald head and broad smile.
In 2017, actress Lola Albright, the charmer with the smoky voice who sang and co-starred in all three seasons of TV's Peter Gunn, died at home of natural causes at age 92.
In 2018,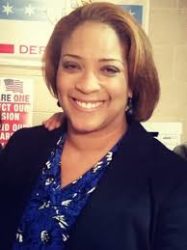 actress DuShon Monique Brown, bestknown as Nurse Katie Welch on the Fox TV series Prison Break and Connie in the NBC series Chicago Fire, died suddenly at age 49.The cause was found to be sepsis, complicated by obesity and high blood pressure. 
Also in 2018, Sammy Hagar was honored with a plaque on the Bammies Walk Of Fame in San Francisco. "Nothing like being recognized by your hometown," Hagar said in a statement.
Today's Birthdays:
Director/actor Mark Rydell (Gunsmoke, Ben Casey) is 90.
Actor Terry Alexander (One Life to Live, Hill St. Blues) is 72.
Actress Barbara Rhoades (Soap, Busting Loose) is 72.
Singer Ric Ocasek (The Cars) is 70.
Singer Chaka Khan is 66.
Actress Amanda Plummer (Battlestar Gallactica, LA Law) is 62.
Actress Teresa Ganzel (The Tonight Show starring Johnny Carson) is 62.
Actress Catherine Keener (O'Hara, Show Me a Hero) is 60.
Actress Jenny Wright (Capital News) is 57.
Actor Rus Blackwell (Banshee) is 56.
Actress Hope Davis (Wayward Pines, American Crime, The Newsroom, In Treatment) is 55.
Actor Richard Grieco (Booker, Marker, 21 Jump Street) is 54.
Actress Sarah Buxton (The Bold & the Beautiful, Sunset Beach) is 54.
Country drummer Kevin Griffin of Yankee Grey is 54.
Actress Marin Hinkle (Two and A Half Men, Once & Again) is 53.
Actress Sandra Dee Robinson (Days of Our Lives, Another World, The Bay, Sunset Beach, The Bold & the Beautiful) is 52.
Actress Sandra Ferguson (Sunset Beach, Another World) is 52.
Singer-keyboardist Damon Albarn of Blur is 51.
Actor Kelly Perine (Knight Squad, Under One Roof, One on One) is 50.
Singer/actress Melissa Errico (Central Park West, Miss Match) is 49.
Actress Kate Jennings Grant (Notorious) is 49.
Drummer John Humphrey of The Nixons is 49.
Kent Wash.-born actress Rebecca Corry (One Big Happy) is 48. 
Actor Randall Park (Fresh Off The Boat, Veep, Supah Ninjas) is 45.
Actress Michelle Monaghan (The Path, True Detective, Boston Public) is 43.
Actress Keri Russell (The Americans, Felicity, Into The West) is 43.
Actress Anastasia Griffith (Copper, Trauma, Damages) is 41.
Gossip columnist/TV personality Perez Hilton (Celebrity Big Brother) is 41.
Actress Nicholle Tom (The Nanny, The Minor Accomplishments of Jackie Woodman ) is 41.
Actor Jeremy Luke (Small Shots, Mob City) is 41.
Actor David Tom (The Young and the Restless, One Life to Live) is 41.
Actress Anastasia Griffith (Copper, Trauma, Damages) is 41.
Country singer Paul Martin (Marshall Dyllon) is 41.
Toronto-born actress Lucianna Carro (Helix, Battlestar Galactica) is 38. 
Country singer Brett Young is 38.
Actress Blythe Auffarth (Overdue) is 34.
Actor Ben Rappaport Mr. Robot, Younger, The Good Wife, Outsourced) is 33.
Actor Steven Strait (The Expanse, Magic City) is 33.
Actress Tania Raymonde (Switched at Birth, Lost) is 31.
Actress Madelyn Deutch (Outcast) is 28.
Ottawa-born actress/reality star Vanessa Morgan (My Babysitter's a Vampire, Latest Buzz, Amazing Race Canada) is 27.
Actor Bridger Zadina (Bosch, Silverwood: Final Recordings) is 25.
Actress Olivia Stuck (Kirby Buckets) is 20.
Chart Toppers – March 23
1949
Cruising Down the River – The Blue Barron Orchestra (vocal: ensemble)
Far Away Places – Margaret Whiting
Powder Your Face with Sunshine – Evelyn Knight
Tennessee Saturday Night – Red Foley
1958
Don't/I Beg of You – Elvis Presley
Tequila – The Champs
Breathless – Jerry Lee Lewis
Ballad of a Teenage Queen – Johnny Cash
1967
Penny Lane – The Beatles
Happy Together – The Turtles
Dedicated to the One I Love – The Mamas & The Papas
The Fugitive – Merle Haggard
1976
December 1963 (Oh, What a Night) – The Four Seasons
Dream Weaver – Gary Wright
Lonely Night (Angel Face) – Captain & Tennille
Faster Horses (The Cowboy and the Poet) – Tom T. Hall
1985
Can't Fight This Feeling – REO Speedwagon
Material Girl – Madonna
One More Night – Phil Collins
Seven Spanish Angels – Ray Charles with Willie Nelson
1994
The Sign – Ace Of Base
Without You/Never Forget You – Mariah Carey
Bump N' Grind – R. Kelly
No Doubt About It – Neal McCoy
2003
Picture – Kid Rock & Sheryl Crow
All I Have – Jennifer Lopez featuring LL Cool J
In Da Club – 50 Cent
Travelin' Soldier – Dixie Chicks