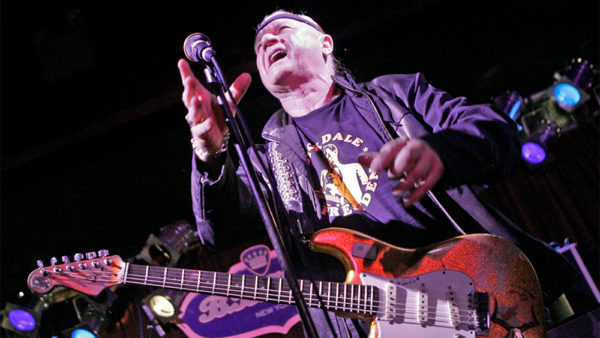 Dick Dale, the "King of the Surf Guitar" who formulated the sound and attack of the Southern California-bred instrumental style in the early '60s, has died. He was 81.

His bassist, Sam Bolle, confirmed the news to the Guardian.

Dale's self-released records with his band the Deltones led the way for countless other acts — the Chantays, the Surfaris, Eddie and the Showmen and the Pyramids among them — who emulated his reverb-soaked, "wet" sound and aggressive attack in their own hits.

In his "The Illustrated Discography of Surf Music," writer and latter-day surf guitarist John Blair described the genesis of Dale's distinctive and unprecedented sound.

"He attempted to musically reproduce the feeling he had while surfing, and the result of this somewhat nebulous and certainly subjective approach was the surfing music genre," Blair wrote. "The feeling was one of vibration and pulsification, which he produced by a heavy staccato sound on the low-key strings of his guitar accompanied by a heavy thunder-like beat."

In his foreword to Blair's book, southpaw player Dale acknowledged the impact of Fullerton, CA-based guitar and amplifier manufacturer Leo Fender and his designer Freddie Tavares' equipment on his sound.

"It was the two of them who never gave up as I blew up and destroyed countless amplifiers and speakers, which ultimately led to the creation of the 100 watt Dual Showman [amp]," Dale wrote. "Leo would always say to Freddie, 'If it can withstand Dick Dale's barrage of punishment, it is ready for human consumption.'"
Read more HERE.