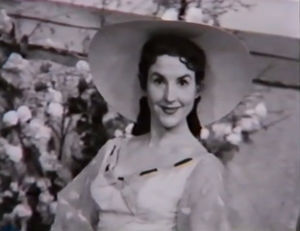 Former CBC Vancouver entertainer Betty Muriel Haworth (professionally known as Betty Phillips) died at Cedarview Lodge in North Vancouver on February 22 at age 95.  She is remembered by most for the CBC Radio shows Make Mine Music, Leicester Square to Broadway, Betty Phillips Sings and the folk series CBC television production of Lolly-too-dum. 
She was born in Vancouver May 17 1923. In her mid-teens she sang leading roles in musicals at Richmond High School and also sang in a girls' choir.  She appeared at Theatre Under the Stars  for the first time in a 1946 production of Robin Hood and subsequently played leads in more than 20 TUTS productions until 1960; she is best remembered for the role of Mrs Anna in The King and I.
Phillips' radio career began in 1948 with a CBC Vancouver light classical series and has included regular appearances 1953-65 on the CBC's 'Leicester Square to Broadway'; variety work in 1955 on the BBC; solo, recital, and folksong performances on the CBC; and many British Columbia school broadcasts 1970-2. On CBC TV she sang Rosalinda in Die Fledermaus in 1954, co-starred 1956-7 with Ernie Prentice on 'Lolly-too-dum,' and was hostess 1965-7 for 'Bazaar.'
Phillips performed at the Vancouver International Festival and with the Vancouver Symphony Orchestra and has appeared in Vancouver Opera productions (Flora in La Traviata, 1961; Nicklausse in Tales of Hoffmann, 1961; Clotilde in Norma, 1963; Vera Boronell in The Consul, 1964; Zulma in The Italian Girl in Algiers, 1965; and the Witch in Hansel and Gretel, 1966). She has performed in musical comedy throughout Canada – on tour (1967) with One Hundred Years of Musical Comedy, at the 1968 and 1969 Charlottetown Festival; in Anne of Green Gables and Johnny Belinda, and at Winnipeg's Rainbow Stage in Fiddler on the Roof (1971). She sang locally in Theatre-in-the-Park productions of The Sound of Music (1974) and Fiddler on the Roof (1975), while studying 1972-6 at the University of British Columbia.
As an actress she played many roles at Bastion Theatre, Victoria, and the Arts Club Theatre, Vancouver, and has also appeared at Persephone Theatre, Saskatoon and at Citadel Theatre, Edmonton. In the first Vancouver Playhouse Theatre Co season (1963) she appeared as Mme Dubonnet in The Boy Friend and has continued to act for that company over the years. She appeared in more than 40 Canadian and US movies, some of them feature films and the others made for television.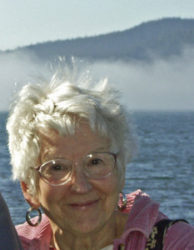 The family said as part of her obituary, that Betty was an exceptional woman who was graced with a twinkle in her eye and a gleeful and mischievous smile. She had a tremendous strength of character and an immense sense of enthusiasm and energy for life. When not immersed in her professional life, Betty could be seen engaged in her favourite past time activities of cooking sewing, or gardening. Betty's love of music gave her significant joy and peace in her final days.
A memorial service is being planned for the spring.  Find the official obituary as published in the Sun & Province HERE.