ON THIS DAY in 1903
jazz cornetist/pianist Leon Bismarck "Bix" Beiderbecke was born in Davenport Iowa.  He played with some of the musical giants of his time, and was revered by generations for decades after his death at 28 from chronic alcoholism & pneumonia.
In 1904, 
 Glenn Miller, the man whose name is synonymous with the big band era of the 1940's, was born in Clarinda, Iowa. His orchestra had 23 No. 1 songs, including the million-sellers "In the Mood" and "Tuxedo Junction." His plane was lost over the English Channel on Dec. 15, 1944 and no trace of it was ever found. The Glenn Miller Orchestra continued after Miller's death under various leaders. In 1954, "The Glenn Miller Story," starring James Stewart, was a big movie hit.
Also in 1904, actor Paul Hartman was born in San Francisco.  He is best remembered as the drunken Emmet Clark in the TV series Andy Griffith Show & Mayberry RFD, and as handyman Bert on Petticoat Junction.  He died Oct. 2 1973 at age 69, after a heart attack.
In 1910, actor David Niven was born in London.  Besides his extensive big screen career, he was one of the few major stars to embrace early TV as one of the 4 rotating stars in 1956's Four Star Playhouse. He also had The David Niven Show, was host of David Niven's World, and starred in the mini-series A Man Called Intrepid.  He died of Lou Gehrig's Disease July 29 1983 at age 73.
In 1914, beloved sportscaster Harry Caray was born Harry Carabina in St. Louis,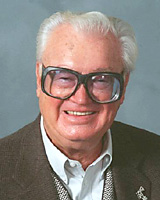 where he began his big league career as voice of baseball's St. Louis Cardinals for 24 years. He worked briefly for the Oakland A's before moving to Chicago, where he was voice of the White Sox for a decade.  In 1982 he began 15 years of calling the Cubs games on superstation WGN which won him a national following. He suffered a fatal heart attack after a series of strokes Feb 18, 1998 & died just days before his 84th birthday.
In 1928, Paul Whiteman and his orchestra recorded a future #1 hit 'Ol' Man River' for Victor Records. The featured vocalist on the up-tempo arrangement was Bing Crosby.
In 1932, radio's first great effort of on-the-spot news coverage began as NBC and CBS radio rushed to Hopewell, NJ to cover the kidnapping of the Charles and Anne Lindbergh baby.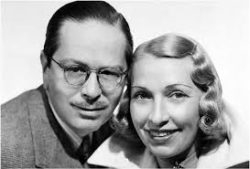 Also in 1932, one of daytime radio's comedic gems Easy Aces written by and starring Goodman Ace with his ditzy wife Jane, moved from local Chicago exposure to the full CBS network, three times a week. It would delight audiences on that schedule for much of the next 15 years.
In 1933, the Canadian Broadcasting Radio Commission bought the CNR Radio Network. The Commission acted not only as the forerunner of the CBC, but was also the regulator.
In 1941, commercial FM broadcasting began in the U.S. when station W47NV in Nashville started operations on this day. W47NV was the first commercial FM radio station to receive a license, some 20 years after its pioneering US AM counterpart, KDKA in Pittsburgh. Today more than 80% of American radio broadcasting is FM.
Also in 1941, Downbeat magazine scooped the entertainment world with news that Glenn Miller's renewed contract with Chesterfield Cigarettes was worth $4,850 a week (for three 15-minute programs).

Again this day in 1941, Duffy's Tavern starring Ed "Archie" Gardner, debuted on CBS radio — then moving to NBC Blue in 1942 and the main NBC network two years later, remaining a popular weekly comedy hit for the next 10 years.
In 1949, Perry Como was in RCA Studio 2 in New York City with the Fontaine Sisters to record his next #1 hit "A You're Adorable."
In 1953, KTNT (now KSTW) TV channel 11 in Tacoma-Seattle began operation as an independent station.
Also in 1953, radio station WJZ in New York City became WABC.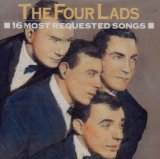 In 1956, the Toronto-based Four Lads recorded one of their most memorable hits "Standing On The Corner" for the Columbia label.
In 1957, Chuck Berry's "School Day" was released by Chess Records. It became his second #1 hit atop the R&B chart, after "Maybellene" two years earlier.
Also in 1957, The Everly Brothers signed with Cadence Records and then recorded "Bye Bye Love," a Boudleaux and Felice Bryant song that had been turned down by 30 others.
In 1958, Buddy Holly and the Crickets opened their only British tour at London's Trocadero Club. They played 25 dates of two sets a night.
Also in 1958, the mayor of New Orleans DeLesseps "Chep" Morrison, noting Elvis Presley's arrival to begin filming "King Creole," officially declared it "Elvis Presley Day" in his city.
Still in 1958, Johnny Mathis' fifth LP "Johnny's Greatest Hits" was released on Columbia Records.  It was the first "Greatest Hits" album ever produced, and remained on the Billboard charts for an incredible 490 weeks!
In 1959, co-owner of CKPG in Prince George Cecil Elphicke died. His brother, Frank "Tiny" Elphicke would follow him, signing off on May 26th  the same year.  They had put Prince George's first station on the air 13 years earlier.  An industry leader, "Tiny" was best known as the highly respected President & General Manager of Vancouver's CKWX.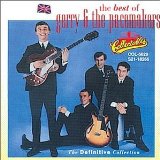 In 1963, Gerry & the Pacemakers released their first British single, "How Do You Do It." It would become a UK #1 the following month.
In 1964, The Beatles recorded "I'm Happy Just To Dance With You," with George Harrison singing lead on the vocal
In 1965, having sold more than 3 million singles in the US alone Petula Clark's "Downtown" was certified Gold.
Also in 1965, the 150th episode of "The Andy Griffith Show" aired.
In 1966, the No. 1 Billboard Pop Hit was "The Ballad of the Green Berets" by Staff Sgt. Barry Sadler. The single sold more than 1 million copies in its first two weeks and was the top song of 1966, according to Billboard.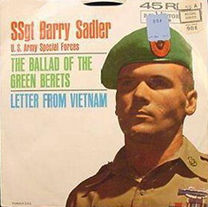 In 1967, radio station CHQB 1280 Powell River signed on the air owned by the Sunshine Coast Broadcasting Company.
Also in 1967, three thousand fans at Ottawa's Coliseum riotted after waiting an hour for Eric Burdon & the New Animals to perform (the group was gone, however, since their demand to be paid in advance had been turned down.)
Still in 1967, The Beatles were in EMI Studio 2 in London to begin work on "Lucy In the Sky with Diamonds." Seven takes were taped.
In 1968, Johnny Cash and June Carter were married in Franklin, Kentucky.
Also in 1968, Elton John's first record, I've Been Loving You, was released by Philips Records in England. Philips, not realizing the potential of the soon-to-be superstar, released him in 1969, just prior to his teaming with lyricist Bernie Taupin. Elton then signed a contract with Uni Records and began to turn out what would become a string of more than 50 hits over the next 25 years.

Again this date in 1968, NBC made the unprecedented on-air announcement, that Star Trek would return.
In 1969, Doors' lead singer Jim Morrison was charged with lewd and lascivious behaviour, indecent exposure, open profanity and public drunkenness after displaying his penis on stage during a concert in Miami.  Morrison was later sentenced to 8 months hard labour, but he died while the sentence was under appeal.
Also on this date in 1969, country star Barbara Mandrell signed her first record contract with Columbia.
Again this day in 1969, the Beatles album Sergeant Pepper finally dropped off the charts after 88 weeks.
in 1970, The Beatles made their last appearance (on film) on CBS-TV's "The Ed Sullivan Show," with two new songs "Let It Be" and "Two Of Us." Both clips were taken from the movie "Let It Be." Performing live on the Sullivan show were Dionne Warwick, Peggy Lee, Steve Lawrence & Eydie Gorme, and The Muppets.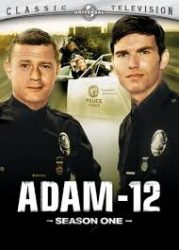 In 1972, the 100th episode of "Adam-12" aired on NBC.Also in 1972, country star Merle Haggard was pardoned by California Governor Ronald Reagan. Haggard had served time in San Quentin in the late 1950's for attempted burglary.
Still in 1972, John Lennon was granted an extension on his US work visa. Lennon then began recording "Sometime in New York City" with Elephant's Memory as his backing band.
In 1973, Elvis Presley's manager, Colonel Tom Parker, in one of his most controversial business moves, sold all of Elvis' back catalog recordings to RCA Victor for a lump sum payment of $5.4 million, forgoing all future royalties and control. The money was needed to fund Elvis' expensive lifestyle, and Parker's gambling habit.  The Colonel also negotiated Elvis into a 50-50 split of royalties on future recordings, and landed another seven-year, fourteen-album deal with RCA for $3.5 million.
In 1974, the group Queen began their first headlining tour of England in Blackpool.
In 1975, Stevie Wonder won five Grammy Awards, including album of the year for "Fulfillingness' First Finale."  Best Pop Vocal went to Paul McCartney for 'Band On The Run', and Record of the Year went to Olivia Newton-John for 'I Honestly Love You.'
Also in 1975, "Best of My Love" by the Eagles topped the charts .. the first of five No.1's for the band.
In 1976,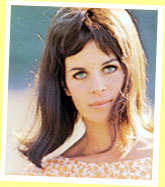 singer Claudine Longet, formerly the wife of Andy Williams, shot and killed her boyfriend, world skiing champion Spider Sabich.  Sabich had tried to throw her and her three children out of his house. Longet was arrested for manslaughter.
Also in 1976, Kapp Records founder Dave Kapp, who is his 13 years as CEO signed Roger Williams, Jane Morgan, Jack Jones, Sonny & Cher, Mel Tillis and dozens of others, died at age 71.
In 1977, Manfred Mann's Earth Band's "Blinded By The Light" was certified as a Gold Record.
In 1979, Elvis Costello began a tour in Birmingham, Alabama to support his "Armed Forces" L-P. During a stop in Columbus, Ohio, Costello had a much-publicized confrontation with singers Bonnie Bramlett and Stephen Stills in a hotel bar after casting a racial slur against Ray Charles.

In 1980, the sign-on of Canada's first all-jazz radio station CJAZ FM 92.1 Vancouver.  It included all kinds of jazz with news and public affairs programs called "Word Jazz" Mon-Fri 6-9 am, noon-1 pm and 5:30-6 pm.  The jazz format was maintained for 4 years.  Due to reception problems in Vancouver's West End, the station moved to 96.9 FM in early 1984.
In 1981, the TV movie "Elvis and the Beauty Queen" was aired on NBC. Don Johnson played the role of the latter-day Elvis in his relationship with Linda Thompson, a future wife of Victoria's David Foster, played by Stephanie Zimbalist.
In 1982, Jimmy Page's first solo album was released on Led Zeppelin's Swan Song Records. It was the soundtrack to the Charles Branson film "Death Wish II."
In 1984, former child actor Jackie Coogan, who played Uncle Fester on TV's Addams Family, plus dozens of guest star spots, died after a heart attack at age 69.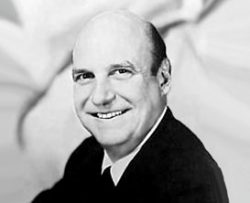 Also in 1984, singer Cyndi Lauper made her U.S. television debut on NBC's "The Tonight Show starring Johnny Carson," singing her current Top Ten hit "Girls Just Want to Have Fun."
In 1985, singer Billy Ocean began his first U-S tour in San Diego.
Also in 1985, entertainer Liza Minnelli entered the Betty Ford Drug Center.
Again in 1985, a Beatles song was used for the first time in a U.S. TV commercial. The rights for Lincoln-Mercury to use the song, HELP!, cost $100,000, but it helped boost the fortunes of the Ford Motor Company.
In 1986, Mr. Mister's "Kyrie" rose to #1 in the U.S. The single was a track from the album "Welcome to the Real World," which also became the #1 album in the U.S. this day.
In 1987, rhythm guitarist Freddie Green, who played with the Count Basie orchestra for 50 years, died in Los Angeles at age 75. He had played his last engagement the previous night in Las Vegas with singer Tony Bennett.
In 1988, comic actor Joe Besser, who was a regular on the Abbott & Costello, Joey Bishop & Jack Benny TV shows, died of heart failure at age 80.

In 1989, four members of the original Jefferson Airplane announced they were getting back together. The reunion of Grace Slick, Paul Kantner, Jorma Kaukonen and Jack Casady came 17 years after the psychedelic San Francisco band broke up.
In 1990, Janet Jackson began her first concert tour in Miami. She would perform the 90-minute show, a showcase for songs from her "Rhythm Nation 1814" album, more than 100 times over the next nine months.
In 1991, Maclean-Hunter sold Hamilton's CHCH-TV to WIC Western International Communications for $46 million.
Also in 1991, Gloria Estefan made a triumphant return to performing after a career-threatening injury in a bus accident the previous March.
In 1994, composer Walter Kent, who wrote the Second World War anthem "The White Cliffs of Dover," died in the Los Angeles suburb of Woodland Hills. He was 82.
 In 1995, Pete Townshend was on hand as the Canadian stage production of the Who's rock opera "Tommy" opened at the Elgin Theatre in Toronto.
Also in 1995, Bruce Springsteen won four Grammys for "Streets of Philadelphia" from the Tom Hanks film "Philadelphia." Sheryl Crow won three awards, including Record of the Year. Tony Bennett won Album of the Year honors for "MTV Unplugged" and Best Traditional Pop Vocal Performance.
Again in 1995, Bill Berry collapsed in Lausanne, Switzerland due to a brain aneurysm. It was the first of several medical mishaps for R.E.M.'s world tour.
In 1999, Sony Music Distribution raised wholesale prices on audio CDs by 8 cents.
In 2001, the final episode of the first run of the Canadian-produced "La Femme Nikita" aired in the US.  The show was revived as "Nikita" with a new cast, from 2010 to 2013.

In 2004, a new era on CKZZ FM (Z95-3) started at 6 am. Z95.3 shifted to a "hot adult contemporary" format with a greater variety of music and less repetition. The station also promised shorter commercial breaks, random commercial-free hours and commercial-free Sundays.
In 2006, drummer Johnny Jackson, longtime backup musician for the Jackson 5 (no relation), was stabbed to death in Gary Indiana by his girlfriend, Yolanda Davis.  He was 54.
In 2007, veteran radio & TV character actor Eddie Firestone died of heart & respiratory failure at age 86.  His career began in scores of radio series, including the title role in "That Brewster Boy," plus supporting roles on "Hawthorne House,""One Man's Family" and "Let George Do It," then went on to hundreds of appearances over 40 years of episodic TV, from "Bonanza" and "Perry Mason" to "Gunsmoke" and "Dallas."
In 2010, U2 topped the 2009 Billboard Money Makers list, having earned more than $108 million. Bruce Springsteen was second with a mere $57 million.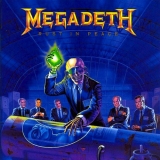 Also in 2010, Megadeth performed their classic album, "Rust In Peace," in its entirety as they opened a tour in celebration of the album's 20th anniversary in Spokane, WA.
In 2013, actress Bonnie Franklin, star of CBS-TV's "One Day at a Time" (1975-84), died at age 69, of complications from the pancreatic cancer she had revealed a few months earlier.
In 2015, Don Berns, the former CFNY (Toronto) program director (1987-88), assistant PD and music director (1985-87) and on-air personality (1985-92) from the station's Spirit of Radio years died at age 67, after a heart attack the previous day.
Also in 2015, Orrin Keepnews, who as a record company executive and producer helped create some of the most celebrated jazz recordings over a half-century, died at age 91.  A four-time Grammy Award winner, Keepnews was a jazz journalist, essayist and writer of album notes as well as the producer of enduring albums by the likes of the tenor saxophonist Sonny Rollins and pianists Thelonious Monk and Bill Evans.
In 2016,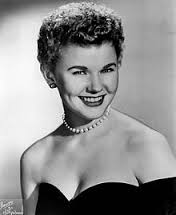 Seattle-born soprano Martha Wright died at age 92.  She began singing on Seattle radio stations at age 17, then moved to New York where she was signed to perform on WOR Radio.    She was a frequent guest on NBC-TV's Bell Telephone Hour, and sang on her own Martha Wright Show on ABC -TV.  For more than three years she starred on Broadway in South Pacific.
Also in 2016, UK screenwriter Tony Warren, whose #1 claim to fame was as creator of ITV's longrunning soap Coronation Street, died after a short illness at age 79.
Still in 2016, Gayle McCormick, a big-voiced singer with a top five hit in the late '60s with the soul/psych rock band Smith before going solo, died following a lengthy battle with cancer at age 67.
On this day in 2018, Ottawa's Alex Buchanan, better known by his stage name Bender as an underground hip hop artist, died at age 37, reportedly a victim of sleep apnea.
Today's Birthdays:
Actor Robert Clary (Hogan's Heroes, Bold & the Beautiful) is 93.
Singer Harry Belafonte is 92.
Actor Robert Conrad (Wild Wild West, Baa Baa Black Sheep, Hawaiian Eye) is 84.
Actor Jed Allan (General Hospital, Port Charles, Beverly Hills 90210) is 82.
Singer Mike D'Abo of Manfred Mann is 75.
Singer Roger Daltrey is 75.
Actor Dirk Benedict (A-Team, Battlestar Gallactica) is 74.
Actress Lana Wood (Peyton Place, The Long Hot Summer) is 73.
Actor Chuck Zito (Sons of Anarchy, Oz) is 66.
Actor-director Ron Howard (Andy Griffith Show, Happy Days) is 65.
Actress Camille Mitchell (Smallville, Legion) is 65.
Country singer Janis Oliver Cummins of Sweethearts of the Rodeo is 65.
Actress Catherine Bach (The Dukes of Hazzard) is 65.
Actor Tim Daly (Madam Secretary, Private Practice, Wings, The Fugitive) is 63.
Keyboardist Jon Carroll (Starland Vocal Band) is 62.
Bassist Bill Leen (Gin Blossoms) is 57.
Actor Russell Wong (Vanishing Son, Black Sash) is 56.
Actor Maurice Benard (General Hospital) is 56.
Actor Bryan Batt (Mad Men) is 56.
Singer Jennifer McCarter of the country trio the McCarters is 55.
Actor Chris Eigeman (Malcolm in the Middle, Gilmore Girls, It's Like You Know) is 54.
Actor Todd Lookinland (The New Land) is 54.
Actor J. D. Cullum (Judging Amy, Campus Cops) is 53.
Country singer Clinton Gregory is 53.
Actor George Eads (C.S.I.) is 52.
Actress Cara Buono (Stranger Things, Person of Interest, Third Watch, Mad Men) is 48.
Alberta-born guitarist Ryan Peake of Nickelback is 46.
Actor Jack Davenport (Smash, FlashForward, Swingtown) is 46.
Actor Mark-Paul Gosselaar (Truth Be Told, Franklin & Bash, Raising the Bar, NYPD Blue, Saved By the Bell) is 45.
Actor Luke Mably (The Gates) is 43.
Ottawa-born actress Emily Holmes (Taken, Ladies' Night, True Blue) is 42.
"Blues Clues" TV host Donovan Patton is 41.
Director/actor Jensen Ackles (Supernatural, Smallville, Dark Angel) is 41.
Actress Alicia Leigh Willis (General Hospital, American Heiress) is 41.
Actor Adam LaVorgna (7th Heaven, Brooklyn Bridge) is 38.
Writer/director/actor Zach Cregger (The Whitest Kids You Know, Wrecked, Guys With Kids) is 38.
Actor Shawn Toovey (Dr. Quinn Medicine Woman) is 36.
Actress Denise Vasi (All My Children) is 36.
Actress Lupita Nyong'o (Shuga) is 36.
Ontario-born actor John Bregar (Degrassi: The Next Generation, Family Biz, Chop Shop) is 34. 
Singer Sammie is 32.
Singer Ke$ha is 32.
Actress Katija Pevec (Just for Kicks) is 31.
Actress Daniella Monet (Victorious, Listen Up) is 30.
Actor Harry Eden (Bleak House) is 29.
Ontario-born singer Justin Bieber is 25.
Chart Toppers – March 1
1945
Accentuate the Positive – Johnny Mercer
I Dream of You – The Tommy Dorsey Orchestra (vocal: Freddy Stewart)
A Little on the Lonely Side – The Frankie Carle Orchestra (vocal: Paul Allen)
I'm Losing My Mind Over You – Al Dexter
1954
Make Love to Me! – Jo Stafford
Young-At-Heart – Frank Sinatra
Cross Over the Bridge – Patti Page
Slowly – Webb Pierce
1963
Hey Paula – Paul & Paula
Ruby Baby – Dion
From a Jack to a King – Ned Miller
The Ballad of Jed Clampett – Flatt & Scruggs
1972
Without You – Nilsson
Hurting Each Other – Carpenters
Precious and Few – Climax
It's Four in the Morning – Faron Young
1981
I Love a Rainy Night – Eddie Rabbitt
Woman – John Lennon
Keep on Loving You – REO Speedwagon
Are You Happy Baby? – Dottie West
1990
Opposites Attract – Paula Abdul with The Wild Pair
Escapade – Janet Jackson
Dangerous – Roxette
On Second Thought – Eddie Rabbitt
1999
Believe – Cher
Angel – Sarah McLachlan
Angel of Mine – Monica
I Don't Want to Miss a Thing – Mark Chesnutt
2008
Low – Flo Rida featuring T-Pain
With You – Chris Brown
Don't Stop The Music – Rihanna
Cleaning This Gun (Come On in Boy) – Rodney Atkins