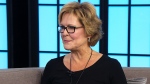 CTVNews.ca Staff
Published Tuesday, February 26, 2019 
Long-time Toronto radio personality Erin Davis has a written a memoir about suddenly losing her daughter.
Davis' daughter died in her sleep on May 11, 2015, just hours after celebrating her first Mother's Day. Lauren, who was only 24 years old at the time, left behind a seven-month-old son and her husband.
Speaking to CTV's Your Morning on Tuesday, Davis recalled the moment she received the devastating news while taping a radio show in Jamaica.
"I remember shouting, 'No!'" Davis said.
.
That day, her colleagues quickly convinced her to get off the air. Davis also began writing a blog about what she was going through. A month later, she was back on the job.
"There were people who worried that I was going through this too quickly and perhaps setting a bad example for other mothers and parents who were bereaved and couldn't get off the floor," Davis said. "And I respected that, but I had to do what I had to do in order to survive and that radio was the place. Our little studio, our family there was where it made sense."
In her new book, "Mourning has Broken: Love, Loss and Reclaiming Joy," Davis shares her journey and offers hope and humour to others who are experiencing loss.
READ MORE  HERE.