I read the sad news in a Recent News post on Northwest Broadcasters.   It said that former Vancouver broadcaster, and my friend and co-worker from years ago, Ross Crain died from a fall in Vancouver this past Sunday, February 24 at age 86.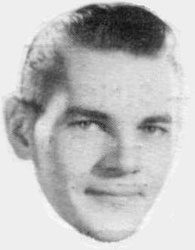 Ross Crain in 1958
He was on air at CKWX and CJOR during the 1950s before moving to CFCF and CFOX in Montreal.  He also held positions with CBS TV New York,  CTV Network in Canada, All Canada Radio and Television Ltd. and several other broadcast-related companies from the mid 1960s to late '90s, when he returned to Vancouver as a volunteer textbook recorder for the blind and visually impaired.
The funeral will be held at St. Mary's Kerrisdale with an obituary to be published in the Vancouver newspapers.  Rest in peace, old friend.  Our mutually bad vocal impressions of Uncle Fletcher from the wonderful OTR daytime chucklefest Vic and Sade, are among my fondest recollections.