ON THIS DAY in 1904
author/radio journalist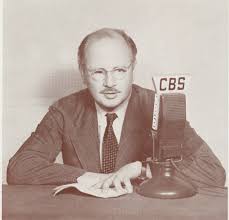 William L. Shirer was born in Chicago.  He was CBS correspondent in Berlin as World War II broke out, then gave up broadcasting to write several books about Hitler's rise & fall. He died Dec 28, 1993 at age 89.
On this day in 1927, U.S. President Calvin Coolidge signed a bill into law that created the Federal Radio Commission, "to bring order out of this terrible chaos." The president was speaking, of course, of the nation's then unregulated radio stations. The name was changed to the Federal Communications Commission (FCC) on July 1, 1934.
On this day in 1937, crooner Bing Crosby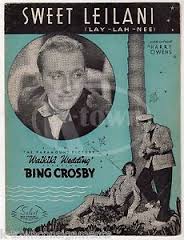 sang with Lani McIntyre and his band, as "Sweet Leilani" was recorded for the Decca label. The Oscar-winning song was featured in the movie "Waikiki Wedding" and would prove to be Bing's 16th #1 song.
On this day in 1940, a week after arriving for the first time in New York City folksinger Woody Guthrie wrote his signature song "This Land Is Your Land."
On this day in 1957, Porter Wagoner joined the Grand Ole Opry following three successful singles — "Satisfied Mind," "Eat, Drink and Be Merry" and "What Would You Do (If Jesus Came to Your House)." Wagoner's syndicated T-V show, seen on more than 100 stations in the U-S and Canada, introduced Dolly Parton to a wide audience in the 1960's.
Also in 1957, Elvis Presley was in the Radio Recorders studios in Hollywood, taping his third Top Five single "One Night" for RCA Victor.
On this day in 1958, the Happy Jesters, veteran actor Victor Moore (celebrating his 82nd birthday) and R&B singer La Vern Baker headlined this week's Ed Sullivan Show on CBS-TV.
On this day in 1963,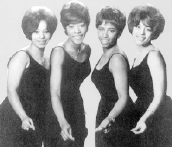 "He's So Fine" by The Chiffons was released. It would spend 15 weeks on the Billboard Hot 100 chart, including four weeks at number one.
On this day in 1964, The Beatles made their third appearance on CBS-TV's "The Ed Sullivan Show" in as many weeks. This performance had been pre-recorded the afternoon of February 9th — just hours before the group made their live American T-V debut on Sullivan's Sunday night showcase.
On this day in 1965, film comedian Stan Laurel died of a heart attack at age 74.  His movies with partner Oliver Hardy were staples of early TV.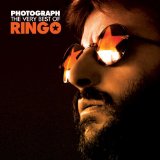 On this day in 1970, Ringo Starr guest starred on "Rowan & Martin's Laugh-In" on NBC-TV. It was his first solo appearance on American television.
Also in 1970, the 5th Dimension guest starred on ABC-TV's "It Takes A Thief"  in the episode titled "Sing a Song of Murder." They sang their current smash hit "One Less Bell To Answer."
Still this day in 1970, the first public presentation of the Junos, the annual awards of the Canadian recording industry, took place at St. Lawrence Hall in Toronto. The Guess Who won for best group.
Again in 1970, blues singer Lonnie Johnson made his last appearance in what was billed as a "Blue Monday" concert at Massey Hall in Toronto. Four months later Johnson was found dead in his Toronto apartment at age 71.
Still on this date in 1970, The Doors were awarded a Gold Record for their "Morrison Hotel" album, their fifth straight LP to be so certified.
On this day in 1971, actor James Franciscus starred in "Longstreet",
a made-for-TV movie about a blind insurance investigator. It became a series in the fall of that year.
Also this day in 1971, George Harrison was fined & had his driving license suspended for 1 year as a result of several speeding tickets and a dispute with the police.
On this day in 1974, actress Teri Garr appeared on the Bob Newhart Show in "Confessions of an Orth."
Also this day in 1974, Columbia Records released Billy Joel's first single, "Piano Man," which would prove to be a major hit and his signature song.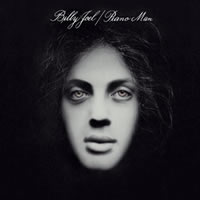 On this day in 1978, the Eagles won the best L-P Grammy for "Hotel California," but did not attend the awards ceremony. "Hotel California" was the Eagles' third consecutive number one album, and sold 11-million copies. "Rumours" by Fleetwood Mac won the Album of the Year award, and Debbie Boone also was honored.
On this day in 1979, Dire Straits played the Paradise Rock Club in Boston to begin their first tour of the US and Canada. Their first hit, "Sultans Of Swing," was so strong their entire 51 slate of shows in 38 days were sold out.
On this day in 1980, the song "Crazy Little Thing Called Love" by Queen topped the charts and stayed there for 4 weeks.
On this day in 1983, the rock group, Toto, won Grammy Awards for the hit single, "Rosanna", and the album, "Toto IV", at the 25th annual ceremonies in Los Angeles. The group received four other awards to tie the 1965 record of six Grammies (Roger Miller).
On this day in 1985,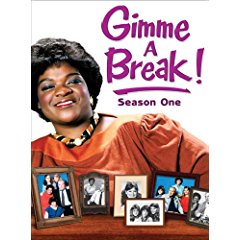 Gimme a Break", broke with tradition & was broadcast live before a studio audience. It was the first sitcom to be aired live since television's Golden Age in the 1950s.
On this day in 1988, Michael Jackson kicked off his first solo U-S tour in Kansas City. He opened with the same song with which he started the 1984 Victory Tour with his brothers — "Wanna Be Starting Something."
On this day in 1989, in Atlanta, singer and songwriter Isaac Hayes was jailed for failure to pay child support and alimony. Hayes owed more than 346-thousand dollars to his former wife, from whom he was divorced in 1986. He claimed he had been unable to make enough recordings and book enough concert dates to raise the money.
On this day in 1991, Whitney Houston achieved her 9th Billboard No.1 single in just over five years with her version of the Sister Sledge song 'All The Man I Need.'
On this day in 1992, rockers Kurt Cobain (Nirvana) & Courtney Love (Hole), got married.

On this day in 1993, Little Richard received a Lifetime Achievement Grammy.
Also this day in 1993, actor Gary Coleman was awarded $1,280,000 from his parents. The star of TV's "Diff'rent Strokes" had sued over the alleged misappropriation of a $3.8 million trust fund.
On this day in 1994, "Daltrey Sings Townshend," an evening of Roger Daltrey performing songs by his Who-bandmate Pete Townshend, debuted at Carnegie Hall in New York. Daltrey and a host of guest stars, including Lou Reed, Sinead O'Connor and Alice Cooper, were backed by a 65-piece orchestra. Daltrey later took the show on a North American tour, but without the array of guest stars. He performed with local symphony orchestras.
Also in 1994, a judge in Los Angeles dismissed a suit brought by Martha Raye against Bette Midler. Raye had claimed that Midler based her 1991 movie "For the Boys" on Raye's life story.
On this day in 1995, Melvin Franklin, bass singer for the Temptations,

 died in Los Angeles a week after being admitted to hospital following a series of seizures. He was 52. Franklin and Otis Williams were the only original members of the Temptations to continue performing with the group into the 1990's.
Also this day in 1995, James Herriot, the British author whose books were the basis for the TV series All Creatures Great & Small, died at age 78.
On this day in 1997, Tony Williams, one of the most influential jazz drummers of the 1960's, died of a heart attack in Daly City, California. He was 51. Williams won a Grammy Award in 1995 for "The Tribute to Miles Davis," an album made with ex-Davis sidemen Herbie Hancock, Ron Carter and Wayne Shorter.
Also this day in 1997, NBC-TV showed the Steven Spielberg movie "Schindler's List" with minimal commercial interruption, attracting the incredible audience of 65 million viewers.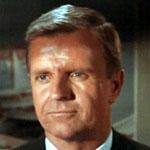 On this day in 1998, actor Philip Abbott, best known as bureau chief Arthur Ward on the ABC-TV series "The FBI," lost his battle with cancer at age 74.
Also in 1998, all members of Oasis were banned for life from flying Cathay Pacific Airlines after "abusive and disgusting behaviour" during a flight from Hong Kong to Perth, Australia. Fellow passengers had complained that band members smoked, swore and threw objects at the flight crew and others.
On this day in 1999, jazz critic Stanley Dance, credited with coining the term "mainstream jazz," died of pneumonia at a health-care facility near his home in Vista, California. He was 88. "Mainstream jazz" was how Dance described the music played by veterans of the big bands who were forced to adapt to smaller groups in the 1950's.
Also on this date in 1999, Perry Kibble, keyboardist and songwriter with the disco group A Taste of Honey, died of heart problems at his home in Calgary. He was 49. A Taste of Honey, formed in Los Angeles in 1972, won the Best New Artist Grammy in '79, the year after their "Boogie Oogie Oogie" topped the charts.
Again in 1999, country's Garth Brooks attended spring training camp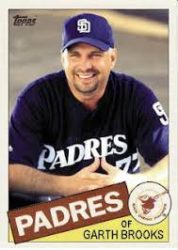 with the San Diego Padres as a non-roster player.  The team agreed to make a charitable contribution in lieu of any salary for Brooks.
On this day in 2000, Sean "Puffy" Combs was indicted on witness-bribing charges. The District Attorney's office in Manhattan claimed the rap star had offered money and jewelry to his limo driver, and asked him to claim ownership of a gun that police found in the Combs vehicle, after a shooting at a local nightspot two months earlier.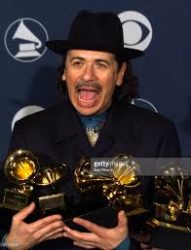 Also on this day in 2000, Carlos Santana won eight Grammy awards, tying Michael Jackson's 1983 record for most Grammys on a single night. "Supernatural" won the biggest honour, Album of the Year. Christina Aguilera beat out Britney Spears to win the Grammy for Best New Artist. Sting was the surprising winner in the Male Pop Vocal category for "Brand New Day" and the award for pop album, giving him a career total of 14 Grammy awards. Shania Twain and Eminem won two Grammys apiece. Sarah McLachlan claimed her third career Grammy for female pop vocal performance for "I Will Remember You" and Diana Krall won her first Grammy for best jazz performance for "When I Look in Your Eyes."
On this day in 2002, The Bee Gees made their last-ever concert appearance as a trio when they appeared at the Love and Hope Ball in Miami Beach, Florida. Maurice Gibb died early the following year of intestinal problems.

On this day in 2003, Norah Jones won five Grammys, one for every category in which she was nominated, including album of the year. The Grammy Awatds show opened with Simon and Garfunkel singing "The Sound of Silence"; it was the first time they'd performed together in a decade.
Also this day in 2003, the UK's News Of The World reported that Michael Jackson had undergone scores of painful operations to strip his body of black skin until he appeared white.
Still in 2003, Howie Epstein, bassist with Tom Petty and the Heartbreakers for some 20 years, died of a suspected drug overdose in New Mexico, at age 47.
On this day in 2004, big band-era balladeer Don Cornell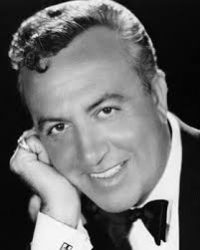 died at age 84 from advanced emphysema and diabetes.  Between 1950 and 1962, Cornell chalked up hits such as "It Isn't Fair," "I'm Yours," "The Bible Tells Me So," "Most of All," "I'll Walk Alone" and "Hold My Hand."
On this day in 2006, British-born John Martin, the inventor of the syndicated T-V show "The New Music", died in a Toronto hospital of complications from esophageal cancer. He was 57. Influence magazine called Martin the "father of rock video in Canada."
On this day in 2007, rockabilly singer Donnie Brooks whose big hit was 1960's Mission Bell, died of congestive heart failure at age 71.

On this day in 2010, 'Boss radio' co-creator (with Bill Drake) Gene Chenault (above) died of non-Hodgkins lymphona at age 90.
Also this day in In 2010, Rawlco's NOW FM launched at 102.3 MHz in Edmonton, after almost four months of transmitter tests with four songs on a loop.

Still in 2010, a week after EMI Records announced that the iconic Abbey Road Studios were for sale, the British culture ministry stepped in to declare the recording facility a historic site, thus restricting the changes that could be made to the building. The Beatles used Abbey Road for 90% of their recordings, naming an album after the studios in 1969.
On this day in 2011, via Facebook & Twitter, Marilyn Manson sidesman Ginger Fish announced his departure after 16 years.  "I am regretful to inform the fans that I have decided to step down as a member of Marilyn Manson, and see where my life, and the knowledge of my availability cares to take me."
On this day in 2013, veteran Vancouver radio newsman Hal Rodd died at age 91.  He began his career as a sound tech on The Adventures of Ozzie & Harriet in Hollywood, then moved north to CJOB Winnipeg.  In the late 1940's and early 50's he was the voice of Vancouver's (baseball) Capilanos (pictured) on CKMO.  Over the years he worked in radio news at CFUN, CKNW, and CJOR.
.
Also in 2013, Madonna followed by Bruce Springsteen, Roger Waters (Pink Floyd) and Van Halen led Billboard magazine's "Music's Top 40 Money Makers 2013" list based on touring revenue, music sales (online and hard copies) and publishing royalties over the past 12 months. Madonna had an income of $34.5 million while Springsteen was close with $33.4 million.
 On this day in 2015, Bobby Emmons, Nashville studio musician and songwriter, who wrote hits for Waylon Jennings and George Strait and played on more than 100 chart hits as a session musician, died following an undisclosed illness four days after his 72nd birthday.
Also in 2015, Marlene Judy Barrow-Tate, one of the three original members of the Motown backing group The Andantes, died at age 73. In the 1960's many of Motown's hits featured The Andantes in the background.
On this day in 2017, Fox News Channel commentator Alan Colmes, who often presented liberal counterpoints to his more conservative colleagues, including his longtime (1996-2009) prime time showmate Sean Hannity, succumbed to cancer at age 66.
Today's Birthdays:
Actress Linda Cristal (The High Chaparral) is 85.
Former TV reporter Sylvia Chase (20/20) is 81.
Actor-director Peter Fonda (Supernova, Capital City) is 79.
Actress Jada Rowland (The Hamptons, As the World Turns, The Doctors) is 76.
Steel guitarist Rusty Young of Poco is 73.
Bass guitarist/singer Steve Priest of the '70s British rock group Sweet is 69.
Actress Patricia Richardson (West Wing, Home Improvement) is 68.
Guitarist Brad Whitford of Aerosmith is 67.
Singer Howard Jones is 64.
Singer/guitarist David Sylvian of the British rock group Japan is 61.
Guitarist Michael Wilton of Queensryche is 57.
Actor Ronan Vibert (The Borgias) is 55.
Actress/voicist Kristin Davis (Sex and the City, Melrose Place, Miss Spider's Sunny Patch Friends) is 54.
Actor/TV host Marc Price (Hearts are Wild, Family Ties) is 51.
TV personality Daymond John (Shark Tank) is 50.
Actress/TV host Niecy Nash (Claws, Scream Queens, Getting On, Reno 911!, Clean House) is 49.
Montreal-born actress Marie-Josée Croze (Murder Most Likely) is 49.
Bassist Jeff Beres of Sister Hazel is 48.
Guitarist-keyboardist Lasse Johansson of The Cardigans is 46.
Actress Kelly McDonald (Boardwalk Empire) is 43.
Rapper Residente of Calle 13 is 41.
Actress Erika Ervin (American Horror Story, Hemlock Grove) is 40.
Actor/voicist Josh Gad (The Comedians, 1600 Penn, Woke Up Dead, Back to You) is 38.
Actress Inna Korobkina (Cra$h & Burn) is 38.
Rocker Tommy McCarthy of "No Authority" is 38.
Actress Alexis Boozer Sterling (Emma Approved, Leap Year, Break a Leg) is 37.
Writer/actor Adam Hann-Byrd (The Morning After) is 37.
Actor Aziz Ansari (Master of None, Parks and Recreation) is 36.
Actress Emily Blunt (Empire 2005, Gideon's Daughter) is 36.
Actress Emily Cox (The Last Kingdom) is 34.
Singer/ songwriter Skylar Grey is 33.
Actress Samara Weaving (SMILF) is 27.
Actress Dakota Fanning (The Alienist, Taken) is 25.
Actor Cameron Palatas (Agents of S.H.I.E.L.D, Ash vs. Evil Good, Zach Stone is Gonna Be Famous) is 25.
Actor James Paxton (Eyewitness) is 25.
Ontario-born actor Christian Martyn (Franklin & Friends, Monster Math Squad) is 19.
Actress Bailey Gambertoglio (Bubble Guppies) is 19.
Chart Toppers – Feb. 23
1948
Now is the Hour – Bing Crosby
I'm Looking Over a Four Leaf Clover – The Art Mooney Orchestra
Ballerina – Vaughn Monroe
I'll Hold You in My Heart (Till I Can Hold You in My Arms) – Eddy Arnold
1957
Too Much – Elvis Presley
Young Love – Tab Hunter
Love is Strange – Mickey & Sylvia
Young Love – Sonny James
1966
Lightnin' Strikes – Lou Christie
These Boots are Made for Walkin' – Nancy Sinatra
My World is Empty Without You – The Supremes
Waitin' in Your Welfare Line – Buck Owens
1975
Pick Up the Pieces – AWB
Best of My Love – The Eagles
Some Kind of Wonderful – Grand Funk
I Care – Tom T. Hall
1984
Karma Chameleon – Culture Club
Jump – Van Halen
99 Luftballons – Nena
Don't Cheat in Our Hometown – Ricky Skaggs
1993
I Will Always Love You – Whitney Houston
A Whole New World (Aladdin's Theme) – Peabo Bryson & Regina Belle
Ordinary World – Duran Duran
Can I Trust You with My Heart – Travis Tritt
2002
Hey Baby – No Doubt
In The End – Linkin Park
7 Days – Craig David
Good Morning Beautiful – Steve Holy
2011
Black And Yellow – Wiz Khalifa
Grenade – Bruno Mars
Firework – Katy Perry
Voices – Chris Young