ON THIS DAY in 1882
the future 32nd US president Franklin Delano Roosevelt was born at Hyde Park NY.  Not only was he the only President elected 4 times, he was the first to use broadcasting (radio) to effectively communicate with his constituency (Fireside Chats).

On this day in 1911, influential jazz trumpeter Roy Eldridge (above) was born in Pittsburgh.  It was said that from the mid 1930's on, he superceded Louis Armstrong as the exemplar of hot trumpet playing.  At the end of World War II he toured with the Jazz at the Philharmonic group.  He died Feb 26, 1989 at age 78.
Also this day in 1911, actor Hugh Marlowe was born in Philadelphia. He played the Crime Doctor & Ellery Queen on CBS radio, and was cast repeatedly in guest spots on the TV series Perry Mason & Alfred Hitchcock Presents.  He was in his 13th year of playing Jim Mathews on the daytime drama Another World, when he suffered a fatal heart attack May 2 1982.  He was 71.
On this day in 1914, actor John Ireland (below) was born in Vancouver, but raised in New York City. For much of his career he starred in B movies, but he also guested on episodic TV over a 40 year period. He died of leukemia Mar 21, 1992 at age 78.

Also this day in 1914, Tony-winning actor David Wayne was born in Traverse City Michigan. His TV credits include the series Batman, Dallas and House Calls, with recurring characters as well on St. Elsewhere, Ellery Queen, Matt Houston, & Disneyland.  He died of lung cancer Feb 9, 1995 at age 81.
On this day in 1917, the Original Dixieland Jazz Band recorded a classic for Columbia Records titled, "The Darktown Strutters' Ball". It was one of the first jazz compositions recorded.
On this day in 1918, actor David Opatoshu was born in New York City.  He delivered the evening news in Yiddish on New York radio during the World War II years on WEVD.   In a span of 40 years guesting on TV he appeared repeatedly in Philco Playhouse, Studio One, Dr. Kildare, The FBI & Medical Center.  He died April 30 1996 at age 78.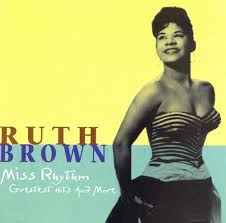 On this day in 1928, Tony-winning R&B singer Ruth Brown was born in Portsmouth Virginia.  Her hits include So Long, Teardrops from My Eyes, Hours, Mambo Baby, Lucky Lips, & This Little Girl's Gone Rockin'.    She died at age 78 November 17, 2006, from complications following a heart attack and stroke suffered after surgery in October.
On this day in 1933, "The Lone Ranger" was heard for the first time, produced in the studios of WXYZ Detroit.  The famous radio western was not sponsored for most of the first year, until Silvercup Bread came aboard in November. It gradually built a network, and ran for 2,956 episodes before ending production in 1955. George Seaton (Stenius) was the first voice of the Lone Ranger. Jack Deeds and Earle Graser followed in the role. However, it was Brace Beemer (below) who is best remembered as former Texas Ranger, John Reid. On radio he played the part of the black-masked Ranger, fighting for frontier justice, for thirteen consecutive years.

On this day in 1936, Horst Jankowski, the pianist who gave us the 1965 hit "A Walk In The Black Forest," was born in Berlin.  He died of cancer June 29, 1998 at age 62.
On this day in 1947, English singer/songwriter/guitarist Steve Marriott was born in London. He is best remembered for his musical work in the groups Small Faces and Humble Pie. He was killed in an Essex, England house fire Apr 20, 1991 at age 44.
On this day in 1950, NBC-TV debuted the drama anthology series, "Robert Montgomery Presents". The hour-long show was well received and played for eight seasons on the Peacock Network.
On this day in 1956, Elvis Presley started recording what would be his first album at RCA Victor's New York Studios. Songs recorded included his version of the Carl Perkins song 'Blue Suede Shoes'.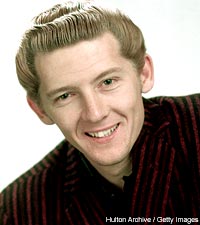 On this day in 1957, Jerry Lee Lewis played piano for Billy Lee Riley's rockabilly hit "Red Hot" in the Memphis studios of Sun Records.
On this day in 1960, Vancouver was awarded its first private TV station.  Art Jones headed the group that brought us CHAN TV, which became BCTV, and eventually Global BC.
On this day in 1961, The Shirelles became the first girl group to have the number one song on the Billboard chart when 'Will You Love Me Tomorrow' reached the top, and stayed there for 2 weeks.
Also this day in 1961, country pianist Floyd Cramer, backed by the Nashville Strings and the Anita Kerr Singers, recorded several numbers for his next LP, including "San Antonio Rose."   When released in May as a single it became a Top Ten hit on both the Country and Pop Singles charts.

On this day in 1965, the song "The Name Game" by Shirley Ellis hits #3 on the Billboard pop chart.
On this day in 1966, the Four Tops headlined CBS-TV's Ed Sullivan Show, and SSgt. Barry Sadler offered his "Ballad of the Green Berets." Jose Feliciano and Dinah Shore also sang, while comedian Jackie Vernon and the little Italian mouse Topo Gigio were there for laughs; and Montreal Mayor Jean Drapeau took a bow from the audience.
On this day in 1967, western actor Lee Morgan, who guest starred on TV's Cisco Kid & Gene Autry Shows, died of heart disease at age 64.
On this day in 1968, singer Bobby Goldsboro recorded his biggest hit, (and only #1) "Honey" on the United Artist label.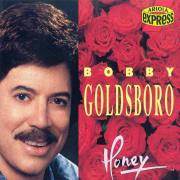 On this day in 1969, the Beatles made their last public appearance as a group — at a free concert on the roof of their Apple corporate headquarters in London. The group recorded "Get Back"; and were also filmed performing it for the movie "Let It Be". The live show came to an abrupt end after 42 minutes when police, responding to the complaints of a nearby shop owner, shut it down.
On this day in 1971, one of the best selling LP's of all time, Tapestry by Carole King was released on the Ode label.  It would sell 25 million copies world wide, and win several Grammys including Album of the Year.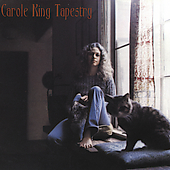 Also in 1971, Janis Joplin's single "Me And Bobby McGee" was released, four months after her drug-related death.
On this day in 1973, the newly-named band Kiss gave its debut performance at the Coventry Club in Queens, N.Y.
On this day in 1974, Bob Dylan made his first New York concert performance in eight years, playing Madison Square Garden. It was part of a two-month tour with The Band.
On this day in 1975, The Bee Gees began recording 'Jive Talkin', which became their second US chart topper. Barry Gibb's inspiration for the song came when his wife commented on the sound their car made while crossing a bridge over Biscayne Bay into Miami. She noted, "It's our drive talkin'."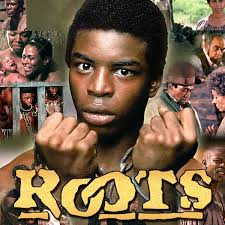 On this day in 1977, the eighth (& final) part of the mini-series "Roots" became the most-watched TV entertainment show ever .. a record that lasted until the MASH finale in 1983.
On this day in 1978, the Mutual Radio network began airing the Larry King Show from midnight to 5:30 am Eastern time.  The first weeks of the talk show originated in Miami, before Larry relocated to Washington DC.
On this day in 1981, Queen's "Another One Bites The Dust" won Favorite Pop/Rock Single at the American Music Awards in Hollywood.

On this day in 1982, comedian/actor Stanley Holloway, whose comic monologue recordings were featured in the 30's and 40's in specialized British programming on CJOR, CKWX & CKMO, died at age 91.
Also this day in 1982, "I Can't Go for That (No Can Do)" by Daryl Hall & John Oates topped the charts, but only for a week.
On this day in 1985, the No. 1 Billboard Pop Hit was "I Want to Know What Love Is" by Foreigner. Although Foreigner had its first top five single in 1977, this was the group's first No. 1 song.
On this day in 1986, pianist & composer Ticker Freeman, the musical director for NBC-TV's Dinah Shore Chevy Show, died at age 74.

On this day in 1988, INXS had their first Billboard No.1 hit single with 'Need You Tonight'.
On this day in 1989, singer Randy Travis won three American Music Awards, including one for favorite male country artist.
On this day in 1990, CBC President Gerard Veilleux announced that 500 jobs were to be cut at the Canadian Broadcasting Corporation over the next year.
On this day in 1991, actor John McIntire, who starred in the TV series Wagon Train and The Virginian, and who guested on dozens of other dramas, succumbed to lung cancer and emphysema at age 83.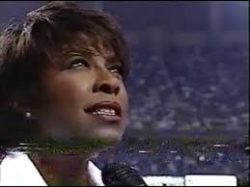 On this day in 1994, Natalie Cole sang the Star Spangled Banner at Super Bowl XXVIII.
Also this day in 1994, jazz vocalist/trumpeter Ernestine "Tiny" Davis, often referred to in her heigh day as the female Louis Armstrong, died at age 86.
On this day in 1995, Led Zeppelin received the International Artists Award at the American Music Awards. Michael Jackson and Rod Stewart were the only others to have previously received the honor. Meantime, Boyz II Men nailed three awards, while Ace of Base, Michael Bolton and Reba McEntire each score two..
Also this day in 1995, Kevin Eubanks officially became band leader of NBC's "Tonight Show with Jay Leno."                                                                                                                          
On this day in 1996, record producer Bob Thiele died at age 73.  His most successful production was the pop hit "What a Wonderful World" with Louis Armstrong.  He also produced for jazz greats Errol Garner, Lester Young, John Coltrane, Charles Mingus, & Dizzy Gillespie, plus many others.  He was hosting a jazz radio show when he was only 14. He was the husband of pop singer Teresa Brewer for 24 years.
On this day in 1998, Elton John was included in British Prime Minister Tony Blair's first New Year's Eve Honours List, for his charity work. The ceremony in which the Queen made him a Knight was held February 24.
On this day in 1999, announcer Ed Herlihy died at age 89.  He is best remembered as the voice of Universal-International Newsreels, and  a staff announcer for NBC Radio & Television.  He was the commercial voice of Kraft Foods from 1947 through the early 1980's.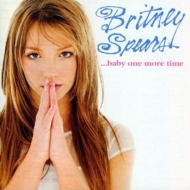 Also in 1999, after 11 weeks on the Billboard singles chart Britney Spears started a two week run at No.1 with '…Baby One More Time.'  Britney's debut album also went to No.1 the same day.
On this day in 2001, BCTV announced that Kevin Newman was leaving ABC "World News Tonight" to anchor a Canadian supper hour newscast (Global National) originating from Vancouver.
On this day in 2002, Freddy Fender was released from a San Antonio hospital a week after after an operation to receive a new kidney donated by his daughter. Fender's health had been deteriorating due to his diabetes and hepatitis C.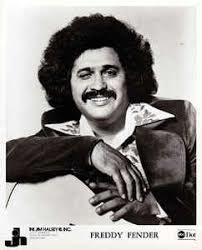 On this day in 2007, prolific novelist & scriptwriter Sidney Sheldon, who produced and wrote for the TV hit shows Hart to Hart, I Dream of Jeannie, Nancy, The Patty Duke Show, and mini-series such as If Tomorrow Comes, died of complications from pneumonia at age 89.
Also this day in 2007, the John Mellencamp album "Freedom's Road" bowed at #5, becoming his highest-ever chart debut.
On this day in 2008, Barbara Walters published her tell-all "Audition: A Memoir." The journalist, writer and media personality included remembrances of her family, husbands, lovers and friends.
Also in 2008, Madonna topped the list of the richest female musicians, according to Forbes.com. Its first-ever list focusing on women in the music industry estimated the 49-year-old banked $72m between June 2006 and June 2007. Madonna earned much of that from her Confessions tour – the highest-grossing tour for a female artist – which brought in $260m worldwide. Barbra Streisand came second with $60 million followed by Canada's Celine Dion with $45 million.
On this day in 2009, three years after his death, and following two years of legal wrangles James Brown's family reached a settlement over the singer's estate that divided his few remaining assets and gave beneficiaries the ability to make money using his music and likeness.

On this day in 2010, Neil Young was named the Musicares Person of the Year for his "influential artistic accomplishments and philanthropic work". A string of artists including Elton John, Norah Jones, James Taylor, Elvis Costello, John Forgarty, Dave Matthews and Sheryl Crowe performed his songs as he was honoured by the US Recording Academy at the Los Angeles Convention Centre.
Also in 2010, Sting played numbers from the Police catalog and his solo career with the Philadelphia Orchestra at that city's Academy of Music's 153rd Anniversary concert.
On this day in 2012, Professor Galina Mindlin of New York's Columbia University was out promoting her book "Your Playlist Can Change Your Life."


"It's [about] how music affects you – how it can improve your memory, how it can relieve anxiety, enhance your mood, how we can use playlists for specific tasks," explained Mindlin. "The idea is to activate as many brain areas as you can."
On this day in 2013, Patty Andrews, the last surviving member of the Andrews Sisters whose hits included the rollicking Boogie Woogie Bugle Boy, Beer Barrel Polka, Bei Mir Bisto Schein, and Pistol Packin' Mama, died at age 94. The sister trio recorded more than 400 songs in the 1930's through the early '50's, and sold more than 80 million records.
On this day in 2015, UK actress Geraldine McEwan, best remembered in North America for her role as Agatha Christie's TV sleuth 'Miss Marple' from 2004 to 2009, died three months after suffering a stroke at age 82.
On this day in 2018, disgraced actor 
  Mark Salling, who played bad-boy Noah (Puck) Puckerman in FOX-TV's hit musical-comedy Glee, committed suicide at age 35, several weeks after pleading guilty to possessing child pornography.
Today's Birthdays:
Actor Gene Hackman (US Steel Hour, Inside the Actors' Studio) is 89.
Radio/film child actor Conrad Binyon (radio: One Man's Family, Mayor of the Town, Life of Riley, Buster Brown Gang) is 88.
Country singer Jeanne Pruett is 82.
Actress Vanessa Redgrave (Call the Midwife, Nip/Tuck, The Gathering Storm) is 82.
Country singer Norma Jean is 81.
Horn player William King of The Commodores is 70.
Actor Randy Brooks (West Wing, Emerald Point NAS, Generations) is 69.
Singer Phil Collins is 68.
Actor Charles S. Dutton (Roc, Threshold) is 68.
Actor Ann Dowd (The Handmaid's Tale, Good Behavior, The Leftovers, Nothing Sacred) is 63.
Comedian Brett Butler (Grace Under Fire) is 61.
Singer Jody Watley is 60.
Actor Alex Hyde-White (Days of Our Lives) is 60.
Actor Tony O'Dell (Head of the Class) is 59.
Actress Daphne Ashbrook (Hollywood Heights) is 56.
Actress Julie McCullough (Robin's Hoods, Growing Pains) is 54.
Actor Thomas McCarthy (The Wire, Boston Public) is 53.
Actor Wayne Wilderson (Veep, CSI:Crime Scene Investigation) is 53.
Actor Norbert Leo Butz (Bloodline, Mercy Street) is 52.
Actor Myk Watford (Law & Order:SVU, The Young & the Restless) is 48.
Country singer Tammy Cochran is 47.
Newfoundland-born actress/voicist Jennifer Hale (Xiaolin Chronicles, The Grim Adventures of Billy & Mandy, Totally Spies, Powderpuff Girls) is 47.
London Ont.-born actor Jordan Prentice (The Night Before the Night Before Christmas) is 46. 
Actress Paige Moss (It's All Relative, Beverly Hills 90210) is 46.
Actor Christian Bale (Mary Mother of Jesus, Heart of the Country) is 45.
Actress Olivia Colman (The Crown, Broadchurch, The Night Manager) is 45.
Actor/voicist Andy Milonakis (Adventure Time, Future-Worm, GGN: Snoop Dogg's Double G News Network) is 43.
Actress Shelby Fenner (Wolf Girl, Class Actions) is 41.
Actress Michelle Langstone (Power Rangers S.P.D.) is 40.
Singer/actor Josh Kelley is 39.
London Ont-born (Vancouver-raised) actress Margot Finley (Opposite Sex, In Cold Blood) is 39.
Actor Wilmer Valderrama (That '70s Show) is 39.
Actress Devin Sidell (L.A. Picker) is 39.
Singer/actor Scott Mescudi (AKA Kid Cudy) (How to Make it in America) is 35.
Actress Valene Kane (The Fall, Thirteen) is 32.
Actor Rob Pinkston (This Just In, Ned's Declassified School Survival Guide) is 31.
Hamilton-born actress Kylie Bunbury (Under the Dome, Twisted) is 30. 
TV personality/actor Cameron Brinkman (Laguna Beach: The Real Orange County) is 30.
Actor Jake Thomas (Lizzie McGuire, Cory in the House) is 29.
Actress Eiza González (From Dusk Till Dawn: The Series) is 29.
Vancouver-born fashion model Kate Bock (Sports Illustrated: The Making of Swimsuit 2013, Sports Illustrated: Swimsuit 2016 Revealed) is 26.
Actress Danielle Campbell (The Originals, StarStruck, Prison Break) is 24.
Chart Toppers – Jan.30
1951
My Heart Cries for You – Guy Mitchell
Tennessee Waltz – Patti Page
A Bushel and a Peck – Perry Como & Betty Hutton
The Shot Gun Boogie – Tennessee Ernie Ford
1960
Running Bear – Johnny Preston
Teen Angel – Mark Dinning
The Village of St. Bernadette – Andy Williams
El Paso – Marty Robbins
1969
I Heard It Through the Grapevine – Marvin Gaye
Crimson and Clover – Tommy James & The Shondells
Everyday People – Sly & The Family Stone
Daddy Sang Bass – Johnny Cash
1978
Baby Come Back – Player
Short People – Randy Newman
Stayin' Alive – Bee Gees
Out of My Head and Back in My Bed – Loretta Lynn
1987
At This Moment – Billy Vera & The Beaters
Open Your Heart – Madonna
Land of Confusion – Genesis
Cry Myself to Sleep – The Judds
1996
One Sweet Day – Mariah Carey & Boyz II Men
Exhale (Shoop Shoop) – Whitney Houston
Missing – Everything But The Girl
It Matters to Me – Faith Hill
2005
Let Me Love You – Mario
1, 2 Step – Ciara featuring Missy Elliott
Since U Been Gone – Kelly Clarkson
Awful, Beautiful Life – Darryl Worley