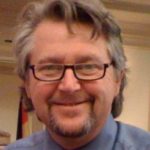 December 9, 2018
Welcome to JJ-365 Salutes. Over 2018, we pay tribute daily to one of "The Good Ones". Today we are shining the light on Pat Bohn.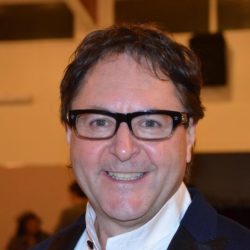 My first Program Director role was at CHAM in Hamilton, following in Pat and Kevin McKanna's footsteps. After a year and a bit Chuck McCoy of McCoy/Bohn consulting asked me if I might be interested in the CFOX Program Director job? I was flattered and flabbergasted. More on that story in ensuing posts.
That brought me to Vancouver where Ross Winters and myself worked very closely with Chuck and Pat on getting the station back in the driver's seat on the west coast. Chuck left shortly after I got there and then I spent a ton of time with Pat. I can't tell you how much I learned in that time together and how grateful I am. We had great discussions and working together we took the station from several share-points back of the leaders to a startling 15 share in record time. (That was amazing, but credit where credit is due to Bob Mills who with his team surpassed that years later with a kick-ass 15.3 share ratings result!)
I just loved working with Pat and our conversations soon led to talking about working together in his company. I wanted to do this in a bad way but with a very young family I just couldn't do it at the time. I often wonder what life would look like now if that had of happened. I was very flattered that this crazy successful consultant thought that much of me. I have watched Pat from the sidelines since then, marveled at his achievements, and am very happy for him.
Pat's first job in radio was at CKKR in Rosetown Saskatchewan (where he was born). At 15, his high school gave him a choice between shop and typing. He didn't want to take shop, so he took typing with 22 female classmates and finished the year at 90 words a minute (Funny, I was looking for one more credit in high school and did the same thing! I thought it would be an easy class and had no idea that this would be almost the most important one I ever took). As Pat says, "Computers weren't on the horizon then haha!"
With his new skills his mother got him the job of typing commercial logs for the radio station. After a year of practice and lots of nagging the Program Director, they let him on the air. During grade 11 and 12 he went to school during the day and did 7-midnight on-air. It was a country station and he loved it.
For much of his high school years he listened to the powerhouse CHED in Edmonton. Like almost everyone he loved that radio station, but he felt a job there was out of his reach. Funny, even then he was strategic, and to him getting into Moffat could some day lead him to CHED? He sent audition tapes to CHAB Moose Jaw (Moffat's farm team station) and got the job.
After graduating high school, he took a bus to Moose Jaw to do 7-Midnight on-air. 'The Cowboy' Vern Traill (one eye and two L's) was the GM and one day called him into his office to say, "Listen Tiger! Either take the Program Director job I am offering you or go find another job on-air."
Pat had this idea to make CHAB a provincial radio station and got buy in from Vern and amazing programmer and 365'er Keith James who were both incredibly supportive. The late and great Vern was a risk taker, a leader and the largest personality one could ever come across on this planet! Everyone knew of Vern's one false eye, practical jokes and when you worked for Vern you were either Tiger, Sport or Dear! (Vern called everybody one of these names and we speculated that was because he wasn't so good with name recall-:). CHAB became the most listened to radio station in the province. Pat dares not attempt to list all the talent that went through Moose Jaw, as there were that many! Everyone of them contributed to an amazing success story.
Chuck McCoy met him around this time and says he could instantly tell that this guy was going to be huge.
Pat had CHED Edmonton in his sites and that came after a one year Programming stop at CHAM in Hamilton. Pat says: "CHED was an amazing place to work. Deep in tradition and long in success. It defined culture."
The creation and development of the CHED Morning Show, which was born only a few months after the Z Morning Zoo launched in NY, took CHED to another level. Pat was in New York City and heard Scott Shannon and every part of him was in love with the idea. In Edmonton, he found a singer named Randy Broadhead who became the cornerstone for the program. Randy also ended up doing musical parodies for legendary morning hosts Scott Shannon and Rick Dees.
Programming CHED defined Pat's long-term vision to make a radio station as broad as the market would allow, invest in talent and execute religiously.
CHED was the type of radio station that allowed you to dream and proceed he says: "There was such innovation and community. Maybe the personal highlight was going to Hancock Park in LA, visiting Mohammad Ali's home. Over the 3 days I spent with him, we talked about the idea of having him come to Edmonton for an exhibition boxing match against Oiler enforcer Dave Semenko for the Children's hospital. When we weren't talking about the idea, Ali did magic tricks, joked and told stories and took us around town for lunches. Ya, CHED could play with the big boys! In 1985 CHED was named Station of the Year in Canada, thanks again to an amazing team. So, I quit."
What?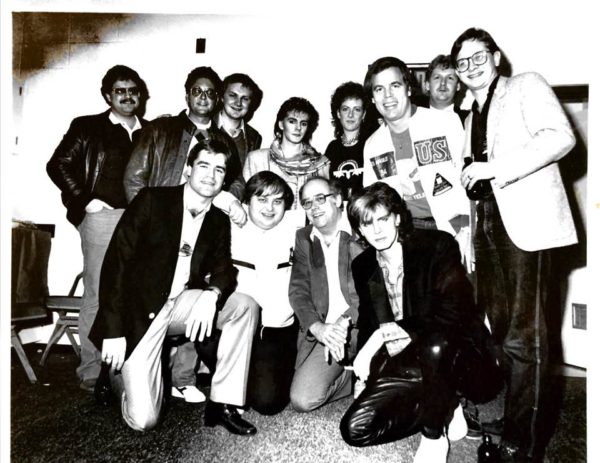 Pat says Chuck McCoy proposed/seduced/convinced him to partner in a consulting company. In 1985, Chuck from Winnipeg, and Pat from Edmonton, moved to Vancouver and set up their office. Moffat Communication was their first client. Like so many of us, Pat learned heaps from Chuck and will forever be grateful to him. A short time later Chuck took a big job with ROGERS Communications and threatened to kill Pat if he did the same. Chuck was adamant that he continue to consult, and told him he would be a client. He promised Pat that the company would be incredibly successful. And it was! Bohn and Associates became the biggest consulting firm in Canada. Thank you, Chuck, for your support Pat says.
One of the first things Pat did at Bohn and Associates was hire the late and great Arnie Celsie. He was smart, passionate and had an incredible work ethic: "Arnie viewed things somewhat the same as me, but also differently in that he was a morning man which gave him empathy for that part of the business, the talent side, which of course is really important as a consultant. He was always looking at things the way they should be viewed, seeing details that the others in the room often missed."
ROGERS Communications was their primary client with who they consulted for nearly 25 years. There were many success stories; CHFI Toronto, 680 NEWS, JACK in Vancouver to name a few. Arnie and Pat loved working with ROGERS and the great team that ran the company: "Talk about a group of individuals each with a wicked sense of humour. They made work fun and treated us as partners, sharing with us success and financial gain. We worked closest with the late and great Gary Miles as ROGERS bought companies, stations and hired great talent."
Pat's ownership of BDS Radio in Canada was another tremendous achievement. In the early days of the consultancy they teamed up with the Trapman Company to do radio airplay monitoring. As he thinks back: "I can't begin to imagine how time consuming, granular and grueling the work was of listening to hours of tape, logging each and every record played. Trapman and Bohn were approached by VNU (a Dutch company), who later merged with Nielsen, to take the business digital. We signed an agreement, I owned the rights for Canada and the business flourished. At one point every major radio station in Canada was using BDS for music monitoring. Funny story, Billboard which was also owned by VNU transferred the Hot 100 from analogue data (meaning phoning radio stations and record stores to determine what was being played and bought) to digital data. As I recall, in the week of the chart transition nearly 60 percent of the records on the Hot 100 from the previous week fell off the chart and lots of music never before charted as mass appeal (including lots of Country) found their way onto the charts. It was an exciting partnership and I owe a debt of gratitude to my partners, Joe Wallace, Mike Shalett and Rob Sisco; and, 365'er Stephanie Friedman who I gave the responsibility for running the operations of the BDS."
Not one to sit still, in 2004, Pat co-founded SparkNet Communications which was built on 3 pillars: Branded Formats, Content and Research. While Bohn and Associates continued to consult ROGERS who owned the JACK trademarks in Canada, Bohn and Associates owned them in the United States and worldwide.
SparkNet Communications debuted as the owner of the JACK FM format and from 2004 to 2007 they couldn't keep up to the licensing demand for JACK FM. Time magazine said: "The most successful branded music format in 25 years". The format was on in NY, LA, Chicago, Dallas, Seattle, and at one point nearly 80 markets. Pat hired the late and great Pat Cardinal who helped Garry Wall with the format launches. SparkNet partnered with Dial Global who became Westwood One to distribute the format through syndication. What goes around comes around as Pat hired Gary Miles to manage the syndication division of their business. Gary and Pat travelled to NY to meet with Kirk Stirland. Neither Kirk or Gary drank and told Pat great stories of when they did. The two of them had great sense of humour, and Pat says it made dinners real special.
Along with the success in America, they began launching in the UK, Russia and Austria. Ken Benson from Pinnacle Research out of Portland Oregon oversaw their international business and brought a wealth of relationships and experience to SparkNet. In 2006, the UK's first JACK FM format station won a broadcast licence for Oxford, England and they were off and running internationally. Pat met so many talented broadcasters and discovered the amazing aura of radio outside of North America. A debt of gratitude he says to Clive Dickens and Ian Walker who partnered with them to build their business internationally.
In 2008 they were hired by Gord Rawlinson to consult. Specifically, on the new radio station license Rawlco won in Edmonton. RAWLCO, while different than ROGERS, had a lot of the same qualities. They treated them as partners in the same way and rewarded them very well. The ideation of NOW Radio was magical and of course it has been a top radio station in Edmonton since it got off the ground. In Pat's view, he said it the greatest single radio launch he's experienced.
In his travels to the UK, Clive Dickens introduced Pat to Michael Hill. Together they proposed/seduced/convinced him to bring Radioplayer to North America. Michael defined the business as a simple and accessible way to listen to radio via the internet. It would be open to all stations licensed by the CRTC. The vision was extremely compelling for an industry in need of a digital solution: Agree on technology, Compete on content.
In March 2017 Radioplayer debuted in Canada and a dream came true. In large part due to the arm wrestling of Ian Lurie who convinced him that the CAB would take over and flourish the business. The project was quarterbacked by ROGERS EVP Julie Adam: "To her I owe my gratitude for making the Radioplayer dream a reality" says Pat.
In 2014 Pat says his incredible wife Sherry, sat him down and they formulated their life plan going forward. The crux of which was based on the "rule of thirds". One third in Vancouver, one third in Laguna Beach, California where they bought a home and one third travelling. And some where in there he could do the work he loves to do!
In September 2015 PAT sold HIS partnership of SparkNet Communications to Wall Media and sold the European licensing rights to JACK FM to partners Clive Dickens, Ian Walker and the gang at OXIS Media. The syndication company was acquired by 365'er Shawn Smith at Momentum Media which includes Broadcast Dialogue.
Pat sums up: "I say with tears in my eyes that 2017 was the hardest year of my life with the passing of Pat Cardinal, Arnie Celsie, Gary Miles and Vern Traill.
Today, I focus on the Canadian radio industry. Together with 365'er Jeff Vidler at Audience Insights we were hired by Julie Adam at ROGERS to work with the company that birthed my consulting business. Jeff and I couldn't be happier working with ROGERS. I consult Shawn at Momentum to help grow the content business. And with my brother Keith Bohn on a new project for the music industry."
I asked Jeff Vidler for a few words on Pat: "He is the Peter Pan of radio. He refuses to grow up. He's been around for decades but continues to have the childlike passion for radio that keeps him turning out crazy, brilliant and very successful programming and marketing ideas. His track record is unparalleled, from his time in the 80's leading the legendary CHED in Edmonton to serving as the consultant behind some of the most innovative format launches in North America: 680 News Toronto, the Jack format which continues to be a multi-national monster, and NOW! Radio in Edmonton. He loves working with ROGERS Radio — with Julie Adam, Paul Kaye and the team — helping them to achieve new ratings milestones."
Pat is truly one of most innovative in the radio business, worldwide. So smart, strategic, hard working, relentless, fearless and successful. He has earned every inch of it and continues to make a difference. I wish I could have worked with him more, but hey we're not done yet! Well done Pat! Atta be.
Thank you, Pat Bohn for being one of "The Good Ones". Feel free to like and share Pat's positive story. Who is the subject of tomorrow's JJ-365 Salutes? As they say, stay tuned.
Jim JJ Johnston is the multi award-winning CEO, President and Chief Talent/Content Coach for JJIMS INC. and works with talent in many different industries worldwide.