ON THIS DAY in 1902
Italian engineer Guglielmo Marconi (below) transmitted the first readable wireless radio signals 3,200 km across the Atlantic from his station at Glace Bay, Cape Breton to Poldhu in Cornwall, England.  A year earlier he had sent the first transatlantic wireless test signal – the letter 'S' repeated over and over – from Poldhu to his assistant Percy Wright Paget flying a box kite trailing a 121 metre long copper wire antenna on Signal Hill, St. John's. Nfld. The Canadian government gave Marconi $80 000 to set up wireless operations at Glace Bay, after nervous Newfoundland undersea cable companies, claiming a monopoly on transatlantic messages, booted him off the island. The Marconi Wireless Telegraph Company of Canada Ltd. was chartered in 1902.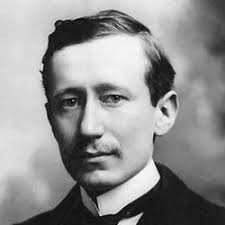 On this day in 1906, radio writer-producer-director William Spier was born in New York City. He is best remembered for his years producing CBS Radio's top quality Suspense anthology dramas, and  The Adventures of Sam Spade, Detective.  In 1952 he created TV's first 90-minute program Omnibus for NBC.  He died May 30 1973 at age 66.
On this day in 1916, actress Margaret (Maggie) Hayes was born Florette Ottenheimer in Baltimore.  Her film career began in 1940, she started in TV ten years later, with repeated appearances on Robert Montgomery Presents, Perry Mason, Wyatt Earp, Matinee Theatre, and her last series, 1964's A Flame in the Wind.  She died of cancer & hepatitis Jan 26, 1977 at age 60.
On this day in 1921, comic/light supporting actor Alvy Moore was born in Vincennes Indiana.  He was featured in the TV series Green Acres, the Littles, Pete & Gladys & Days of Our Lives.  He died May 4 1997 of heart failure at age 75.
On this day in 1925, comedian Dave Broadfoot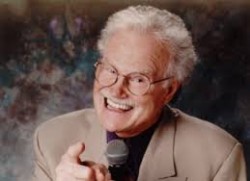 was born in North Vancouver.  He wrote and performed in Toronto for two decades before joining the CBC radio show 'Royal Canadian Air Farce' in 1973, where he starred hilariously for twenty years.  His best received characters on radio & TV include hockey goon 'Big Bobby Clobber,' and 'Sgt. Renfrew of the Mounted.'  He died Nov. 16 2016, 18 days short of his 91st birthday.
On this day in 1936, Bing Crosby took over from Paul Whiteman as host of NBC radio's "Kraft Music Hall."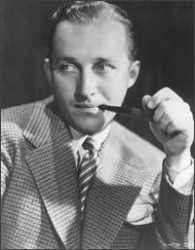 Bing would remain host for the next ten years, until he left for a more flexible schedule (and new technology) that would allow him to tape his program ahead of time, not always committed to "live."
On this day in 1943, the Mysterious Traveller anthology suspense series debuted on Mutual.   Written and directed by Robert Arthur and David Kogan, and hosted in New York by Maurice Tarplin, the 30-minute series of sci-fi, fantasy, thriller & mystery tales continued until September 16, 1952.
On this day in 1950, Nova Scotia's Hank Snow had a #1 country hit single with 'I'm Moving On'.
On this day in 1951, Jack Webb's "Dragnet" premiered on NBC TV.  It had been running on radio for 2-and-a-half years.
On this day in 1952, Mutual Radio broadcast "The Green Hornet" for the final time. The show left the air after 15 years on Mutual, NBC and ABC. "The Green Hornet" reappeared in 1966, this time on TV.
On this day in 1954, Saskatoon got its first local TV service as CFQC-TV signed on to Channel 8 as a CBC affiliate. Today it is known as CTV Saskatoon.
On this day in in 1955, disc-Jockey Alan Freed's movie "Rock Rock Rock" (with Connie Francis singing for Tuesday Weld) opened to packed theatres in New York City.
On this day in 1959, singer Gene Vincent arrived in England on his way to entertain U.S. troops in Germany over the holidays. Fans greeted him at Heathrow Airport, and he was interviewed on the BBC.
On this day in 1960, Elvis Presley started a ten-week run at No.1 on the Billboard album chart with 'G.I. Blues', his fifth No.1 album.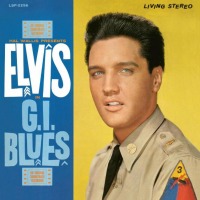 Also in 1960, Paul McCartney and Pete Best were arrested for pinning a condom to a brick wall and then igniting it. The two were told to leave Germany and The Beatles returned home, discouraged.
On this day in 1964, the song "Ringo" by Canadian-born Lorne Greene ('Bonanza') topped the charts and stayed there for a week.
On this day in 1965, The Beatles played their last ever show in their hometown of Liverpool when they appeared at The Liverpool Empire during the group's final UK tour. Only 5,100 tickets were available, but there were 40,000 applications to attend.
Also in 1965, The Rolling Stones played two shows at the Convention Hall in San Diego, on the final night of a 37-date tour of North America.
Still in 1965, CBS-TV's Ed Sullivan Show featured Martha and the Vandellas singing their biggest hit "Dancing In The Street." Tom Jones sang "Thunderball," while Robert Goulet sang "On A Clear Day" and "Come Back to Me."

On this day in 1968, Graham Nash quit the Hollies because the band wanted to do an album of Bob Dylan songs.  He announced the formation of Crosby, Stills and Nash three days later.
Also this day in 1968, in London the Rolling Stones released their classic "Beggar's Banquet" LP five months late due to a disagreement with their label over a planned scatological cover. The album ended up with a plain white cover, with the band's name and album title printed in script to resemble a formal invitation.
Still on this day in 1968, supporting actor Fred Clark (below) died of a liver ailment at age 54. His familiar scowl was frquently seen on TV's Beverly Hillbillies, Burns & Allen, in scores of guest spots as well as movies.  For his TV work he has a star on the Hollywood Walk of Fame.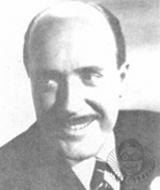 On this day in 1973, Paul McCartney released Wings' "Band on the Run" album in North America. It was issued in the UK two days later. It would be the last album McCartney would turn out for Apple Records.
Also in 1973, the Montreal skyscraper that houses all of the CBC's French-language operations, Maison Radio Canada, was officially opened.
On this day in 1974, the final episode of "Monty Python's Flying Circus" aired on BBC-TV.
On this day in 1975, the self-titled album "Fleetwood Mac" was certified gold in the U-S.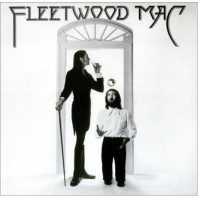 It was their first LP with Lindsey Buckingham and Stevie Nicks.
Also this day in 1975, the No. 1 Billboard Pop Hit was "Fly, Robin, Fly" by Silver Convention. Producer Michael Kunze originally called the song "Run, Rabbit, Run."
On this day in 1976, the sixth and final season of "McMillan and Wife" began on NBC-TV.

Also in 1976, Elvis Presley fell onstage at a show in Las Vegas and sprained an ankle.
On this day in 1980, just three days before John Lennon was murdered, he made his weekly call to his Aunt Mimi, who had raised him, telling her he was homesick and was planning a trip back to England.
On this day in 1983, bit player Estelle Omens died at age 55.  She was almost 40 before making her first appearance in film, and on TV had roles on Newhart, Barney Miller, Cagney & Lacey and Fame.
On this day in 1984, CKQR Castlegar won approval to move from 1230 KHz with 1000 watts to 760 KHz with 20,000 watts day and 5000 watts night. 
On this day in 1985, the No.1 Billboard Pop Hit was "Broken Wings" by Mr. Mister. The song had been written in 20 minutes by band members Richard Page and Steve George and their friend John Lang.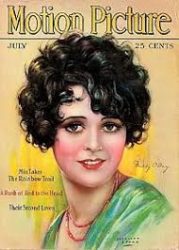 On this day in 1987, 
Molly O'Day, considered by some to have been the greatest female country singer ever, died of cancer in Huntington, West Virginia at age 64. O'Day recorded only 36 songs for Columbia between 1946 and '51, but among them was the classic "Tramp in the Street."
Also in 1987, the song "Heaven Is a Place on Earth" by Brenda Carlisle topped the charts but only for a week.
On this day in 1988, televangelist Jim Bakker and a former aide Richard  indicted by a federal grand jury in North Carolina on charges of fraud and conspiracy.
On this day in 1990, another round of budget cutting at the CBC as the corporation announced layoffs of 1,100 employees. The belt-tightening resulted in Calgarians getting all their CBC news from Edmonton for the next decade. Ironically, the process was reversed in the early 2000s, and local news was restored to CBC Edmonton in 2007.
On this day in 1991, Beach Boys founder Brian Wilson 
agreed to stay away from his longtime psychologist, Eugene Landy, and submit his finances to a conservator. The agreement settled a lawsuit filed by Wilson's brother, Carl, and their cousins, Mike and Stan Love. They portrayed Landy, Wilson's live-in psychologist and business partner, as an opportunist who brainwashed Wilson and used him as a cash cow. Wilson's drug abuse and a nervous breakdown had brought the two together in 1976.
On this day in 1992, Ice Cube became the first hard-core rapper to have an album debut at number one on the Billboard album chart, with "The Predator."

Also in 1992, Whitney Houston started a ten-week run at No.1 on the British singles chart with 'I Will Always Love You'. The longest-ever run at No.1 for a female artist, the Dolly Parton-penned song was taken from the Bodyguard soundtrack.
On this day in 1993, ex-Gin Blossoms lead guitarist Douglas Hopkins shot and killed himself at his home in Tempe, Ariz. He was 32. Hopkins had been fired from the band the previous year because of his drinking habit.
On this day in 1994, dance band arranger-singer Art Hallman, best known for his 13 years with Mart Kenney and his Western Gentlemen in the 1930's and '40s, died in Richmond Hill, Ontario at age 84. Hallman later formed his own band in Toronto. It was featured for many years on C-B-C Radio.
On this day in 1996, Nova Scotia-born country singer Wilf Carter died at age 91,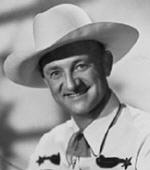 two months after being diagnosed with a stomach tumour.  He is acknowledged as the Father of Country Music in Canada, beginning in radio at CFCN Calgary in 1930, having his own CBS & NBC radio shows (as Montana Slim) in the late 30's, and later appearing frequently on the  CBC's Tommy Hunter TV show.
Also in 1996, at 5 am Chetwynd BC's CHET-FM branded as "Peace FM" signed on at 94.5 MHz as one of Canada's first community radio stations. 
On this day in 1997, police in Nagoya, Japan, arrested Carl Edward Hunter, manager of Ray Charles, on suspicion of marijuana possession.
On this day in 1998, the Billboard Hot 100 chart began including album cuts alongside commercially released singles. Billboard had previously insisted that a song had to be released as a retail single before it could be included on the chart, compiled from a combination of sales and radio play. But record companies had become increasingly reluctant to release singles for fear they would take away from sales of albums.
On this day in 1999, Korn were at No.1 on the Billboard album chart with 'Issues' the band's second US No.1.
On this day in 2000, R&B star Sisqo took home six trophies at the 2000 Billboard Music Awards at Las Vegas' MGM Grand Arena, while Destiny's Child, Dixie Chicks, Faith Hill and 'N Sync corralled four each.
On this day in 2002, the president of ABC News & Sports Roone Arledge,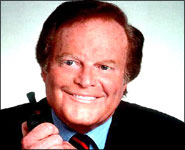 died at age 71 due to complications from prostate cancer.
On this day in 2002, Elton John played himself as a force in the "Gay Mafia" in "The Honeymoon's Over" episode of NBC-TV's "Will and Grace."
On this day in 2004, a Bob Dylan interview aired on CBS-TV's 60 Minutes, his first on-camera chat in two decades. The low-key interview by Ed Bradley helped to promote Dylan's book, Chronicles: Volume One.

Also in 2004, Elton John was among those saluted at the 27th annual Kennedy Center Honors in Washington DC, for his lifetime of contributions to American culture through the performing arts.
Still in 2004, Snoop Dogg was at No.1 on the Billboard singles chart with 'Drop It Like It's Hot.'
On this day in 2005, ABC News named Elizabeth Vargas and Bob Woodruff co-anchors of "World News Tonight," replacing the late Peter Jennings.  (But that didn't last long…..)
On this day in 2006, Beatles lyrics handwritten by Sir Paul McCartney to an early version of Maxwell's Silver Hammer sold for $192,000 at an auction in New York. A guitar owned by Jimi Hendrix fetched $168,000, while a notebook containing lyrics written by Bob Marley, sold for $72,000.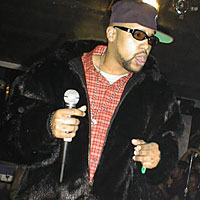 On this day in 2007, rapper Pimp C (Chad Butler) was found dead in a Los Angeles hotel room, aged 33. Pimp C had worked with Jay-Z and Dizzee Rascal.
On this day in 2008, actress Beverly Garland died at age 82.  She starred as the first TV policewoman in the series Decoy, and 50 years later had a recurring role in 7th Heaven. She also will be remembered as Fred MacMurray's second wife on the 60's sitcom My Three Sons, and as Dotty West in Scarecrow & Mrs. King.
On this day in 2010, former Dallas Cowboys quarterback Don Meredith, who in the heyday of Monday Night Football shared the ABC broadcast booth with Howard Cosell and Frank Gifford, suffered a fatal brain hemmorhage at age 72.

Also this day in 2010, Oprah Winfrey, Paul McCartney and Merle Haggard were among the award recipients at the 33rd annual Kennedy Center Honors in Washington.  Said McCartney in a statement, "President [John F.] Kennedy was such an icon for us in the '60s and his presidency was so inspiring for so many people that it is a great pleasure for this kid from Liverpool to receive this honor."
On this day in 2011, after spending 45 weeks at or near the top of the UK charts, singer Adele's second album '21' become the biggest selling LP in Britain this century, surpassing the late Amy Winehouse's 2006 LP 'Back to Black'.
Also in 2011, Metallica's six-hour celebration at the Fillmore in San Francisco to honor the band's 30th anniversary featured an appearance by the group's former bassist Jason Newsted.
On this day in 2012, highly regarded jazz pianist & composer Dave Brubeck died of heart failure one day short of his 92nd birthday.

On this day in 2013, Bruce Springsteen's handwritten working lyric sheet for his '75 hit "Born To Run" sold for $197,000 at Sotheby's in New York City. "Although Springsteen is known to have an intensive drafting process," said Sotheby's, "few manuscripts of 'Born To Run' are available, with the present example being one of only two identified that include the most famous lines in the song."
On this day in 2014, Albeth Paris Grass, the eldest of the Paris Sisters singing trio that had the 1961 hit with Phil Spector, "I Love How You Love Me," died at age 80.
On this day in 2015, Ringo Starr's personal copy of The Beatles 'White Album,' No.0000001, was sold for a record $790,000 at a Julien's auction in Los Angeles. A portion of the proceeds benefited the Lotus Children Foundation, which was founded by Starr and his wife Barbara.
On this day in 2017,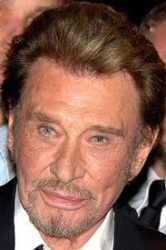 the French "Elvis', Johnny Hallyday, singer and actor credited with having brought rock and roll to France, succumbed to lung cancer at age 74. During a career spanning 57 years, he released 79 albums and sold more than 110 million records worldwide, mainly in the French-speaking world.
Today's Birthdays:
Singer Little Richard is 86.
Spokane-born folksinger Chad Mitchell (Chad Mitchell Trio) is 82.
Actor Randy Kirby (Girl From UNCLE, Wheels, The Law) is 75.
Montreal-born singer/songwriter Andy Kim is 72.
Pop singer Jim Messina (Buffalo Springfield, Poco, Loggins & Messina) is 71.
Actress Pamela Blair (Another World, All My Children, Loving) is 69.
Actor Lewis Arlt (Another World, Search for Tomorrow, Ryan's Hope) is 69.
Actress Morgan Brittany (Dallas, Glitter) is 67.
Actor Bobby Hosea (Pensacola: Wings of Gold, 18 Wheels of Justice, Lincoln Heights) is 63.
Actor Brian Backer (Santa Barbara) is 62.
Montreal-born actress Julie Khaner (Street Legal, Mission Genesis) is 61. 
Actress Connie Needham (Eight Is Enough, Fame) is 59.
Country singer Ty England is 55.
Rock singer-musician John Rzeznik (The Goo Goo Dolls) is 53.
Country singer Gary Allan is 51.
Comedian-actress Margaret Cho (Drop Dead Diva, All-American Girl) is 50.
Model/dancer/actress Lisa Marie (Sleepy Hollow) is 50.
Writer-director Morgan J. Freeman (Dawson's Creek) is 49.
Actor Eric Etebari (American Heiress, Witchblade) is 49.
Actress Alex Kapp Horner (The New Adventures of Old Christine, Maggie Winters) is 49.
Actress Kali Rocha (Liv and Maddie, Sherrie) is 47.
Oshawa-born model/actress Shalom Harlow (House of Style, The Jury) is 45.
Actor Brad Carter (In the Rough, The Cheerleader Diaries) is 45.
Actor Cedric Pendleton (House of Payne) is 45.
Actress Lisa Sheridan (Invasion, FreakyLinks, Legacy) is 44.
Actress Paula Patton (A Precious Ensemble, Murder Book) is 43.
Actress Amy Acker (Person of Interest, Alias, Angel) is 42.
Actor Armando Riesco (A Gifted Man, 3 Lbs.) is 41.
Actor Nick Stahl (Carnivale) is 39.
Montreal-born actress Jessica Paré (Mad Men, Jack & Bobby) is 38.
Actress Tamara Feldman (Gossip Girl, Dirty Sexy Money) is 38.
Actor Adan Canto (Designated Survivor, Mixology, The Following) is 37.
Actor Gabriel Luna (Wicked City, Matador) is 36.
Singer/songwriter Keri Hilson is 36.
Actress Lauren London (The Game) is 34.
Actor Frankie Muniz (Malcolm in the Middle) is 33.
Actor Ben Levin (As the World Turns) is 31.
Actor Ross Bagley (Fresh Prince of Bel Air) is 30.
Actress Najarra Townsend (Damaged Goods) is 29.
Toronto-based actress Alexandra Beaton (The Next Step) is 24.
Actor Diego Velazquez  (The Thundermans) is 17.
Chart Toppers – Dec. 5
1949
Don't Cry, Joe – The Gordon Jenkins Orchestra (vocal: Betty Brewer)
I Can Dream, Can't I? – The Tommy Dorsey Orchestra (vocal: Jack Leonard)
That Lucky Old Sun – Frankie Laine
Slipping Around – Margaret Whiting & Jimmy Wakely
1958
To Know Him, is to Love Him – The Teddy Bears
Beep Beep – The Playmates
One Night – Elvis Presley
City Lights – Ray Price
1967
Daydream Believer – The Monkees
The Rain, the Park and Other Things – The Cowsills
I Say a Little Prayer – Dionne Warwick
It's the Little Things – Sonny James
1976
Tonight's the Night (Gonna Be Alright) – Rod Stewart
The Rubberband Man – Spinners
Love So Right – Bee Gees
Good Woman Blues – Mel Tillis
1985
Separate Lives – Phil Collins & Marilyn Martin
Broken Wings – Mr. Mister
Never – Heart
Too Much on My Heart – The Statler Brothers
1994
On Bended Knee – Boyz II Men
Here Comes the Hotstepper – Ini Kamoze
Another Night – Real McCoy
The Big One – George Strait
2003
Hey Ya! – Outkast
Baby Boy – Beyoncé Knowles featuring Sean Paul
Suga Suga – Baby Bash featuring Frankie J
I Love This Bar – Toby Keith