.
SAN FRANCISCO (KGO TV News) —
.
Ray Taliaferro, an outspoken liberal who from 1977 through 2011 hosted an overnight talk radio program on KGO, has been found dead.
His son tells ABC7 News his father's body was found behind Brooks Stadium in Paducah Ky.
Taliaferro had been missing for three weeks. His son tells ABC7 there's been no luck getting in contact with his late father's wife.
The FBI is assisting in the investigation.
Taliaferro, 79, was reported missing Nov. 10, according to the Massac County Sheriff's Department, based in Metropolis, Ill., across the Ohio River from Paducah.
.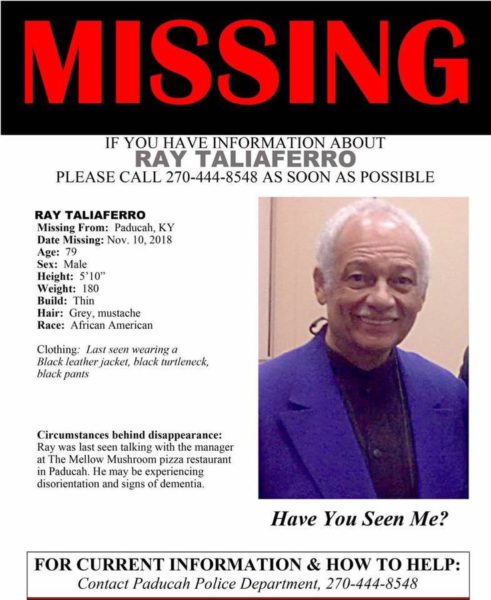 Further details surrounding Taliaferro's death are not clear at this time.
.
His son gave ABC7 News the following statement confirming his death:
"It is with great sadness that the Taliaferro family has to announce the passing of Ray Taliaferro. His body was found in Paducah, Kentucky in a wooded area approximately a mile from where he was last seen. The family appreciates the support and help we received in our search for Ray. This is a devastating ending to our search for him over these past weeks. The family is in the process of working with the police to learn the matters surrounding his death. At this time, we are processing this turn of events and ask for privacy as we work through our loss."

Before he went missing, the onetime San Francisco radio host had last been seen in Paducah on Nov. 10. A flier put out by the Paducah Police Department stated that "Ray was last seen talking with the manager of the Mellow Mushroom pizza restaurant in Paducah. He may be experiencing disorientation and signs of dementia."
Taliaferro has a long professional resume, which includes leading the San Francisco chapter of the NAACP. He also is credited as being the first Black talk-show host in a major market radio station (New York City) and being named San Francisco's first Black member of the Arts Commission.
Anyone with info about his death or disappearance is asked to contact the Massac County Sheriff's Department at 618-524-2912 or the Paducah Police Department at 270-444-8550.
MORE BAY AREA NEWS  HERE  AT THE ABC 7 NEWS WEBSITE