McComb is also a fierce advocate for people living with mental illness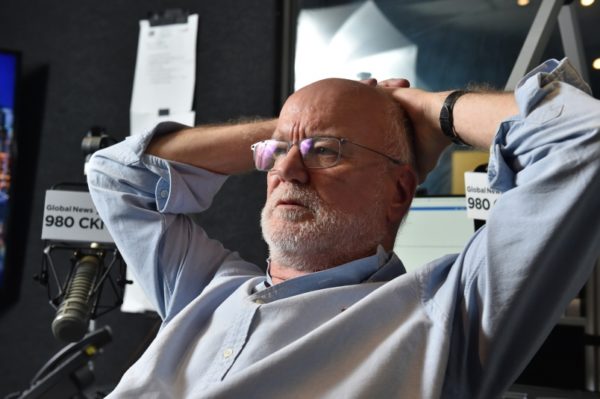 The voice is unmistakable.
As Jon McComb greets this reporter in the lobby of Corus Entertainment on West Georgia Street, no introductions are needed. It's a voice that's been heard on air for almost 50 years, first as a DJ, later as a news broadcaster and finally as a speaker and vocal advocate for people living with a mental illness.
McComb says his empathy for anyone living with a mental illness comes from his own struggles with anxiety and depression.
"It was around 2010, 2011 when I started taking about mental health and for all the reticence and fear I had at the time about anyone finding out, then they couldn't shut me up," McComb, says laughing.
.
On Dec. 1, McComb will have been with CKNW news radio, a division of Corus, for 35 years, the last five hosting the morning show — the early morning show he took over from long-time radio host Philip Till.  McComb's morning show team includes producer Pippa Reed, co-host Niki Reitmayer and tech producer Greg Schott.
"I leave for work at about 4:15, which means I get up at quarter after three," says McComb. "I'm 65-years old and I tell you, sometimes when that alarm goes off at 3:15, it's a huge challenge to get up. Before accepting the job, I described it to my wife as a total lifestyle commitment."
McComb starts the day with a protein/vitamin energy drink, followed by a cup of coffee before getting behind the wheel to make the drive from North Vancouver, where he lives with his wife Kristin McComb. The couple shares four kids, five grandchildren and four cats.
McComb says regular listeners know their oldest son Scott is living with ALS.
READ THE REST OF THE STORY  HERE  AT THE VANCOUVER COURIER WEBSITE