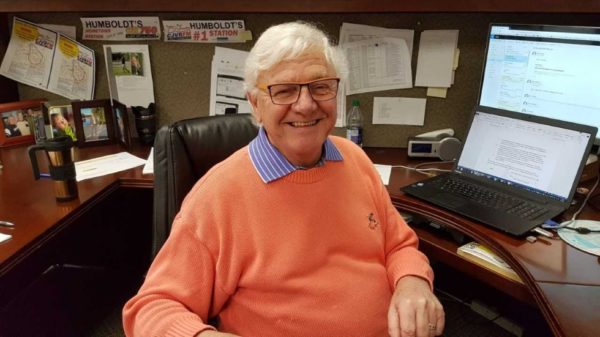 By Cam Lee/CJVR
November 30, 2018
.
A man with over five decades invested in radio is calling it quits.
Fabmar Communications Vice-President of Broadcast Operations Ken Singer is retiring, and his final day at work is Friday, Nov. 30.
"It's been an amazing ride for me," Singer said. "I started my broadcast career in 1967 in Saskatoon and in the 51 years that followed, I've got to say I pretty well got to experience every aspect of the business. It's been amazing."
Singer's lengthy career includes experience on-air, in sales, and upper management.
"I think one of the greatest things about my career is the tremendous people that I've met along the way, and made some really good long-term friendships," Singer, who remarkably has only worked for three different companies in his career, said.
"The experience with CJVR and CK750 has been probably the most rewarding, working for the Fabro family out of Calgary," Singer said. "I look back and it doesn't seem like five decades, it just seems like a lot of great experiences and I'm going to truly miss the people I think more than anything in the business."
A lot has changed in broadcasting since Singer started in 1967.
"The greatest change in broadcasting that I've seen is when I started in the business in the late 60s, the broadcasting landscape consisted of a whole bunch of small companies, small radio operations, and today it's just the opposite," Singer said. "The small operations are really fading out of the picture and the bigger operations like the Jim Pattison Broadcast Group have grown and grown."
Singer believes change is a good thing for the industry.
"It's been great for the business and it's great for the listeners," he said. "I think it's just a sign of the times. Like most industries there's been a lot of conglomerates that have taken over the smaller operations and made them better — better for the broadcasting business and better for the listeners."
Singer most recently oversaw the transition of Fabmar Communications' four radio stations to the Jim Pattison Broadcast Group, and he said it's a great fit.
"I know a lot of the players in the Pattison group and I'm most impressed with what we've seen and we were delighted. The Fabro family, myself were very delighted that the Pattison group showed an interest in our four radio stations (CJVR and CK750 in Melfort, CIXM in Whitecourt, Alberta and CHWK in Chilliwack, B.C.)," Singer said. The Pattison Group "have the same values that we do, serving the community, being local, and live, and relevant to the local audience."
Singer said he is still a big believer in the power of radio.
"Oh yeah, I'm a radio fan," Singer said. "You know, it's all I've done — 51 years in the business. I finished my schooling and I got into radio and that's what I've done."
Singer said it's his first love.
"I truly believe that radio, especially in Canada, it's still the number one medium," he said. "People still start their day with radio, advertisers reach their customers with radio."
Praise for Singer was quick to come in.
"Ken is an amazing individual, plain and simple," CHWK General Manager Kevin Gemmell said. "In the 22 years I have had the pleasure working with Ken, he has taught me about the ins and outs of all facets of doing great radio."
"I feel very privileged to have had the chance to work with Ken at CJVR since 1996," Gemmell said.
"Ken Singer is one of a kind. A true leader of this organization and will be missed," said CJVR/CK750General Manager Linda Rheaume. "Regardless of the situation, you could always hear 'Well, let's ask Ken'".
Rheaume said she could always count on Singer to teach and guide, and she will be forever thankful for the opportunities he gave her.
"Growing the company from two stations to four under his leadership is a testament to his true dedication and passion of the broadcast industry," Rheaume said. "How very lucky someone is to be able to retire after 50-plus years doing something you loved every day."
Original Story HERE