Sacramento, Detroit, Philadelphia… just a few of the radio markets where "The Breeze" has recently blown into town.
It's a music format best described as "Soft A/C."   Here's how Radio Ink reported the Sacramento format flip:
iHeartMedia Sacramento announced Thursday it is flipping Country 92.5 The Bull KBEB in Sacramento to Soft AC 92.5 The Breeze, "Sacramento's #1 For Relaxing Favorites at Work." The Breeze will launch Monday, November 12 at 3 p.m. by playing 10,000 commercial-free songs in a row. It will broadcast a soothing blend of music from artists such as Celine Dion, Rod Stewart, Whitney Houston, Michael Bolton, Vanessa Williams and more. The full talent lineup will be announced in the upcoming weeks.
"The timing is perfect to bring 92.5 The Breeze to our iHeartMedia Sacramento market," said Sara McClure, Market President for iHeartMedia Sacramento. "We're taking our powerful 50,000-watt signal back to when it was a powerful Adult Contemporary station playing familiar favorites for today's listeners."
And mid-month, Crain's Detroit Business site heralded the radio format there.
If you flipped past 98.7 Amp Radio over the weekend and heard a classic Christmas tune instead of the usual Ariana Grande, it's because the pop station is no longer.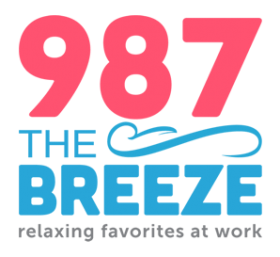 WDZH FM introduced "987 The Breeze" on Monday, Philadelphia-based owner Entercom Communications Corp. announced.
The Breeze will play "relaxing favorites" from a wide range of newer and classic musicians, a news release said — anything from Elton John and Fleetwood Mac to Adele and Alicia Keys. It's termed "adult contemporary" in the industry.
STAY TUNED FOR IMMINENT WORD OF "THE BREEZE" BLOWING INTO CANADIAN RADIO.