ON THIS DAY in 1887,
actor Boris Karloff was born William Henry Pratt in London.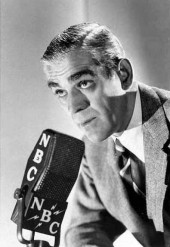 In a 50 year acting career highlighted by four Frankenstein films, he found time to make an impact in horror radio & TV productions.  He is still heard today as the narrator of the annual TV cartoon favorite, How the Grinch Stole Christmas.  He died at age 81 Feb 2, 1969 from emphysema.
On this day in 1889, the first jukebox made its debut in San Francisco, at the Palais Royale Saloon.  Juke, at the time, was a slang word for a a disorderly house, or house of ill repute.  The unit contained an Edison tinfoil phonograph with four listening tubes. There was a coin slot for each tube. 5 cents bought a few minutes of music. The contraption took in $1,000 in six months!
On this day in 1896, singer Ruth Etting was born in smalltown Nebraska.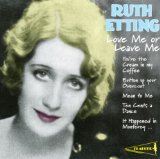 She had more than 60 hit records in the 20's and early 30's, and her own radio show as late as 1947.  The Doris Day/James Cagney movie titled after one of her hits Love Me or Leave Me is based on Etting's life.   She died at age 81 Sept. 24 1978.
On this day in 1902,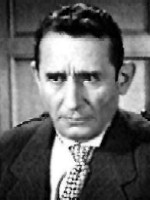 actor Victor Jory was born in Dawson City, Yukon. He played sinister, heavy roles in film for 20 years before the TV era, and took guest spots in scores of TV dramas over the next 30 years.  He died Feb 12, 1982 at age 79.
On this day in 1915, actor John Dehner (below) was born in Staten Island NY.  After starting as a Disney animator & radio deejay, he started playing heavies in films & on radio shows such as Gunsmoke, Suspense, Escape and Yours Truly Johnny Dollar.  He starred in The Hermit's Cave and Frontier Gentleman on radio, and was Palladin in CBS Radio's Have Gun Will Travel.  TV series credits include Young Maverick, How the West was Won, Temperatures Rising, the Doris Day Show & the Don Knotts Show.  He died of emphysema & diabetes Feb 4 1992 at age 76.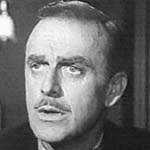 On this day in 1917, writer/actor George O'Hanlon was born in Brooklyn. Although best known as the character Joe McDoakes in scores of film shorts durig the 40's, he was the first voice of TV's George Jetson, was Calvin on The Life of Riley, and had dozens of other guest roles on TV. He died Feb 11 1989 at 71, following a stroke.
On this day in 1923, Arthur "Sparks" Halstead (below) obtained a license for a 10 watt radio station in Nanaimo, B.C. with the call letters CFDC.  In 1925 he moved his transmitter (without authorization) and carried on broadcasting from Vancouver.  After a brief "off air" period occasioned by Ottawa officials, he returned to the air using the call letters CKWX, which are still in use almost 95 years later! (News 1130.)

On this day in 1929, Shirley Booth and Ed Gardner were married. Miss Booth was famous for her television role ("Hazel"); but we remember when she and her husband played Miss Duffy and Archie on his classic radio show, Duffy's Tavern.
On this day in 1938, Bob Hope and Shirley Ross recorded a song for the film, The Big Broadcast of 1938. "Thanks for the Memory" became Decca record number 2219. It also became Hope's theme song for the next 60 years.
On this day in 1939,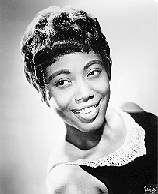 R & B singer Betty Everett was born in Greenwood Mississippi. Her 1964 recording of "The Shoop Shoop Song (It's in His Kiss)" made Billboard's top 10.  Later Betty hit paydirt on "Let it Be" which she recorded with Jerry Butler.  She died Aug 19, 2001 at age 61.
On this day in 1943, the British Forces Broadcasting Service began operation. It is still serving members of the British forces stationed around the world.
On this day in 1944, the No. 1 Billboard Pop Hit was "You Always Hurt the One You Love" by the Mills Brothers.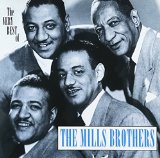 On this day in 1948, Dr. Frank G. Back of New York City patented the Zoomar lens. The device was first used by NBC television in April of 1947.
On this day in 1956, sheet metal worker Louis Balint was arrested after punching Elvis Presley at a hotel in Toledo. The 19-year-old Balint claimed that his wife's love for Elvis had caused his marriage to break up. He was fined $19.60 but ended up spending a week in jail because he was unable to pay the fine.
On this day in 1958, one of the last drama programs on radio had its debut. It was unusual in that the series began more than a year after the TV show of the same name. Have Gun Will Travel was broadcast on CBS Radio and starred John Dehner (see 1915 above) as Paladin. Richard Boone played the role of Paladin on TV.
Also this day in 1958, Ronald and Nancy Reagan appeared together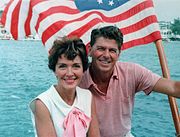 in the GE Theatre production of "A Turkey for the President" on CBS TV.
On this day in 1959, New York deejay Alan Freed was dismissed from his daily WNEW-TV show, "Big Beat" over accusations he'd accepted "payola" from record companies.  Freed staunchly denied doing anything wrong.
Also in 1959, a spokesman for R-C-A Victor denied that Elvis Presley would change his musical style upon leaving the U-S Army. Nevertheless, after his military service ended in March 1960, Presley became basically a middle-of-the-road singer and movie star rather than a rock 'n' roller.
On this day in 1960, the No. 1 Billboard Pop Hit was "Are You Lonesome Tonight" by Elvis Presley.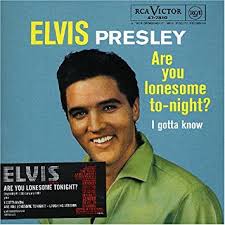 The song was the King's 14th chart topper.
On this day in 1962, Gloria Gordon, the actress who played the landlady Mrs. O'Reilly on both radio & TV versions of My Friend Irma, died at age 81.  The star of the show died 10 years later. (see 1972 below)
Also this day in 1962, The Beatles traveled to St. James' Church Hall, London, for a ten-minute audition with BBC Television.  But the "Beeb" did not like them.
Still in 1962, Nova Scotia's Hank Snow had a #1 country music hit single with 'I've Been Everywhere'.
On this day in 1963, "Doctor Who," the long-running British sci-fi TV series debuted in Great Britain on the BBC.

Also this day in 1963, the song "I'm Leaving it up to You" by Dale & Grace topped the charts and stayed there for 2 weeks.
On this day in 1964 the British Broadcasting Corporation (BBC) banned "The Rolling Stones" from its airwaves after the band showed up  late for two radio shows on the network.
Also this day in 1964, the Beatles released "I Feel Fine" & "She's a Woman."
On this day in 1967, AM radio received a blow to its self-esteem. San Francisco DJ Tom Donahue, the inventor of "classic rock" and "deep cut" FM radio, wrote in Rolling Stone magazine that  "Top Forty radio, as we know it today and have known it for the last ten years, is dead, and its rotting corpse is stinking up the airwaves."
On this day in 1968, The Cowsills were featured in a 30-minute musical special on NBC-TV.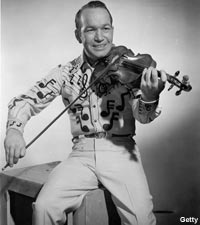 On this day in 1969, the King of Western Swing, violinist & bandleader Spade Cooley died at age 58 following a heart attack. At the time Cooley was serving a life sentence for murdering his wife in 1961.
His recording of "Shame on You," with a vocal by Tex Williams, had topped the country chart for nine weeks in 1945.
On this day in 1970, George Harrison's first single as a solo artist, "My Sweet Lord" was released in North America. It was issued seven weeks later in the UK.
On this day in 1972, 
 actress Marie Wilson, who played the dumb blonde heroine of "My Friend Irma" on radio, TV & the movies, died of cancer at just 56.
On this day in 1974, Billy Swan reached the #1 spot on the singles charts for the first and only time. I Can Help was the most popular song in the U.S. for two weeks.
Also in 1974, the Private Stock label released Frankie Valli's future chart topper, "My Eyes Adored You."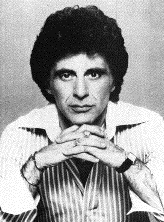 Valli, lead singer of the Four Seasons, had recorded the song for Motown, but that label refused to put it out. That proved to be a major error, as "My Eyes Adored You" topped the Billboard Hot 100 in March 1975.
On this day in 1975, Queen started a nine-week run at No.1 on the UK singles chart with 'Bohemian Rhapsody.' The promotional video that accompanied the song is generally acknowledged as being the first pop video and only cost £5,000 to produce.
On this day in 1976, just 10 hours after his last clash with the law, Jerry Lee Lewis was arrested outside Elvis Presley's Graceland mansion in Memphis, where he had been caught brandishing a pistol and demanding to see Elvis. Lewis was charged with public intoxication and possession of a weapon.
On this day in 1979, UK singer Marianne Faithfull was arrested at the Oslo, Norway, airport for possession of marijuana.
On this day in 1982, Christian humorist "Reverend" Grady Nutt,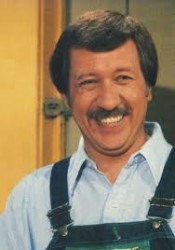 who developed a national following as a cast member of TV's Hee Haw, died in a chartered plane crash at age 48.
Also this day in 1982, the FCC dropped its controls on duration & frequency of TV ads in the US.
On this day in 1985, blues artist Big Joe Turner died of a heart attack aged 75. He wrote 'Shake Rattle and Roll', (a hit for Bill Haley and His Comets) and 'Sweet Sixteen.'
On this day in 1987, Sly Stone was charged with possession of cocaine in Santa Monica, Calif.
On this day in 1989, 
 Paul McCartney began his first North American tour in 13 years, playing the first of five dates at the Los Angeles Forum in Inglewood, California. Scalpers got as much as 600-dollars for tickets. McCartney opened with a couple of songs from his latest album, "Flowers in the Dirt," but the show was mainly Wings' and Beatles' oldies.
On this day in 1990, MTV banned the video of Madonna's "Justify My Love" over its moments of nudity.
On this day in 1991, Michael Bolton scored his second US No.1 single with his version of the Percy Sledge song 'When A Man Loves A Woman.'
Also this day in 1991, just a day before his death, Freddie Mercury, age 45, confirmed he had AIDS.
On this day in 1992, country music legend Roy Acuff died of heart failure at age 89.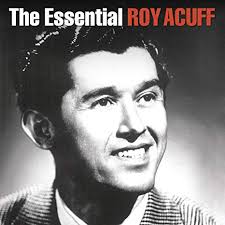 Considered the most influential figure in the history of country music, Acuff rose to fame in the 1930's when radio was more important than records, so his chart hits were relatively few. But he made country standards of songs like "The Wabash Cannonball," "The Great Speckle Bird," "Fireball Mail" and "Night Train to Memphis."
On this day in 1993, Metallica's album "Garage Inc." was released worldwide. It was released in North America the next day.
On this day in 1994, prolific songwriter Tommy Boyce, whose compositions produced record sales of more than 85 million, committed suicide at age 55. He'd suffered a brain aneurism a year earlier, and was in declining health.  Boyce and Bobby Hart wrote the theme to "Days of Our Lives"; hits for guys like Andy Williams, Dean Martin, the Monkees, the Animals and Del Shannon. Plus, a raft of music for TV & the movies.
Also this day in 1994, Smashing Pumpkins' compilation album "Pisces Iscariot" received platinum certification.
On this day in 1995, singer/saxophonist Junior Walker of Jr. Walker and the All Stars, succumbed to cancer at age 64.
On this day in 1996, Trace Adkins made his debut on the Grand Ole Opry. He took advantage of the occasion to propose to girlfriend Rhonda Forlaw from the Opry stage. She said yes, they married six months later and have three children.
Also this day in 1996,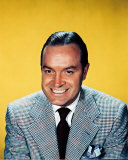 Bob Hope set a record for the longest continuous contract in the history of radio and television when his last T-V special aired. Hope had been with N-B-C for 60 years.
On this day in 1997, Barbra Streisand was at No.1 on the Billboard album chart with 'Higher Ground', the singers sixth US No.1 album.
On this day in 1998, businessman Donald Bohana was convicted of second-degree murder in the drowning of his girlfriend, the ex-wife of Jackson 5 member Tito Jackson and was sentenced to 15 years to life in prison.
Also in 1998, the world's first portable mp3 player went on sale, over strenuous objections from the RIAA (Recording Industry Association of America). The Diamond Rio PMP300, which cost $200, could play about a dozen songs.
On this day in 2000, "Grand Ole Opry, A Celebration," a musical tribute to the Opry's 75th anniversary, aired on CBS-TV. Vince Gill and Dolly Parton hosted.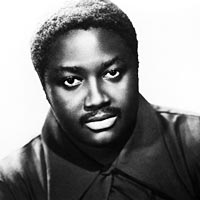 On this day in 2001, singer O.C. Smith suffered a fatal heart attack at age 65. Famous for his 1968 No.1 single 'Little Green Apples.'  Smith became pastor and founder of The City Of Angels Church in LA.
On this day in 2003, Jay-Z started a three week run at No.1 on the US album chart with 'The Black Album.'
On this day in 2004, pioneering sports radio talk show host Pete Franklin died at age 76. Franklin's stops included Cleveland and New York with his last job at KNBR, San Francisco.
Also this day in 2004, Bon Jovi played three songs on NBC's Today Show, to promote their 5-disc box set, "100 Million Bon Jovi Fans Can`t Be Wrong".
On this day in 2005, Toronto MP Dan McTeague tried to have rapper 50 Cent barred from entering Canada for a series of concerts because his rap offerings 'promote gun violence.'
Also in 2005, Nickelback frontman Chad Kroeger launched a suit against the band's former drummer, Ryan Vikedal, for royalties he'd received since leaving the group eleven months earlier.
On this day in 2006, jazz singer Anita O'Day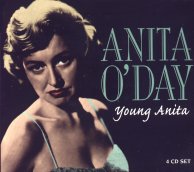 died in her sleep at a convalescent hospital in Los Angeles where she was recovering from a bout with pneumonia. O'Day was 87. She began her career in her teens and later recorded hits with Stan Kenton and Gene Krupa. She became famous for her renditions of songs like "Sweet Georgia Brown," "Honeysuckle Rose" and "Let Me Off Uptown."  She was known as the "Jezebel of Jazz" for her drug and alcohol use. She suffered a 16-year heroin habit and had an alcohol problem. O'Day kicked drinking after a near-death experience in 1996.
On this day in 2007, Bono and The Edge from U2 made a surprise appearance at a charity gig, playing four songs before 250 people. The London gig was held as part of the Mencap's Little Noise Sessions.
On this day in 2008, the Vatican newspaper, L'Osservatore Romano, said it 'forgives' John Lennon's controversial '66 statement about The Beatles being "more popular than Christ" as a "youthful joke." The article maintained that Lennon's comment "after many years sounds only like a 'boast' by a young working-class Englishman faced with unexpected success."
On this day in 2009, two weeks before he turned 77, early rock star Little Richard received a new hip at the Vanderbilt University Medical Center in Nashville.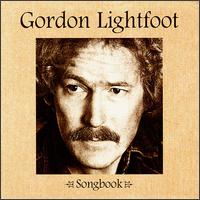 Also in 2009, a week after his 71st birthday Canadian singer-songwriter Gordon Lightfoot said it's "not likely" he would ever release another album of new material. Lightfoot, who's been troubled with intestinal health concerns, said his last release, 2004's "Harmony," fulfilled his contract with Linus records, and any more recording was extremely doubtful.
Still on this day in 2009, the Rolling Stones re-released "Wild Horses" as a digital package, following Susan Boyle's performance of the song on the UK version of The X Factor the night before.
On this day in 2010, The Beatles sold more than 450,000 albums and 2 million individual songs worldwide during the first week the group's music became available on iTunes.

On this day in 2012, actor Larry Hagman, star of the original "Dallas" and its 2012 reincarnation, plus "I Dream of Jeannie," died of complications from throat cancer at age 81.
On this day in 2013, comedian/improv actor Jay Leggatt, a member of the cast of FOX-TV's 'In Living Color' in the early 90's, who a few years later had a key role as an overweight lawyer in FOX-TV's 'Ally McBeal,' suffered a fatal heart attack at age 50.
On this day in 2014, the 'Morning Monarch' of Columbus Ohio, Bob Conners died of mantle cell lymphona at age 80.  On his retirement in 2011, he had been on the air in Columbus for over forty years, 33 of them as morning host at WTVN Radio.  In total, his broadcasting career lasted more than 60 years.
Also in 2014, the biggest winners of the night were One Direction, Iggy Azalea and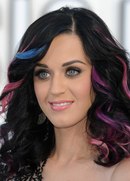 Katy Perry, as the American Music Awards were televised from Los Angeles.
On this day in 2015, singer/musician Cynthia Robinson, a founding member of Sly and the Family Stone, lost her battle with cancer at age 71. She was among the first female trumpeters in a major American band, and the first such player to be inducted into the Rock and Roll Hall of Fame.
On this day in 2016, British actor Andrew Sachs, best known for playing Manuel the bemused Spanish waiter in the BBC TV comedy Fawlty Towers, died aged 86 after a long battle with vascular dementia.
Today's Birthdays:
Writer/personality Bruce Vilanch (Hollywood Squares) is 70.
Syndicated US radio personality Tom Joyner is 69.
Singer/pianist Bruce Hornsby is 64.
Actor Maxwell Caulfield (The Colbys, Dynasty, Spiderman) is 59.
Actor John Henton (The Hughleys, Living Single) is 58.
TV host Robin Roberts (Good Morning America, ESPN) is 58.
Actor Boyd Kestner (Knot's Landing, The Outsiders) is 54.
Actress Michelle Gomez (Doctor Who) is 52.
Rock singer-musician Ken Block (Sister Hazel) is 52.
Rock musician Charlie Grover (Sponge) is 52.
Actress Salli Richardson-Whitfield (Eureka, Family Law) is 51.
Actor Brennan Brown (The Man in the High Castle, Chicago Med, Mozart in the Jungle, Person of Interest, It Could Be Worse) is 50.
Actor Oded Fehr (Covert Affairs, Sleeper Cell, UC Undercover) is 48.
Actor Danny Hoch (The Knick) is 48.
TV host/voicist Chris Hardwick (Talking Dead, The Wall, @midnight w/Chris Hardwick, Sanjay & Craig) is 47.
Actress Lisa Arch (MADtv, 100 Things to do Before High School) is 47.
Actress Lesley Fera (Pretty Little Liars, 24) is 47.
Rapper Kurupt of Tha Dogg Pound is 46.
CTV Vancouver reporter/producer Julie Nolin is 4?
Actor Page Kennedy (Rush Hour, Weeds, Desperate Housewives) is 42.
Actor Jonathan Sadowski (S#*@ My Dad Says) is 39.
Actress Kelly Brook (Smallville) is 39.
Actor Tim Chiou (Silicon Valley, Living with Models) is 39.
Actor Ricky Whittle (The 100, Mistresses) is 37.
Actor John Lavelle (Heirloom) is 37.
Actor Lucas Grabeel (Switched at Birth, High School Musical) is 34.
Actor Ryan Lane (Switched at Birth) is 31.
TV personality Nicole "Snooki" Polizzi (Jersey Shore, Snooki & JWOWW) is 31.
Actress Miley Cyrus (Hannah Montana, The Voice) is 26.
Actor Austin Majors (NYPD Blue) is 23.
Actress Katherine McNamara (Madison High, Girl vs. Monster) is 23.
Actress Lia Marie Johnson (AwesomenessTV, MyMusic) is 22.
Actor Bradley Steven Perry (Good Luck Charlie, Mighty Med) is 20.
Actress Olivia Keville (Splitting Up Together) is 16.
Chart Toppers – Nov. 23
1946
Rumors are Flying – Frankie Carle Orchestra
South America, Take It Away – Bing Crosby & The Andrews Sisters
You Keep Coming Back like a Song – Dinah Shore
Divorce Me C.O.D. – Merle Travis
1955
Sixteen Tons – Tennessee Ernie Ford
Autumn Leaves – Roger Williams
Only You – The Platters
Love, Love, Love – Webb Pierce
1964
Baby Love – The Supremes
Leader of the Pack – The Shangri-Las
Come a Little Bit Closer – Jay & The Americans
I Don't Care (Just as Long as You Love Me) – Buck Owens
1973
Keep on Truckin' – Eddie Kendricks
Heartbeat – It's a Lovebeat – The DeFranco Family
Photograph – Ringo Starr
Paper Roses – Marie Osmond
1982
Up Where We Belong – Joe Cocker & Jennifer Warnes
Truly – Lionel Richie
Heart Attack – Olivia Newton-John
War is Hell (On the Homefront Too) – T.G. Sheppard
1991
When a Man Loves a Woman – Michael Bolton
Set Adrift on Memory Bliss – PM Dawn
It's So Hard to Say Goodbye to Yesterday – Boyz II Men
Shameless – Garth Brooks
2000
With Arms Wide Open – Creed
Most Girls – Pink
This I Promise You – 'N Sync
Best of Intentions – Travis Tritt
2009
Paparazzi – Lady Gaga
Whatcha Say – Jason DeRulo
Down – Jay Sean featuring Lil Wayne
Big Green Tractor – Jason Aldean