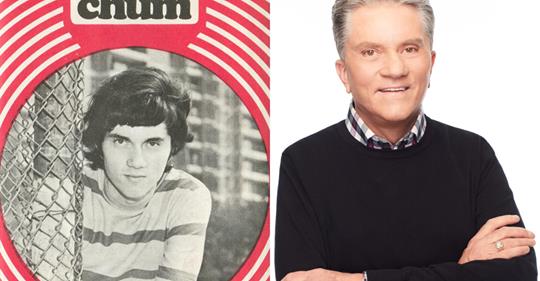 Toronto radio icon to retire from CHUM 104.5 morning show after 50 years with the station –
October 25, 2018
TORONTO (October 25, 2018) – As announced on the air this morning, legendary CHUM 104.5 host Roger Ashby has confirmed his retirement after an incredible 50 years with the station. Ashby's farewell broadcast airs live from the Sheraton Centre Toronto Grand Ballroom on Wednesday, Dec. 5 beginning at 5 a.m. ET.
Featuring a multitude of celebrity guests, the special broadcast will recount Ashby's most amazing memories from his half-century as a preeminent voice on Toronto radio.
"It's easy to get up early every morning when you love your job and the people you work with," said Ashby. "Of course, I couldn't have done it without the amazing Marilyn Denis. From the first moment we met, I knew she was the right person to spend my mornings with. And our success over the decades would not have happened without the dedication of our longtime listeners."
"Marilyn and Jamar will keep entertaining Torontonians every morning on CHUM 104.5, and I look forward to listening," he continued. "I'd also like to thank my wife, Moira, and my family and friends – with whom I will be spending a lot more time, whether they like it or not!"
"Roger Ashby is quite simply a radio legend, and a luminary of Canada's music industry," said Randy Lennox, President, Bell Media. "He is a model of excellence and consistency in radio broadcasting, and upholds that gold standard every time he sits behind the mic. We wish him the very best in his retirement, and thank him for 50 incredible years at CHUM."
"On behalf of the entire team at CHUM 104.5, I'd like to thank Roger for his 50 years of dedication to CHUM and to our listeners in Toronto and beyond," said Sarah Cummings, Program Director, CHUM 104.5. "Roger has stepped into the studio for decades, long before the sun comes up, turned on his mic, and entertained millions of listeners over multiple generations. He is without question in a league of his own, and we will miss him dearly. Thank you, Roger, and congratulations!"
In January 2010, Ashby was inducted into the Canadian Music and Broadcast Industry Hall of Fame, receiving the Waters Family Broadcast Lifetime Achievement Award.
Outside of the studio, Ashby dedicates his time to a multitude of charities, including Big Brothers/Big Sisters of Toronto, the CNIB, the Toronto Humane Society, and the Toronto Wildlife Centre, among others.
Earlier this year, CHUM 104.5 welcomed new co-host Jamar McNeil to the station's morning team, and unveiled an all-new brand refresh of CHUM 104.5, updating the look and feel of one of Toronto's most iconic radio brands.
CHUM 104.5 will announce more exciting updates in the lead-up to Ashby's farewell on Dec. 5, and listeners are invited to tune in and re-live some of the most memorable moments in Toronto radio history as the station celebrates Ashby's career over the next six weeks.
CHUM 104.5 is available across Canada via live stream on the iHeartRadio Canada app.