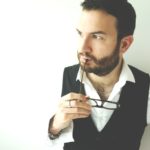 by Paul Kaye
PSR Contributor
October 23, 2018
ONE WORD MAKES A DIFFERENCE
The secret to success in business is durable competitive advantage. Only products that demonstrate a desirable difference to their competitors are likely to win audience attention. Our brains act like filters that protect us from too much information. We're hard wired to only notice what is different. Hard wired to only notice what stands out in a crowd. The extraordinary in a world of ordinary. But how do we stand out in a way that matters? Listening to the radio landscape, it is becoming increasingly harder to find a meaningful difference between stations.

To win, you need to build and manage your brand's perception in the consumer's mind. It's not about what your station or show sounds like, but about what it means to the listener. It's about how they feel about it. It's all about what it means to them. What if you focused on the emotions that your station or show conveys? Forget about what you do, and instead focus on what you want them to feel. Let's go beyond the basics, the commodities, the attributes and differentiate ourselves on the benefits. The emotional benefit.

The mind is emotional, not rational. We are powered by emotions not reason. We trust our emotions. Studies have shown that if the emotion centers of our brain are damaged, we not only lose our ability to laugh and cry, but we also lose the ability to make decisions. Emotions tell us what's important so it would seem to make sense that taking an emotional approach would generate better – and longer lasting – results than a rational approach.
One area we explore with stations and shows is helping them identify the emotional difference between them and their competitor. We call it the Emotional Brand Filter. We are trying to position the product in the listener's mind with an emotional charge.
Most stations/shows apply the same old brand filters. "Real & Local." But what would your station/show sound like if you applied emotion to what differentiates you? What one word captures who you are? What one word summarizes your listener's experience?

Family, Smooth, Uplifting, Serious, Intelligent, Fun, Positive, Smart, Comfort, Happiness, Surprise, Authority, Hope, Companionship, Relaxing, Joy, Caring, Aggression, Compassion, Love…
Chose the feeling you want to convey and then filter everything your product does through the filter. The music, the imaging, the content, the promotions — everything you do must be put through your unique "Emotional Brand Filter." If a piece of content doesn't reinforce your one word it either needs to be re-worked until it does or abandoned.

One station recently applied a one-word filter of 'positivity' to its AC morning show. Everything the audience could experience went through the positivity filter. Songs were selected that were feel good, upbeat and had lyrical content that reinforces that positivity. There isn't a song about heartbreak and regret scheduled in the show. The information content celebrates all that is good in their city and the world. They avoid the crime and war, and when the news agenda requires them to discuss a shooting in a neighbouring town, they choose to focus on the heroes who always shine in the aftermath. The announcers don't put down celebrities in their showbiz content. There's no moaning about the price of gas or their wives' cooking. There's no cynical content on the air. Everything reinforces the idea of positivity. It's a refreshing and fulfilling listening experience, and noticeably different from the feeling you get when listening to their competitor. Often, success lies in what you chose to leave out, rather than what you chose to include. For that AC Morning Show, they leave out anything that isn't positive.
Making your brand stand out and rise above the competition requires you to unpack and demonstrate the emotion that you want your brand to portray. Every element of the station/show has to legitimize that word. Find your emotion, and you may find your durable competitive advantage.

What is your one word listening experience?
Paul Kaye is Vice President, Product and Talent Development for Rogers in Canada.  Paul spends his days working with stations and talent across all formats with a sole focus on helping improve performance and growing the business.  Prior to being at Rogers Paul held the role of National Talent Development Director for Newcap Radio and also a Group Programming role in England.  Paul is a certified coach and is passionate about helping individuals, teams and organizations reach their greatest potential, which is the fuel behind his other project The Talent Lab. Paul lives in Toronto with his wife, 2 dogs and a cat – life is never quiet!  
You can reach Paul at [email protected]